This is a large stunningly elegant example of a gazebo outdoor room positioned perfectly on a manicured lawn, with expansive sea vista, tables and chairs and blue sky background.
Having a garden room for chilling out or relaxing is quite different to having a garden shed, which is where most people tend to store their gardening tools and equipments. A garden room often doubles up as an outdoors home office space, a sleep-out (for overnight guests, or perhaps those unbearable teenagers) a hobby room, a place to sit and read in peace and quiet, or just a universal room for whatever purpose you decide.
A garden shed though is often a lot more rugged (and perhaps less cared for) than a garden room. With a shed, we don't usually mind a few cobwebs here and there, or perhaps if the roof leaks a little, it doesn't matter too much, whereas a garden room is usually thought of as a detached extension of your home, and so features like cobwebs and roof leaks are a distinct no-no.
In this gallery of 29 examples of garden rooms, you'll find small cottages, gazebos, and even what look like sheds at first glance, and for all intents and purposes, a garden shed and a garden room can be the same building, it's just that they are used for different purposes. We hope you enjoy this page and that it provides some inspiration for you to create and build your own backyard garden room.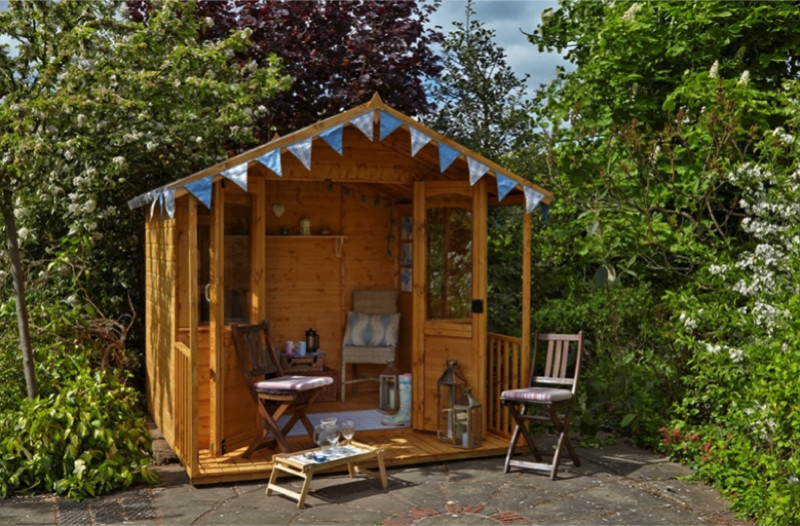 Cute small decorated wooden garden room with double French opening doors and chairs all surrounded by a bush setting. Source: Sheds Warehouse
Cute all wooden garden room with double French doors and outdoor furniture. Source: Sheds Warehouse.
Wooden bungalow cabin painted black and set in a beautiful garden with outdoor seating, picnic table and chairs
Compact wooden decorated garden room building with double opening doors and a table and chairs inside. Source: Sheds Warehouse
Beautiful garden summer house with large double opening doors and windows set on paved courtyard patio with decorative pots and plants. Source: Sheds Warehouse
A charming, rustic garden shed room made from reclaimed barn board timber
Small wooden summer garden room with surrounding bush and lawn, ideal as a quiet reading spot. Source: Sheds Warehouse
Beautiful modern color co-ordinated timber outdoor garden room with nearby seating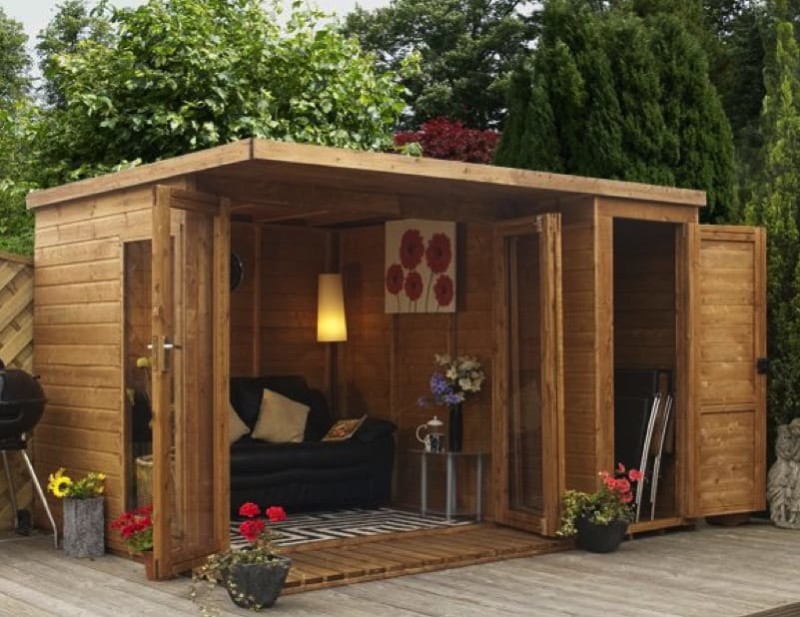 Amazingly cute outdoor relaxing garden room with double doors, sofa, opening out onto expanded porch area and with an adjacent additional storage compartment. Source: Pinterest
California home with adjoining garden room and outdoor seating arrangement
Small rustic oder style outdoor cottage room set in a garden with concrete steps and fencing
Cheerful garden room outhouse set in a spring meadow
Rustic wooden shack room used as a shaded resting spot with plenty of potted plants and flowers
Summerhouse room at the bottom of the garden with double French doors, tiny front porch and surrounded by fall leaves
Cute Swedish summerhouse with small porch, front door and matching windows
Pretty garden room shed with tiny windows, big door and outdoor seating
Restful and sheltered summer house set in well planted mature garden setting
Outdoor wooden gazebo room in the rear of a garden in summer
Small outdoor garden summer house room with grass on the roof
Idyllic summer house and garden room with outdoor furniture at spring time
Backyard timber summer house set in garden
Beautiful new garden room with large barn entrance doors and flower bed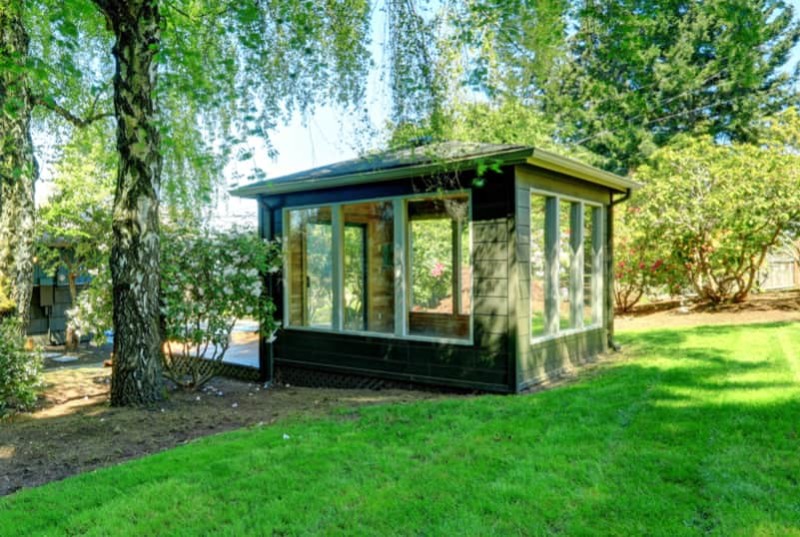 Small contemporary garden studio room with lots of windows
Backyard area with large garden room, picket fence and covered parking spot
Bright red wooden garden room in a backyard area
Fenced backyard with wooden garden room and nearby shed
A beautiful backyard garden room with window plants and pretend shutters
Small summer house room set in a forest-like setting