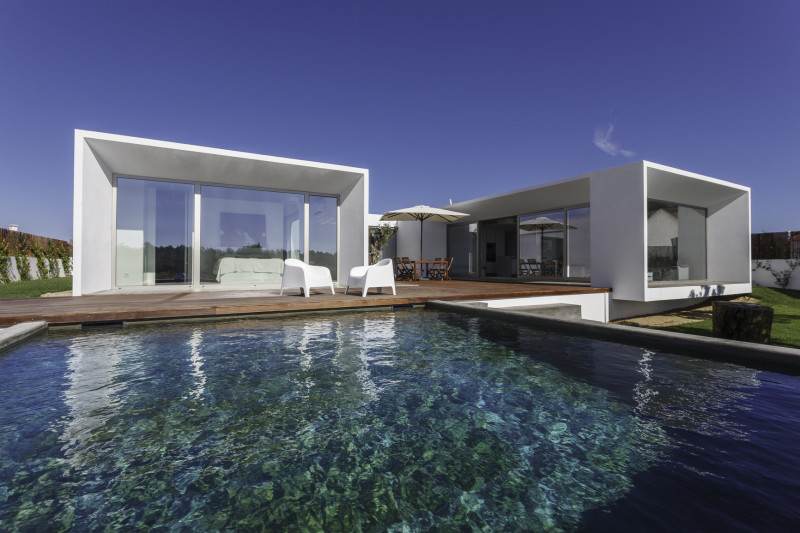 Beautiful modern architectural house design showing a stunning contemporary home with garden swimming pool and wooden deck. A stunning example of modern architectural house design at its best.
Welcome to the gallery displaying a selection of stunning modern beautifully crafted and designed contemporary modern houses. The building of an architectural home that stands out from the crowd is often a very long and expensive process. Finding the suitable block of land to begin creating your perfect home masterpiece is always one of the biggest challenges you face to begin with. Then once you've found a piece of land you love and make the decision that its the best place for your new abode, you then need to identify or work with an architect that is going to help you make your modern dream house a reality.
Not always an easy task making your ideal house fit on a piece of land that may have its own unique quirks or limitations, but if an architect is worth his salt, he/she will be able to create something that fits your budget, meets your expectations and that will have that unique WOW factor you desire.
This gallery consists of a selection of some the best and most beautiful modern houses around. They're all modern, so if that's not entirely to your taste, you could always check out one of our other gallery pages on Classic and Traditional Houses that may have something you'll like, however, if you are a connoisseur of fine architecture, then we're sure you will appreciate the homes we present to you here.
Magnificent modern three story ocean front penthouse with beach view and huge outdoor space
Big modern white house with elegant green window glass.
Stunning modern minimalist house with feature infinity pool
View of the exterior of a modern contemporary house with rock wall and palm trees
Beautiful modern architectural statement house crafted from cement
Large luxury two storey home frontage with garage set against blue sky.
Architectural modern masonry house with breathtaking view at dusk
Front of a two storey contemporary architect designed townhouse home with feature stone wall
Amazingly beautiful large long ecologic house crafted from timber.
Modern large custom built architectural house