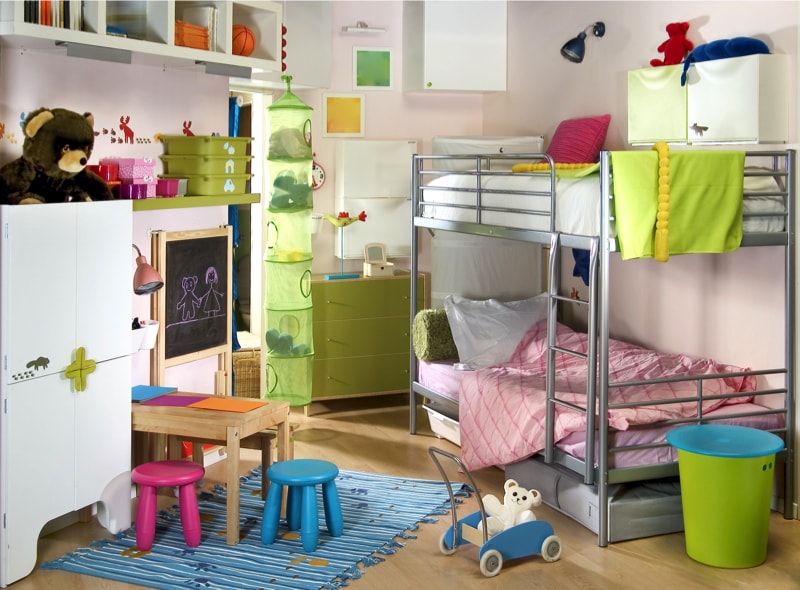 Decorating ideas for kids bedrooms can be challenging. A child's bedroom should reflect play as well as rest and so it stands to reason you should spend a little time exploring many decorating ideas for kids bedrooms. When designing or redecorating a child's room, bare this thought in mind as well, as color, texture and action which is what it is all about in a room dedicated to children.
When redecorating an existing child's bedroom consider sprucing your child's bedroom up with art, rugs, and lamps (the kind made especially for kids). Another option that is more personalised is to get the kids to paint something they love and then frame it in a colourful frame, or get them to take photos of things they like and hang these from the ceiling in a collage of photos. Help them make it their own and that way they will enjoy and appreciate their space just that little bit more.
You can be as bold as you like in kid's bedrooms, with wall color. Often the brighter the better. You can paint all four walls the same bright color or just have one wall with that bright lime, pink or blue. Then add the same color in a lamp shade or in cushions to tie it all together.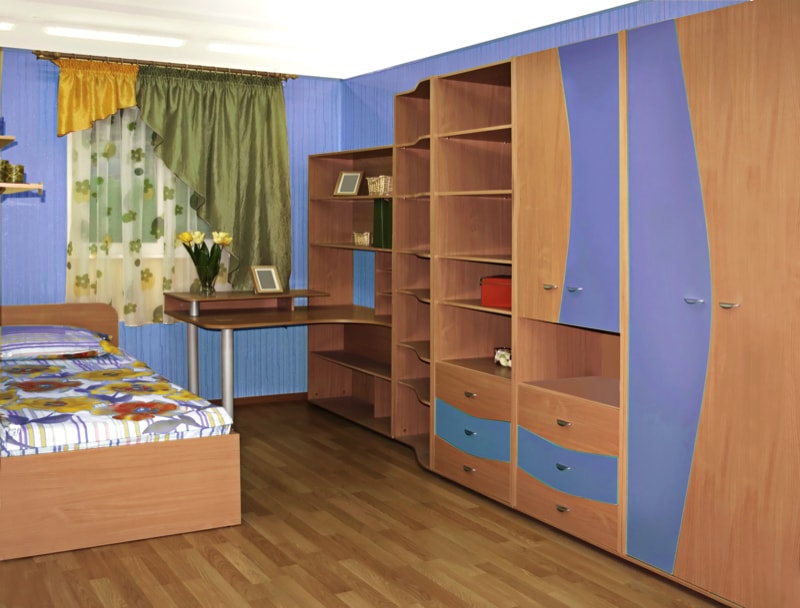 The color scheme in this picture of a child's room is simple and uncluttered looking. The blue and wood work together famously. This room has a great example of multiple storage options with its cupboards and open shelving which is a big plus in a child's bedroom.
Storage is vital in a kid's room. They are collectors of toys, books and stuff, and these items need to live somewhere when they are not spread around the floor. Open shelving can look great to show off that collection of cars or teddy bears. Storage boxes under the bed are also a must as things like Lego, jigsaws and winter blankets can be stored out of sight until needed. Do try and be adventurous as you can, for example if your child loves tents, put in a tent or if they love cars build a racetrack. Not only does it look great but you will have kids that want to spend time in their rooms.
Lighting is also important in kid's rooms. Don't just have one overhead light, but rather consider a desk light and/or a bedside light. They come in all shapes and sizes and kids will love having something fun to look at that is practical as well. Consider also good quality window coverings that block out the light when required, as kids often need a cool darkened room when going to sleep especially if it is still light outside. So consider curtains or blinds that block out the light completely.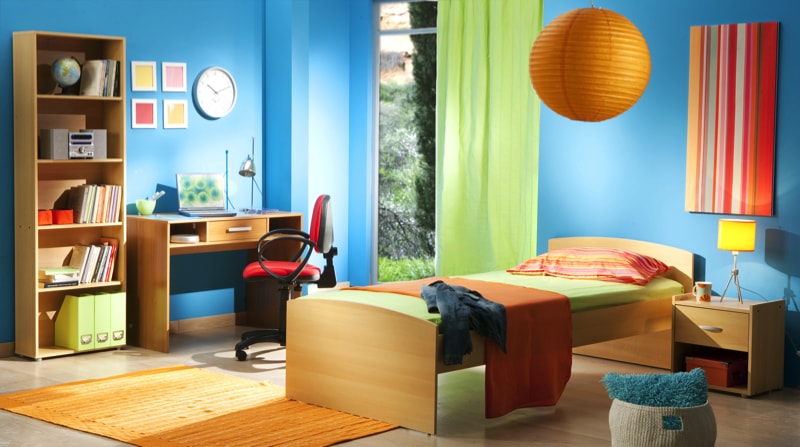 This child's room is vibrant and light filled. The blue walls contraxt well with pale wooden floor and the sunny yellow floor rug. There is a desk and chair to read at or do homework on. The large yellow light shade is a glorious pop of colour in this room.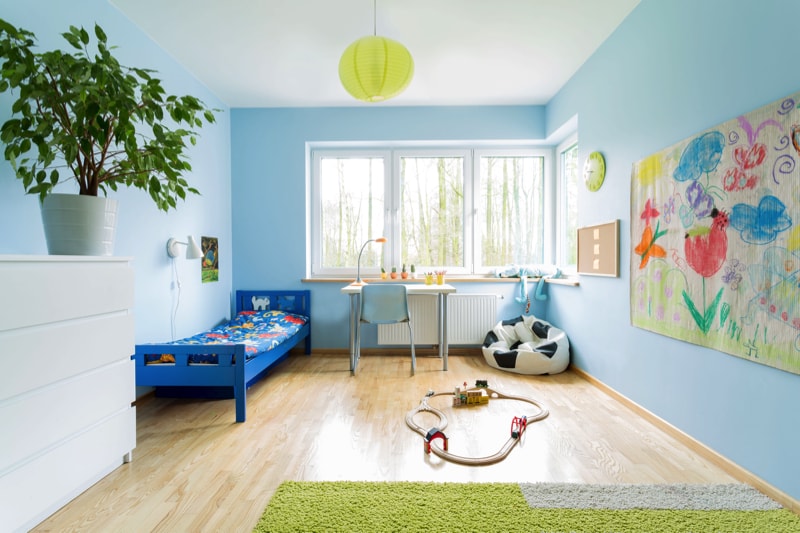 Cute stylish designed interior of small childrens room. The blue and yellow/lime color scheme works well in this small room.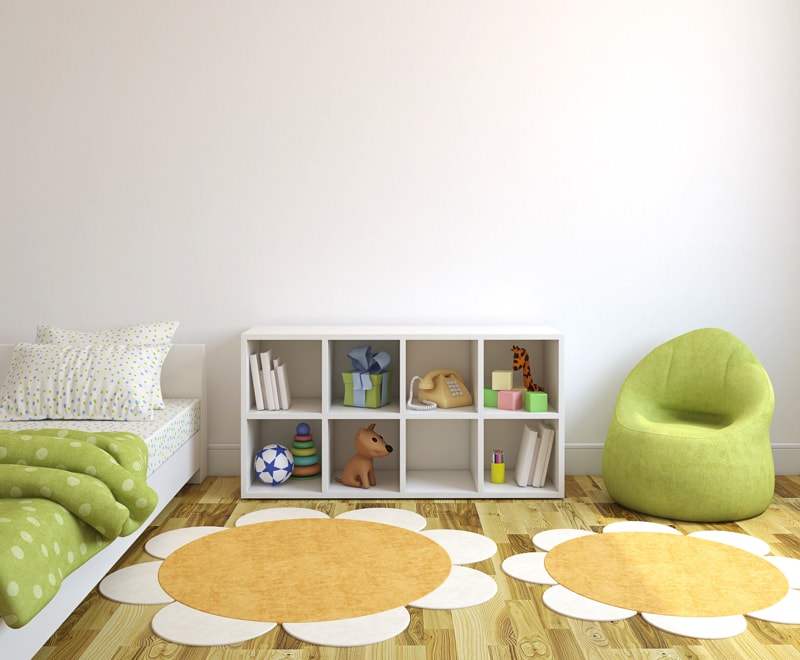 Colorful playroom interior with a single bed with a fresh green and white polka dot bed cover and green chair. The two large flower rugs look great+ on the wooden floor.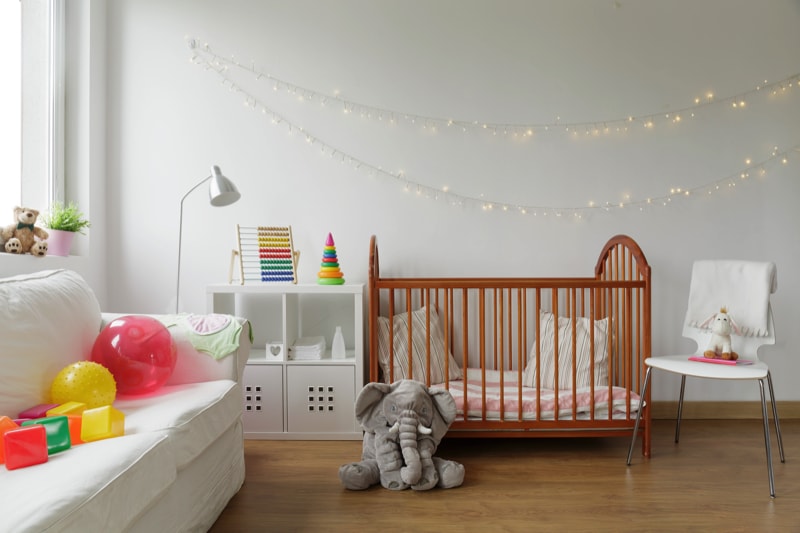 Newborn child's room with white walls and wooden bed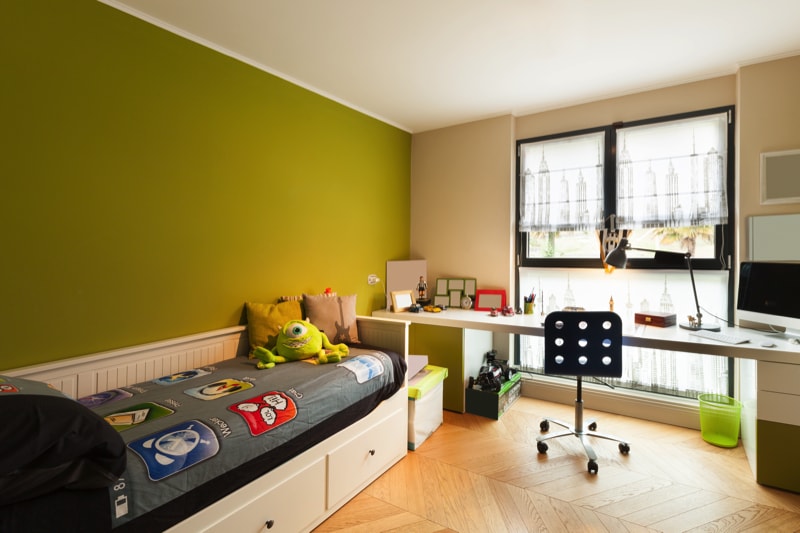 This boys room features a green wall, timber parquet floor, a large desk next to the window and a simple comfortable built in bed with base drawers. This large child's bedroom has a feature wall in bright lime green and the remaining walls are in white. The bed design is shaped similar to a couch which is perfect for children to sit and read and play on. The base of the bed has ample storage with the large drawers, perfect for holding toys or clothes.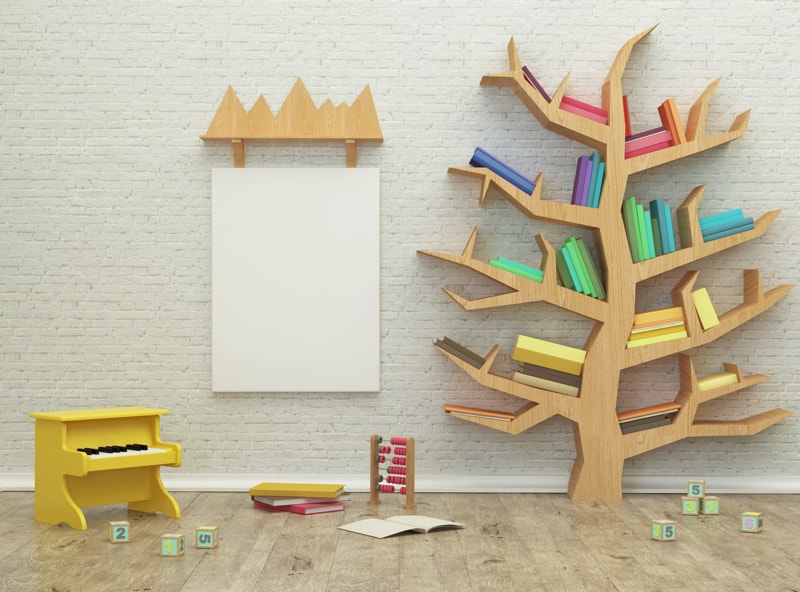 Kids games room with painted brick walls and feature tree shaped bookcase.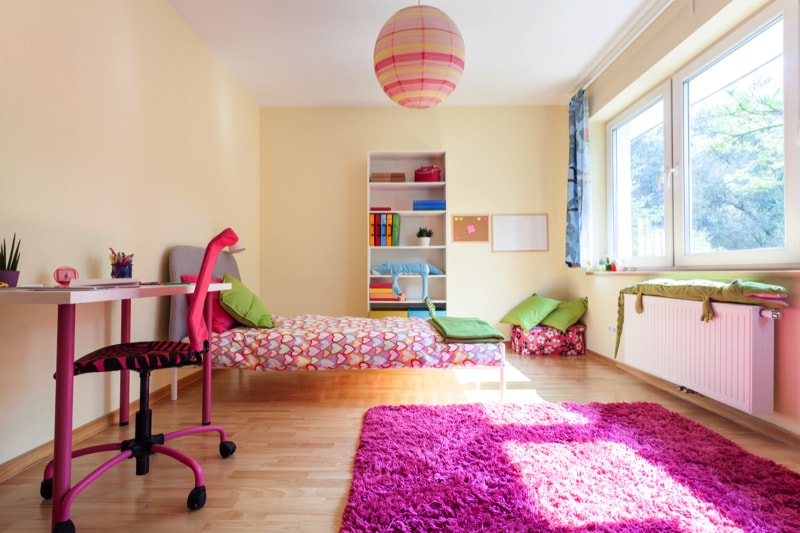 Modern Room for a Girl. How simple and striking is the pretty pink interior. The lime green cushions and alligator add a contrasting color to this bright room.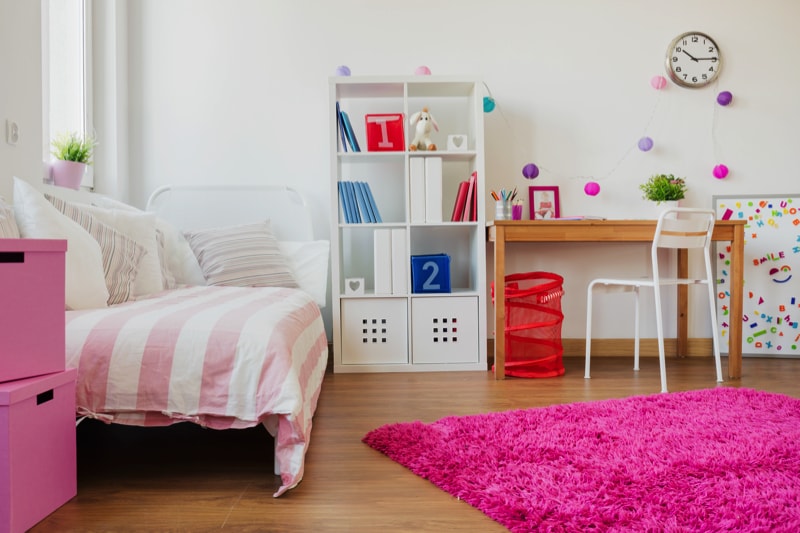 A great room design for a schoolgirl. There is ample storage in the tall white bookcase and the desk is the perfect size for doing your study on. The bright pink fluffy rug is a nice touch on the wooden floor.