This is a feature gallery of house colors exterior pictures. The magic of exterior house colors & themes can be one of the single most effective means to bring a house or building to life. The above image is of the well renown 'Painted Ladies' Victorian houses in close up view in San Francisco with each house showing off their stunning detail in the design and their color. Truly stunning.
When you are deciding what colours to paint your home, one of the things you need to take in to account is that the exterior of your home needs to fit in within the existing environment you live in, however that doesn't mean that it shouldn't reflect your own personal style and you slavishly just follow the traditional heritage colours for your type of home.
The exterior of your home is your way of showing off your home and its unique attributes. It would appear that home owners have reawakened to the use of color in not only their interiors but also on their exteriors and they are being a little more adventurous with color and moving away from common old beige. It doesn't mean that you can't stick to a classical style that doesn't date, however classical style can be contemporary or more traditional depending on your tastes.
You can use color on most exterior parts of your house whether it is wood, rendered brick, windows, roof tiles or corrugated iron Be aware that using dark colours on your roof will absorb ultraviolet light and heat whereas a light colored roof will reflect it. The surrounding structures on the outside of your house like the fences, garden walls and decks and verandas can be painted as well to tone in or contrast with the exterior of your house.
This beautiful row of Victorian houses in a variety of colorful painted themes. The color combinations on the weatherboards and around the windows, frames, doors and entranceways have been well thought out to create a stunning effect
Matching your outdoor furniture to the tones of your deck/veranda will create visual cohesiveness. Have fun with your colours don't be afraid to get sample pots from your local color stores and paint them on in test patches and sit with it for a period of time and view the color in different lights to see how it looks in your environment. Or if you are really not sure where to begin, consider getting in a professional color consultant who will be able to give you some advice on different color options and how to combine two, three or even four colours on your exterior. They will have advice on the latest trends and color mixes and perhaps suggest colours that you hadn't even considered.
Think about the history of your house too, and whether you follow the more traditional color scheme for your period of house or whether you would like a more contemporary approach with color but you do need to think about your surrounding environment outside your immediate area and consider what reflects your neighbourhood. Don't be afraid to use color in a non-traditional way as can be seen on the houses featured below.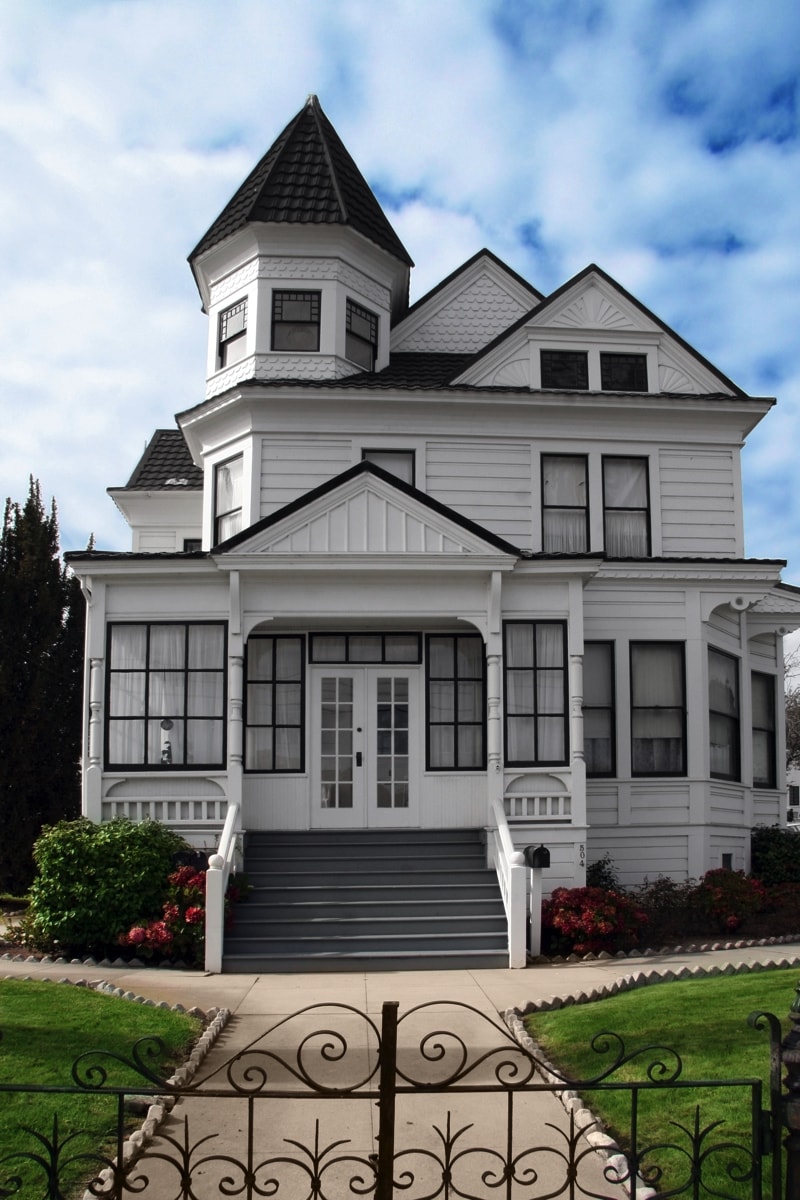 A beautiful Victorian three level white and black house. The windows are all painted in black and contrast superbly with the crisp white of the boards. The trim on the barge boards is also painted black highlighting the gorgeous lines of this house.
Something to keep in mind when considering your paint color choices, if you pick dark colours it sometimes will make a house recede and appear smaller in size, whereas a lighter finish will sometimes make it appear larger. If your home has gorgeous detail around the windows or verandas these are some of the pieces that you can paint in a different color that will enhance the detail and beauty of them.
As seen in the gorgeous houses above and below each house has its own look and feel about it, there is really no right or wrong however each exterior has reflected its owner's visions and is usually supported by good landscaping and /or a gorgeous setting that enhances the home. Also, a minor point, but check with your local Council as some may have limitations or restrictions on what colors you can paint your house, particularly if you reside in a well known traditional character home suburb.
Pretty two storey house finished in an earthy mustard color exterior paint and matched with stunning multi colored stone front portico, very high pitched tile roof and completed with shaped stone window frames
A well-presented old Victorian home finished in a stunning light blue with white detail on the windows and the balustrading. A very pretty picture.
A new Victorian styled home with the traditional tower, porch, gables and pitched roof. You can't help but feel happy when you look at this house, the bright yellow and white just make you want to smile.
Colorful old Victorian houses showing the attention to detail and diversity of the individual paint color choices.
Elegant apartment style houses in London . The burgundy and white around the windows really highlights the detailed aspect of the large windows and looks great against the solidness of the brick.
A lovely landscaped Victorian type house finished in elegant subdued colors that just give the house a look of luxury and quality. The pink flowers in the front suit the color of the house.
San Francisco California United States with the city skyline in the background and the famous Painted Ladies Victorian homes at Alamo Square showing a range of house exterior color combinations
Regency Georgian terraced town houses in London's, Kensington, England. The elegance of the brick, black and white shows off the stunning design and beauty of these homes.
Classic Victorian houses in San Francisco, California, USA. The intricate detail of the embellishments of these houses is extraordinary they look like something out of a fairy tale book. The sophisticated color pallets enhance the homes natural beauty and craftsmanship.