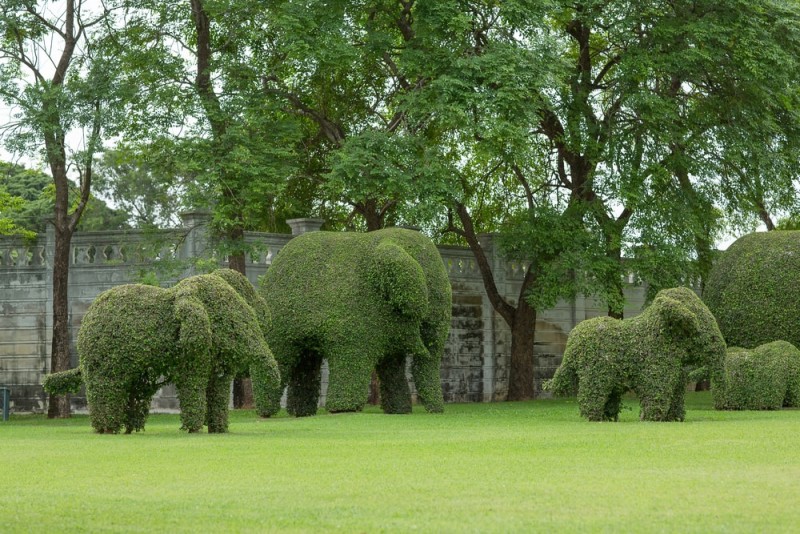 A beautiful garden arrangement of garden topiary forms. These topiary art trees are in the shape of a number of elephants.
Topiary is the practice of developing and maintaining clearly defined shapes, whether they be geometric or creative. Creating garden topiary forms is all about training trees and shrubs over time to grow into various shapes and objects. This is usually achieved by way of a topiary frame which thereby makes practically any shape or object possible within the confines of one's imagination and creativity.
The frames are not traditionally something that is readily available off the shelf but can be crafted by someone who knows what they're doing (usually from stainless steel rods) into the shape you want, but it can sometimes take a very long time once set in place for the plant/tree to grow into the shape. However the end result, will, in time be something that provides a great deal of pride and joy and satisfaction (as well as a garden 'WOW' factor).
Other topiary art shapes can be achieved more simply by just cutting and shaping an existing bush or tree over time into simple shapes such as cones, or squares, where frames are not necessarily required. Below is a gallery of topiary art and trees crafted into various recognizable shapes and styles. If you have a garden of similar trees yourself, or you'd like to take on a project and create one of these in your own garden, then hopefully, you will find some inspiration and ideas from this gallery.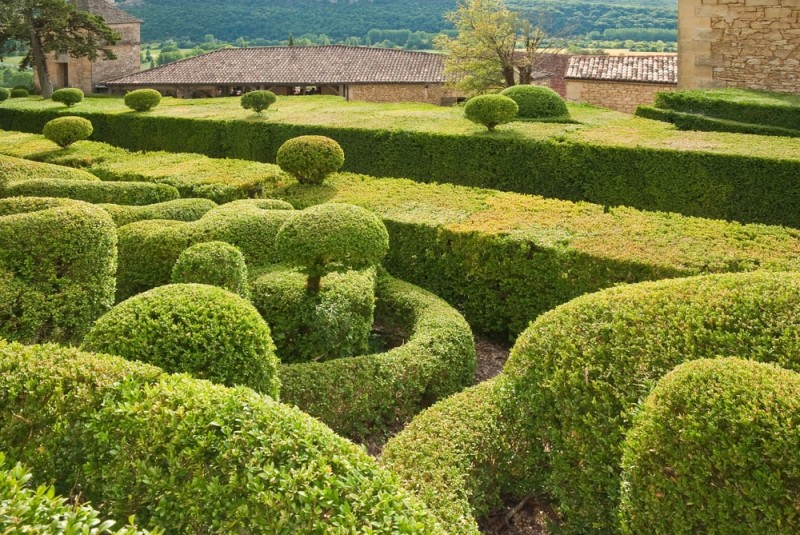 French landscape gardens with large amounts of carefully trimmed topiary trees and bushes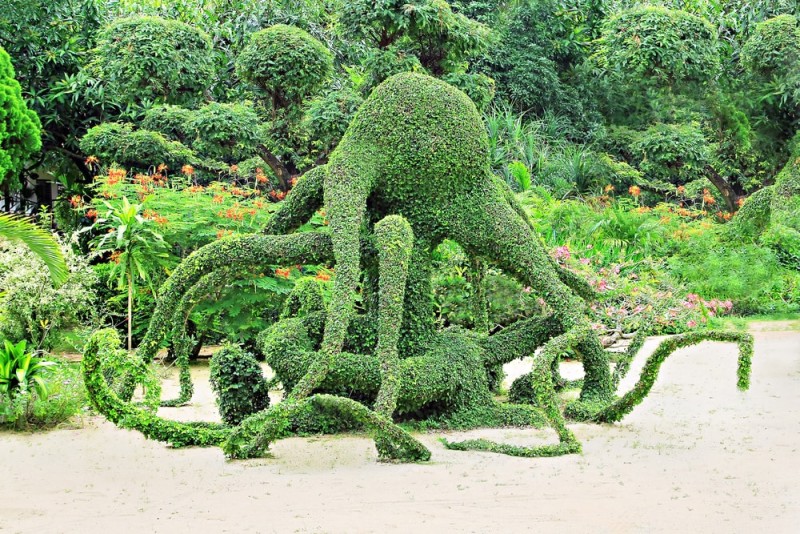 Interesting Octopus sculpture created from a bush.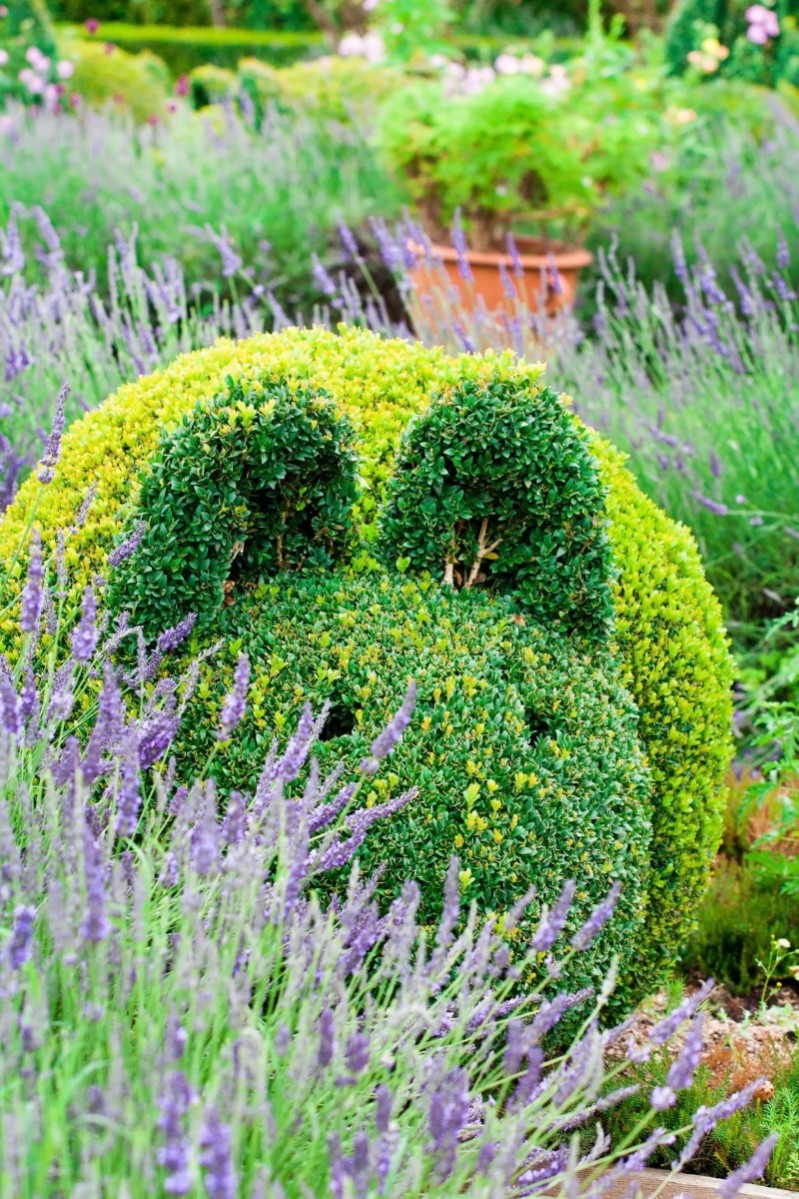 Stunning cat shaped bush sculpture set in a beautiful park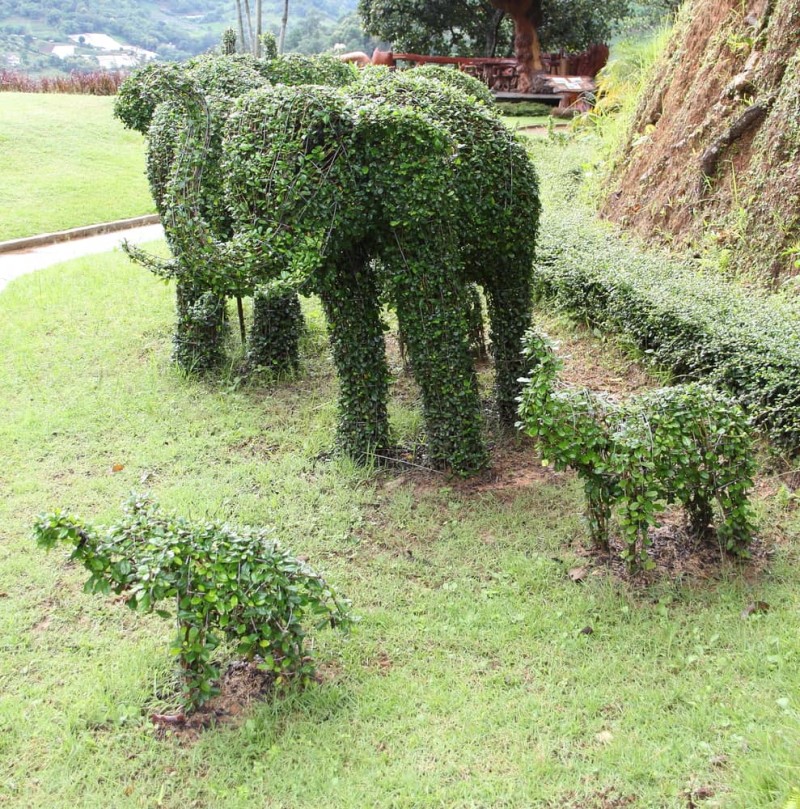 Elephant family topiary art of two adults and two baby elephants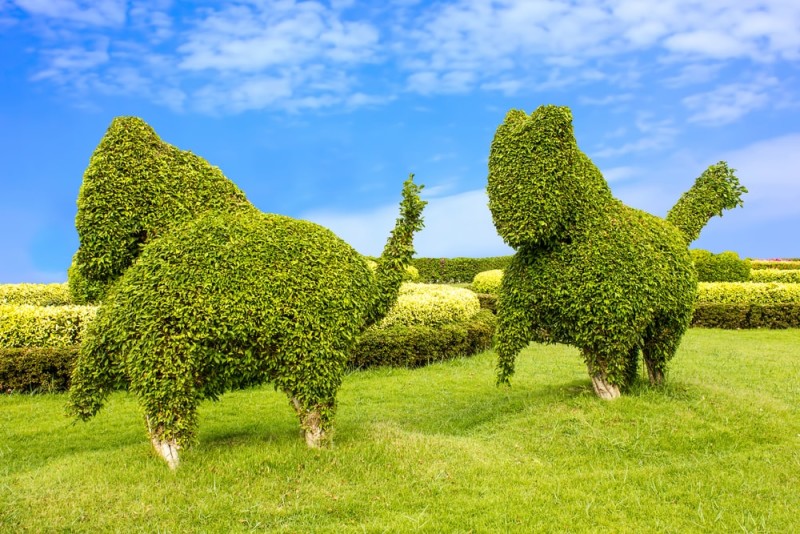 Animal shaped tree sculptures in the garden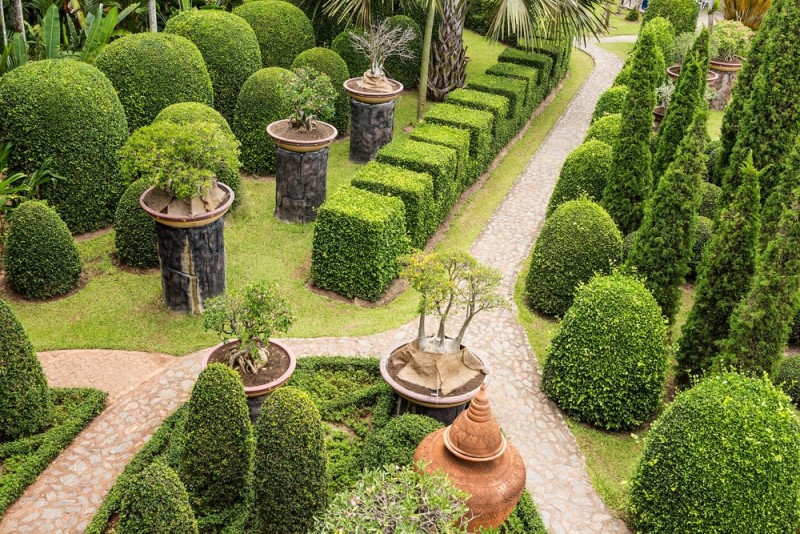 Beautiful walkway in the garden amongst an abundance of topiary shapes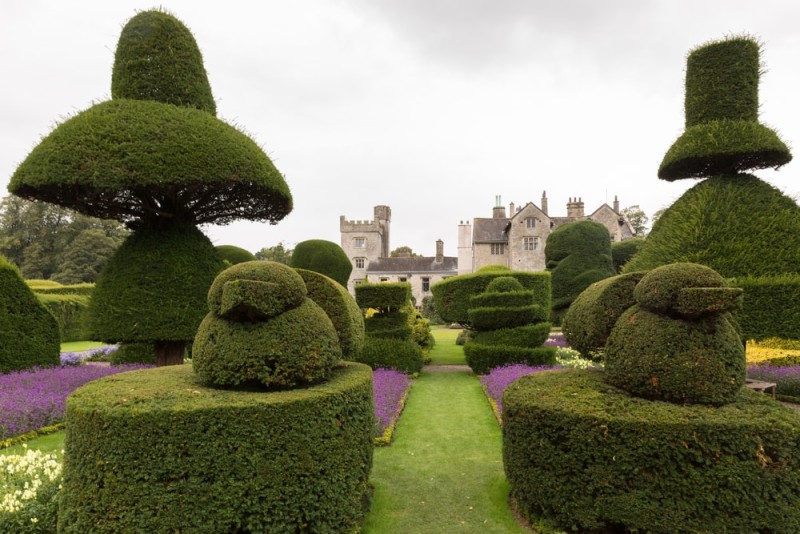 English country topiary art garden with many different interesting shapes.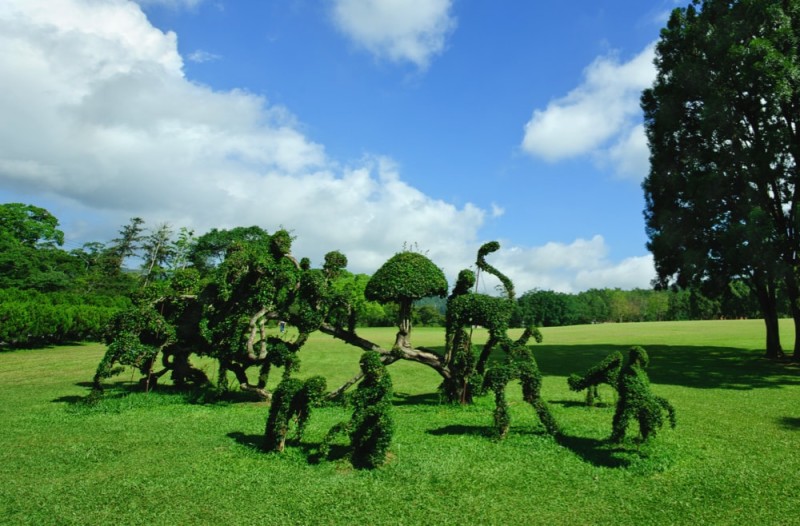 A group of topiary art sculptures on a large open field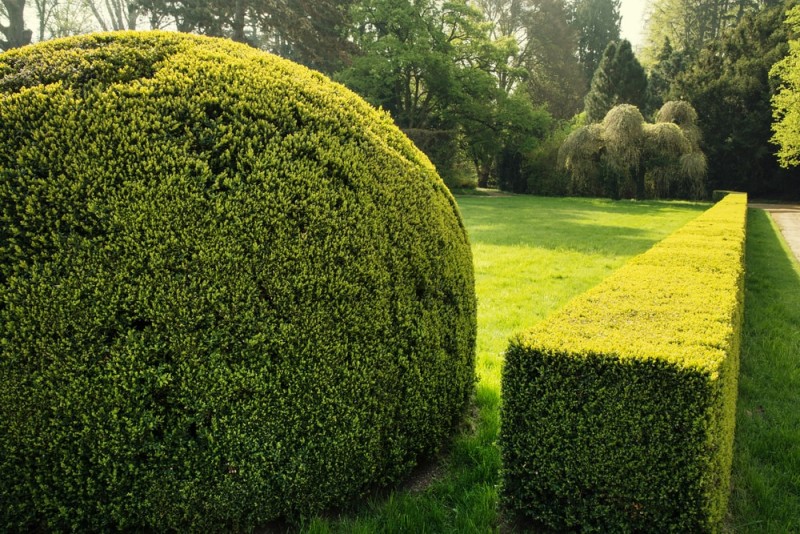 Beautiful green garden in spring with ball shaped topiary tree in foreground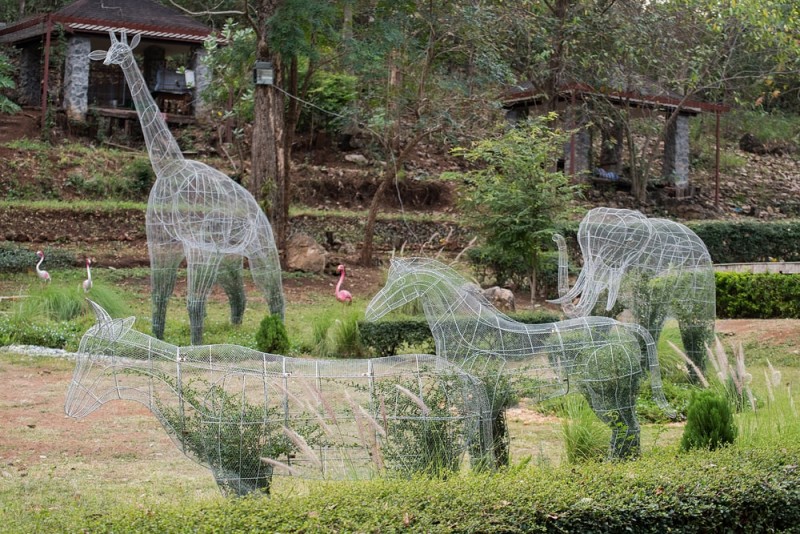 Examples of topiary art planting wire frames and various animal shapes, showing off how a piece of topiary art begins it life in the garden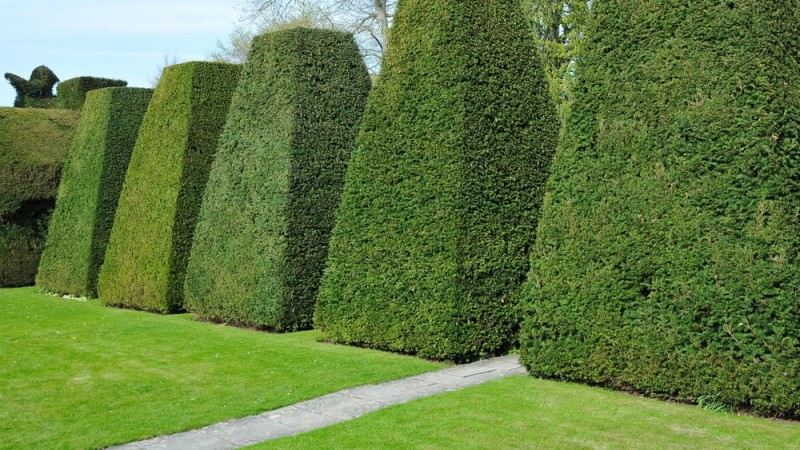 Scenic view of topiary shaped trees in a peaceful green garden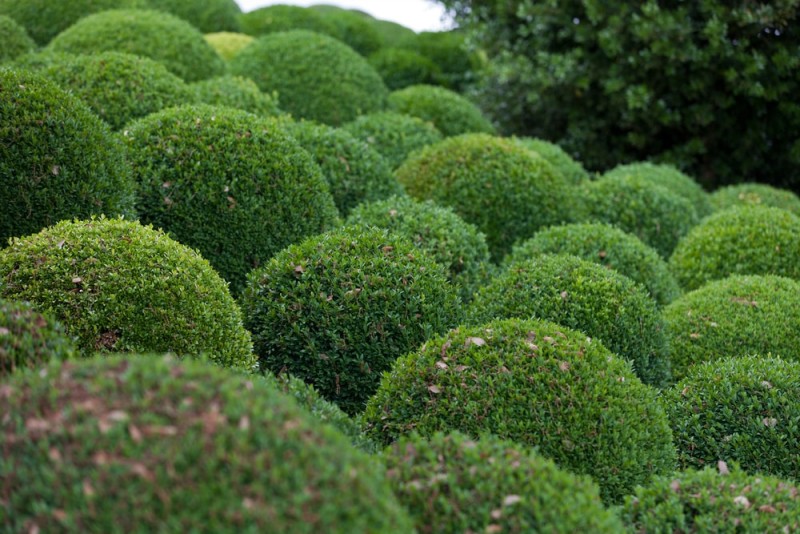 Green garden topiary balls in a French garden.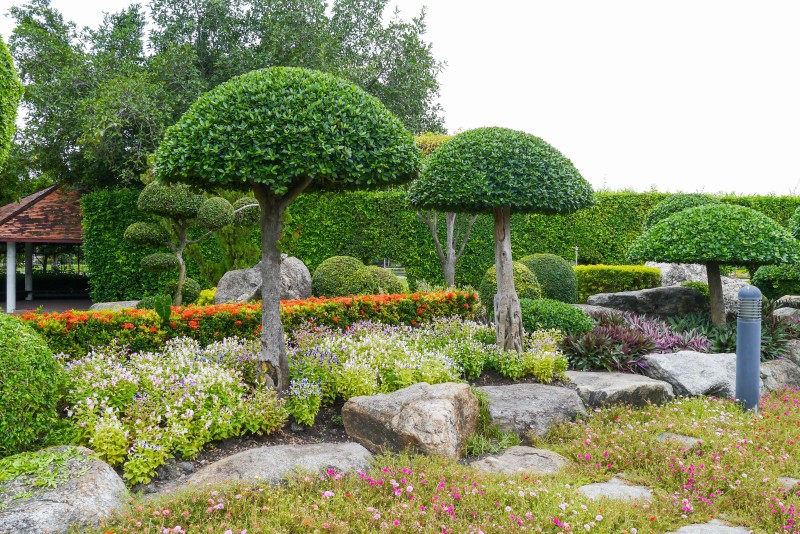 Dwarfed trees with mushroom shaped domes set in the park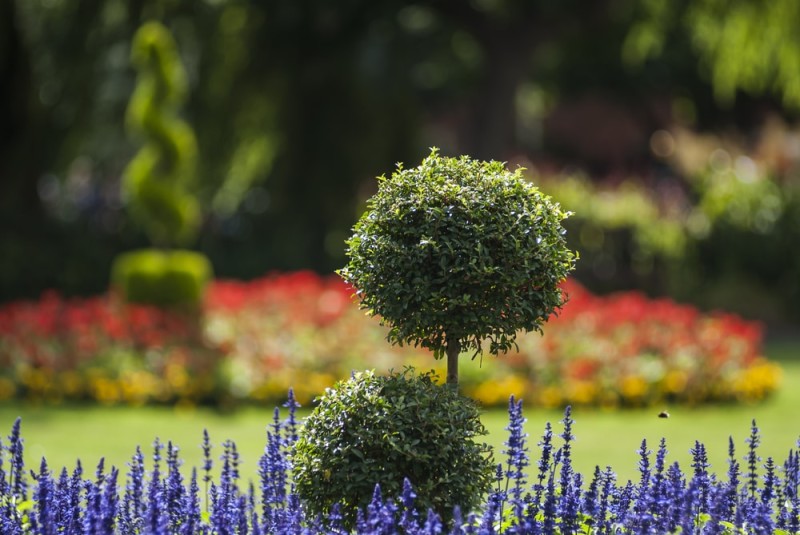 Simple ornamental park garden with a spherical box tree and lavender in the foreground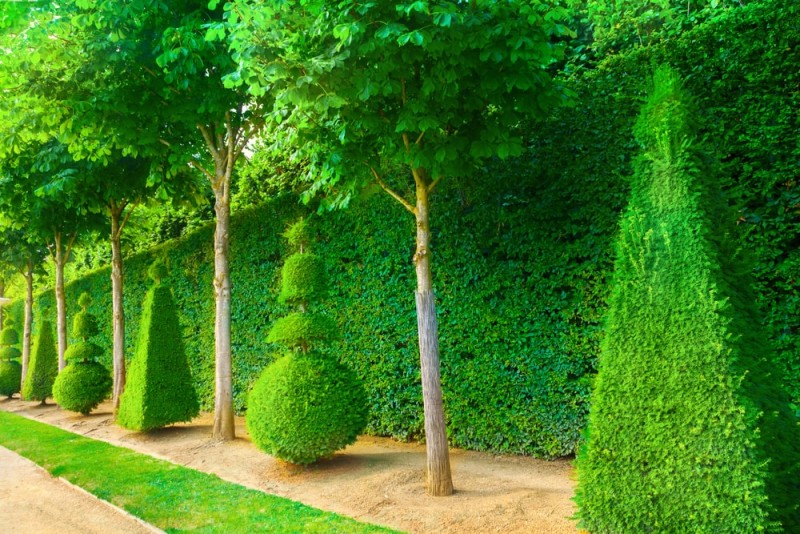 Topiary trees in alternating styles against a tall manicured hedge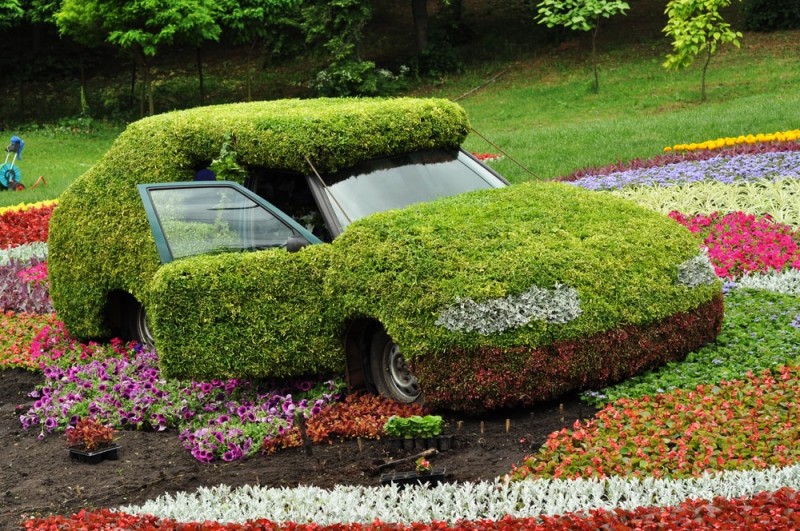 Car decorated with grass in the park – not strictly topiary, but definitely art.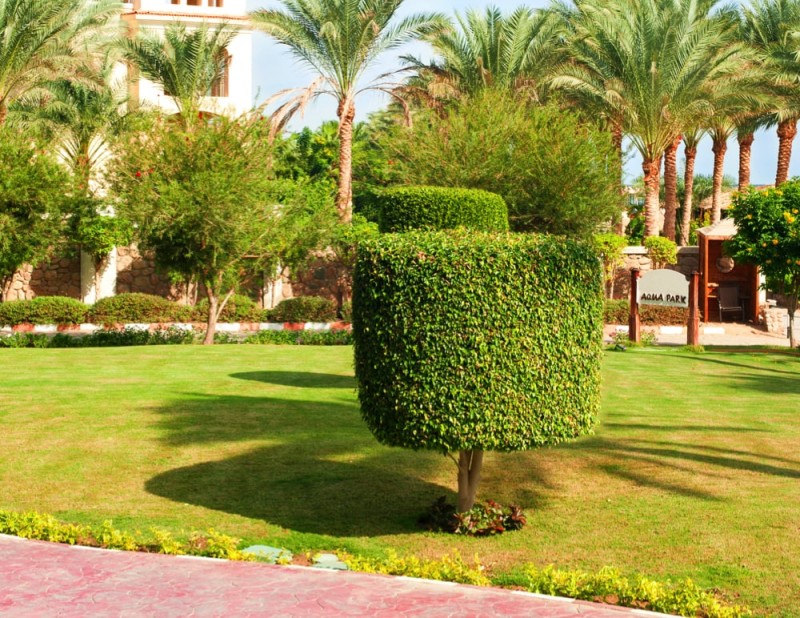 Topiary tree in Egyptian formal garden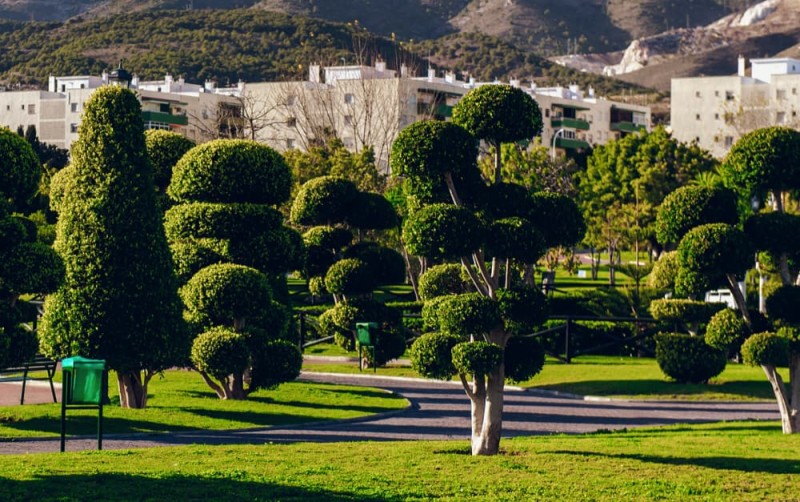 Beautiful park in Spain showing careful skilled shaping of trees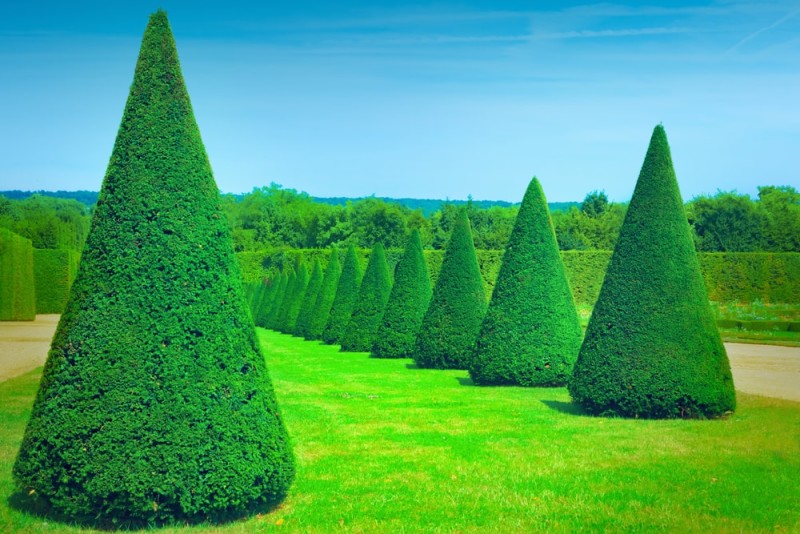 Topiary conical shaped trees of the same heights in a large garden area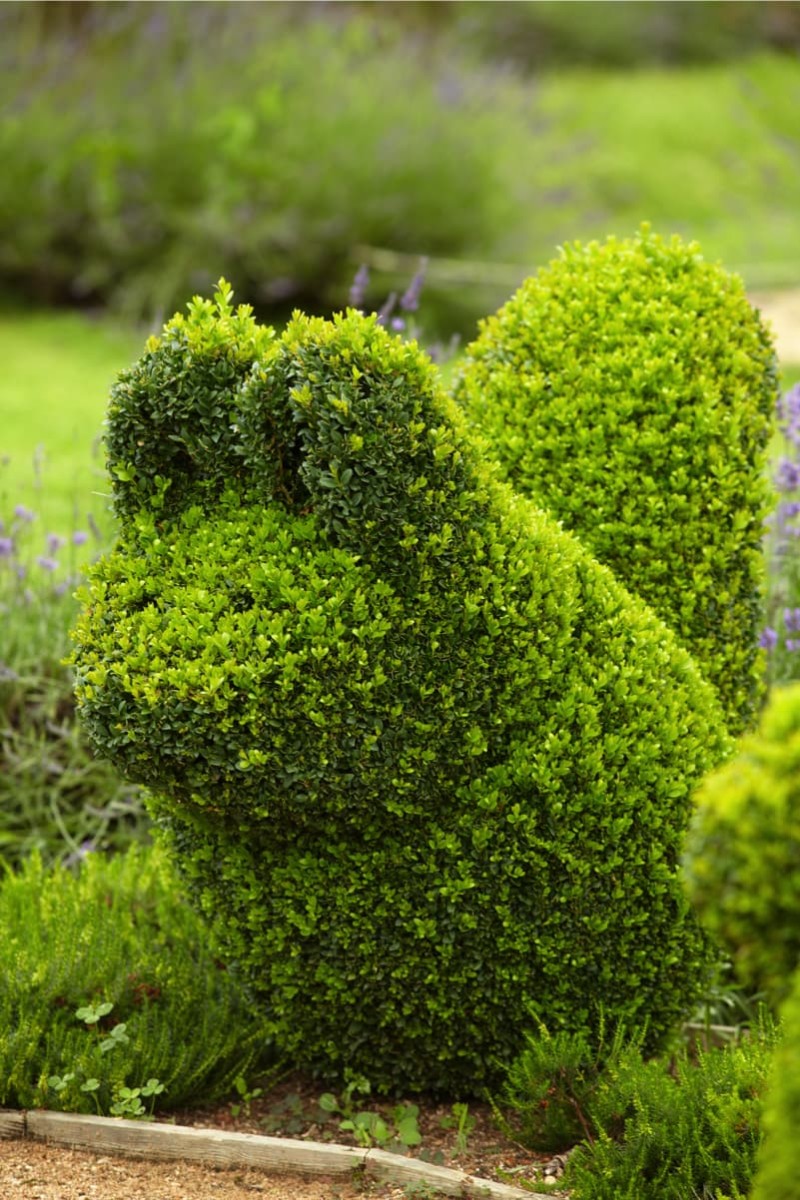 Cute Topiary art shaped squirrel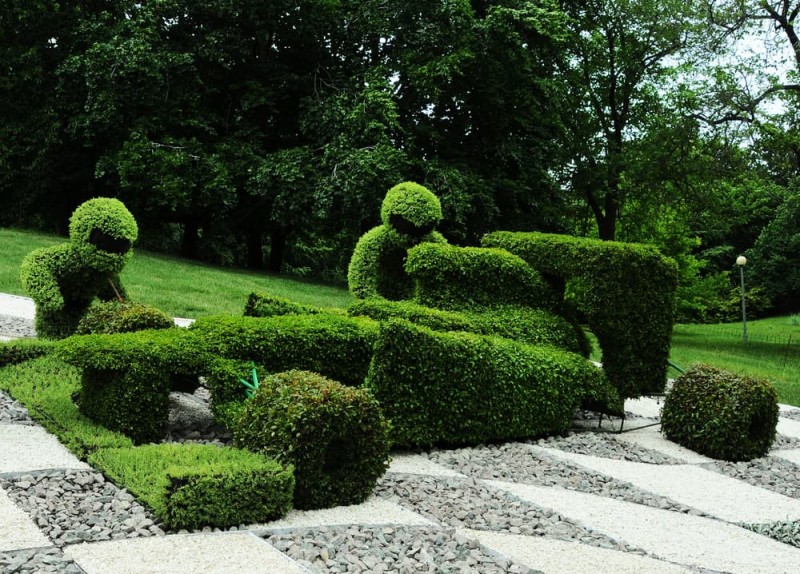 Abstract topiary art sculpted figures of motorcycle riders in the park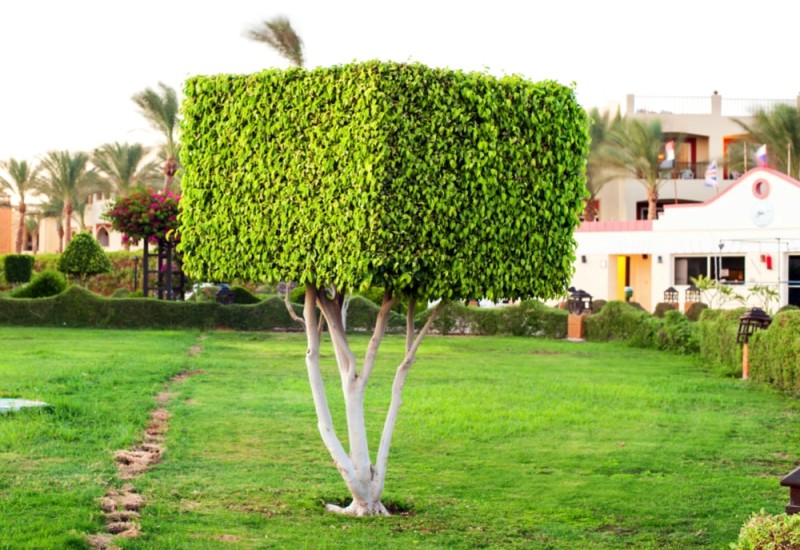 Square topiary tree shape in formal garden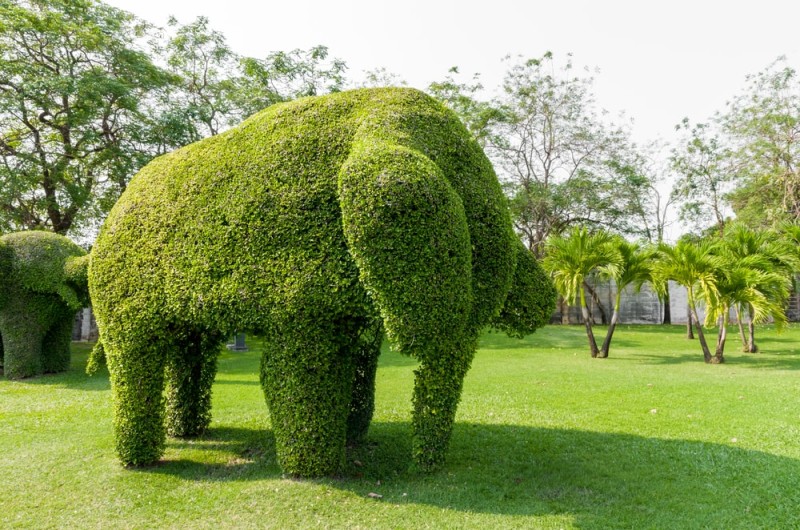 Topiary art shaped elephants from a tree in Thailand