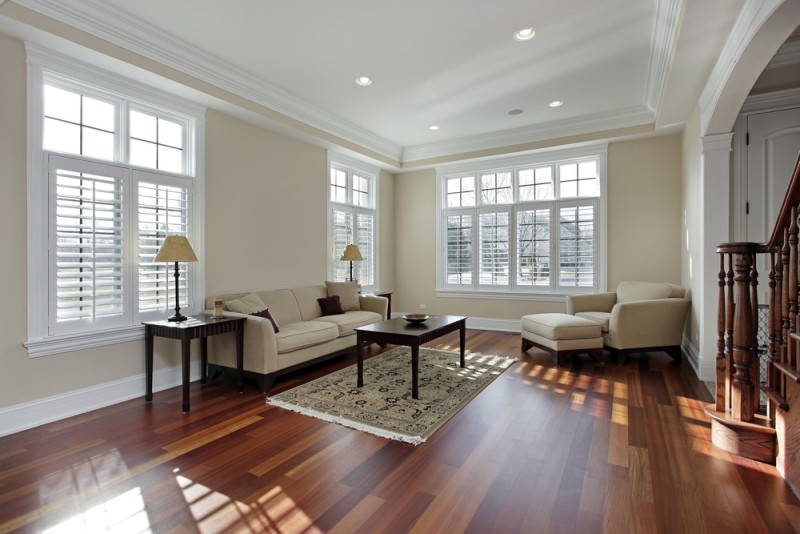 This feature page highlights a range of hardwood flooring ideas for living rooms along with some tips and advice on how and what to choose. When it comes to deciding on flooring in a living room and particularly if you are looking for hardwood flooring ideas, then it pays to go into some detail about the hardwood floor options available to you. Because whilst hardwood floors may look fantastic, there's more to it than meets the eye, and a little bit of research will help you make the best decision about the most suitable type of flooring for your situation.
Three Types of Hardwood Flooring Ideas Open to You As Options.
Firstly, there is the genuine article, the solid wood flooring. This is constructed from 100% hardwood that is milled from trees. It is natural and as a natural product, not only looks good, but will also responds according to its settings, such as moisture, and temperatures, meaning that it can shrink or expand, or crack and warp. Another advantage with solid hardwood flooring is that you are able to sand it, and refinish it as and when necessary, so effectively it has a renewable life of years. This wood floor type is not suitable for basements (below ground level) or in wet areas like bathrooms.
Secondly, there is what they term Engineered Hardwood. This product is still made from the same hardwood timbers, however it is constructed in layers, like plywood, and the various layers are glued together. The manufacturing process gives the 'Engineered Wood' better stability when compared with the solid wood option. The incidents of shrinkage or expansion with changing humidity levels is significantly reduced making it an option for basement areas (but still not bathrooms)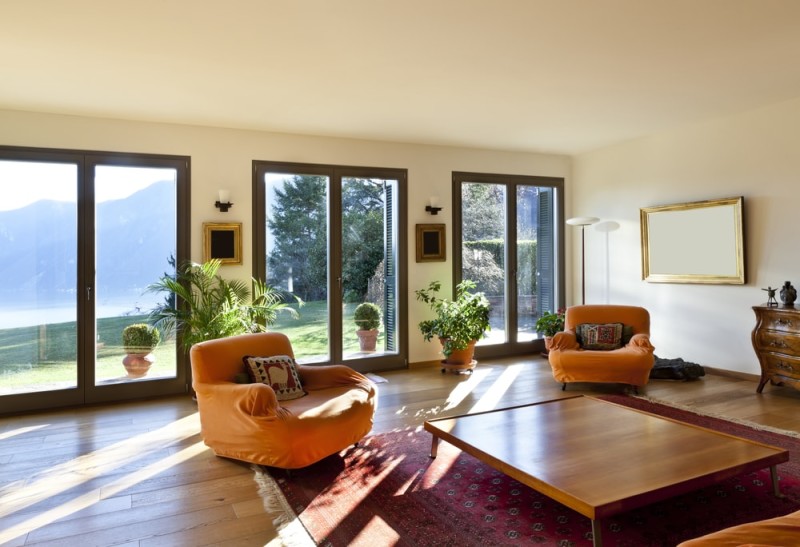 The above image shows a beautiful apartment with a stunning outdoor rural view, light colored wooden tongue and groove hardwood flooring, and simple decor furnishings.
Thirdly, there is the laminated wood flooring option. This is definitely 'fake' flooring, despite the fact that it may look or appear like the real thing, it isn't. Its usually an image of the hardwood look, that is covered by a melamine layer and applied on top of a high density fibre board. Don't be put off by the fact that its fake, if that's the look you want. These products are well made these days and genuinely look good on a floor, but you just need to avail yourself of the advantages and disadvantages if you are considering a product of this type before you leap forth and splash out on a whole house lot of laminated flooring.
Budget is always going to be a deciding factor, so make the best decision you can that balances both budget with look and practicalities. Ensure you understand the pro's and con's of what you can install, how it should be installed, where you can and can't install the product and what the costs, maintenance and ongoing life of your wood floor is likely to be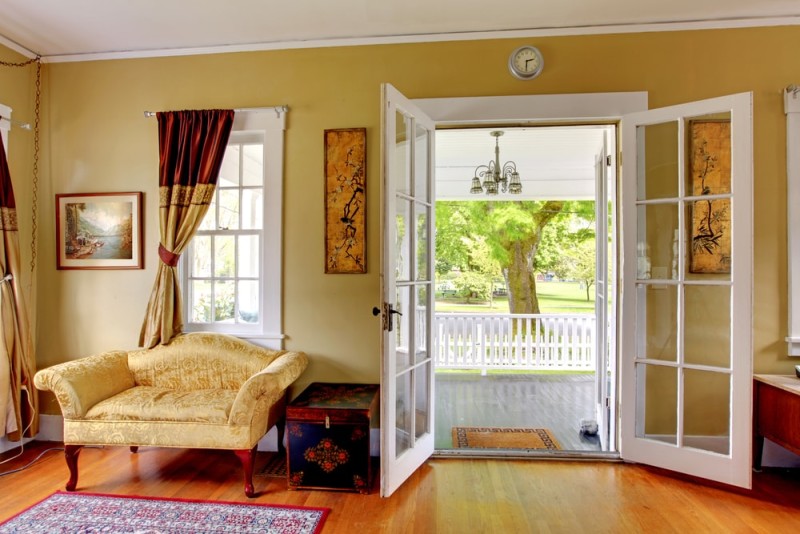 A beautiful classic styled living room with open French doors to a front porch and a park view. Rich polished honey colored hardwood flooring ideas make for a really lovely and interesting conceptual floor finish in many modern homes. This living room floor blends well with the white door and window frames as well as the golden colored furnishings and wall color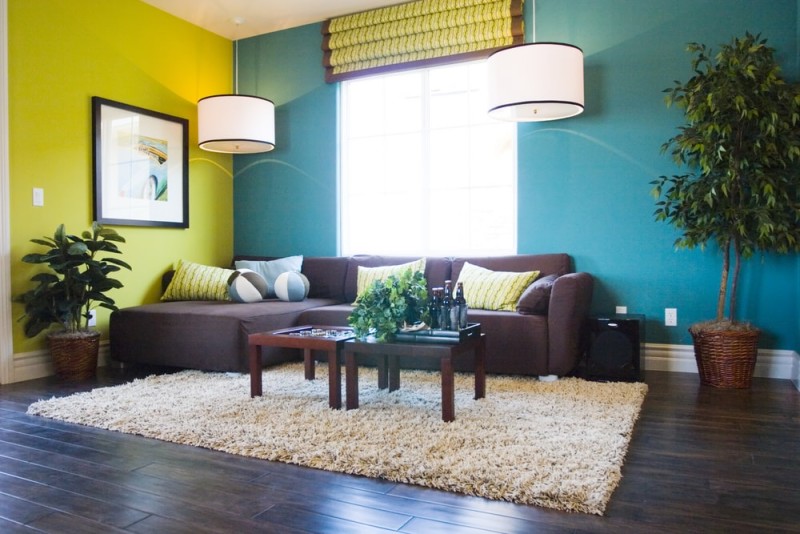 A modern casual living room with dark chocolate colored hardwood timber floor, a large cream colored floor rug, chocolate colored sofa, and colored walls create a real sense of style in this living room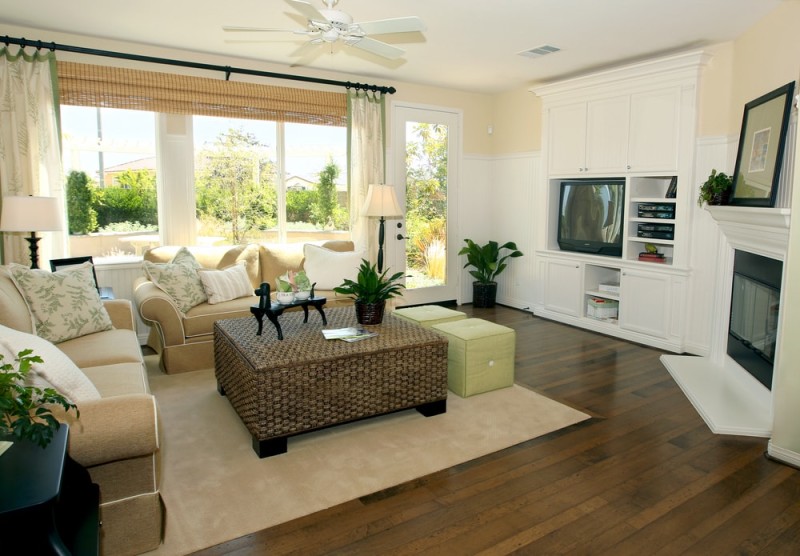 This contemporary living room is finished in earthy tones, and looks resplendent with its honey colored timber flooring, tan/cream floor rug, rattan coffee table and cushion laden sofas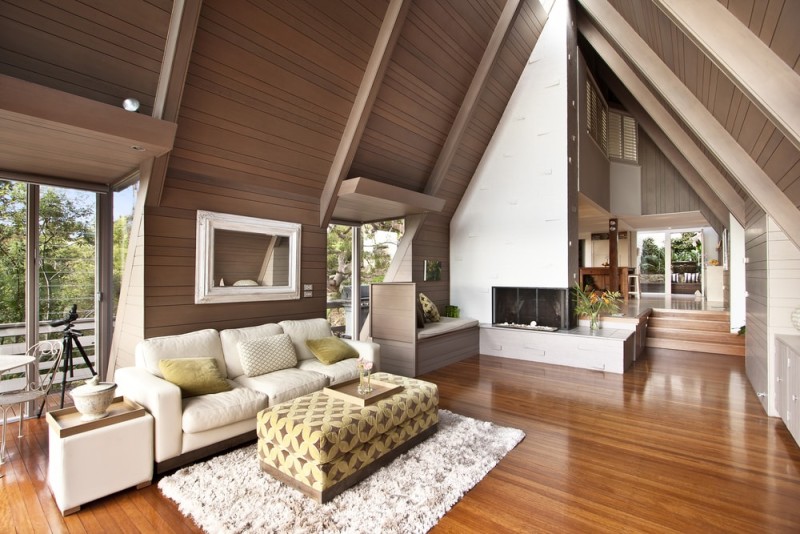 This modern living room stands out with its high wood-lined cathedral ceilings stained in a luxurious chocolate stain and contrasted against the beautiful honey glow of the timber floor, the fancy fabric ottoman, floor rug and luxurious fabric covered sofa all set in an expansive lounge room set up for all seasons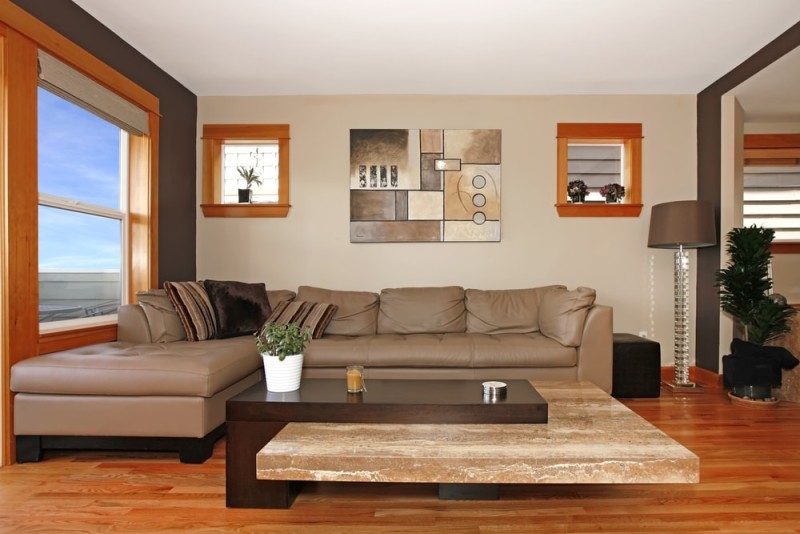 The above image shows a stunning beautiful modern living room interior, complete with large and small windows, neutral wall colors, modern contemporary sofa and coffee table and the most amazing honey rich colored timber flooring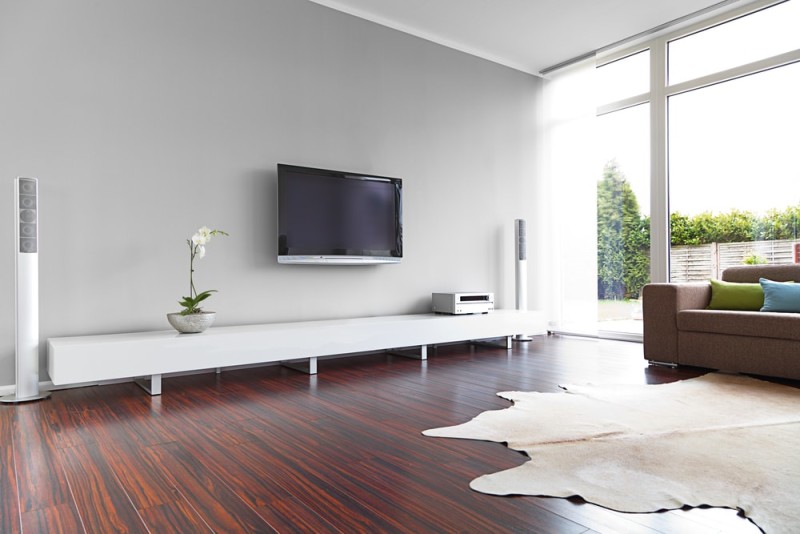 This modern living room with its wall mounted TV and hifi equipment, long display unit, full length windows and a modern tan leather sofa sit upon a highly grained hardwood floor along with a matching animal skin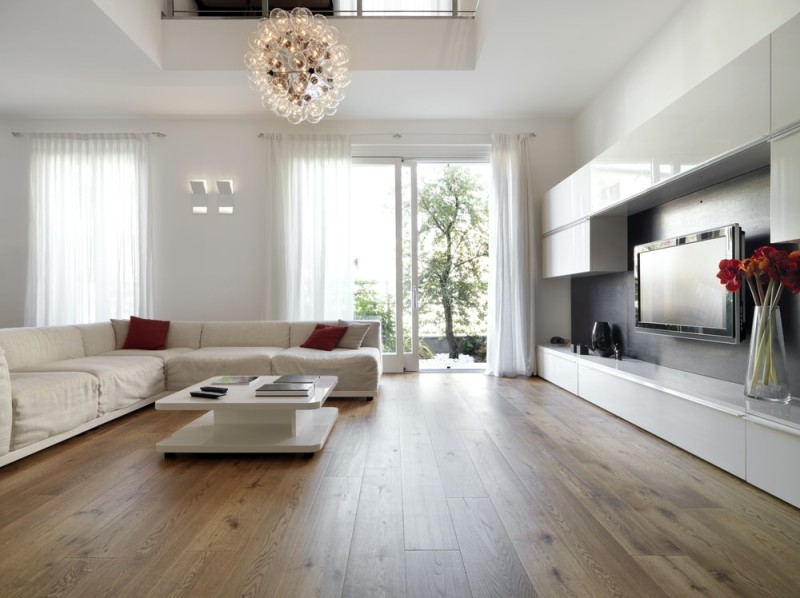 Another example of an expansive modern living room with light colored wooden flooring along with contemporary furniture and furnishings. The featured light fitting is particularly interesting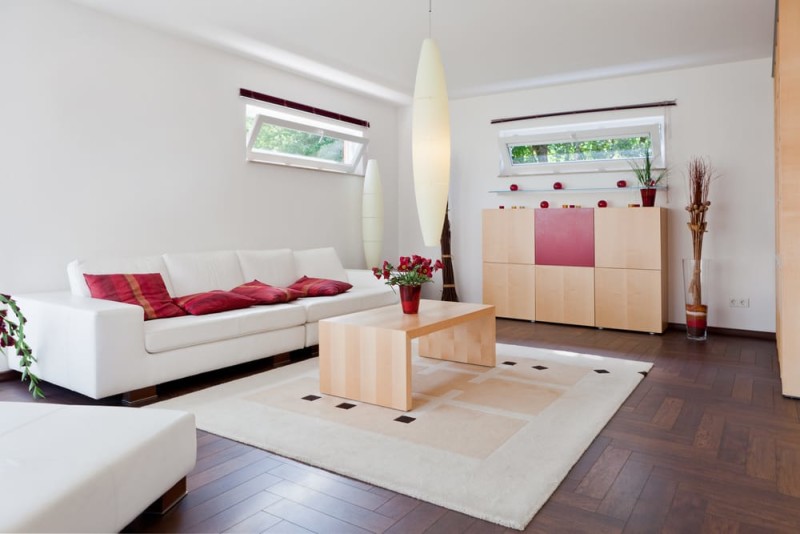 Here we see a modern house living-room with a contemporary white leather sofa, wooden sideboard cabinet and coffee table, large floor rug, stunning lighting, and all finished off with a beautiful parquet wooden floor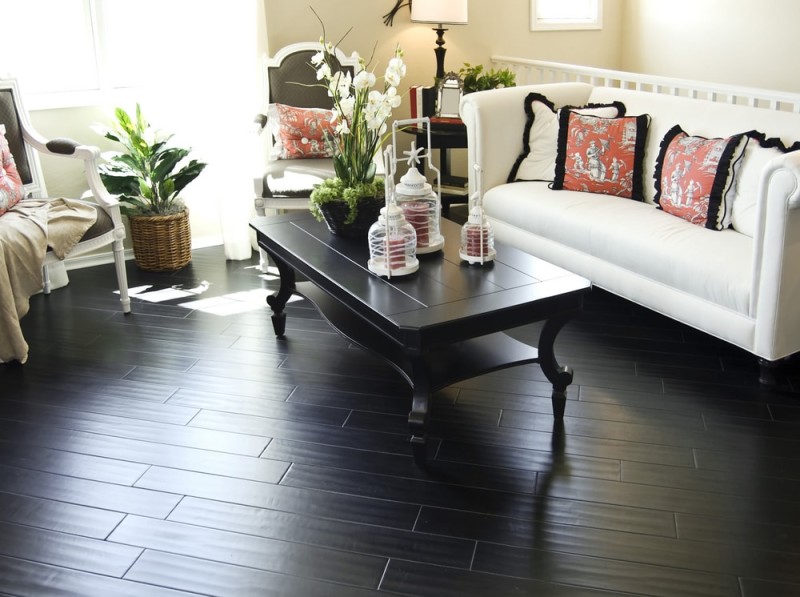 This very dark hard wood floor in a living room area contrasts beautifully against the creamy white of the sofa and chair and the neutral toned walls. An array of cushions in terracotta and cream tones blend everything together nicely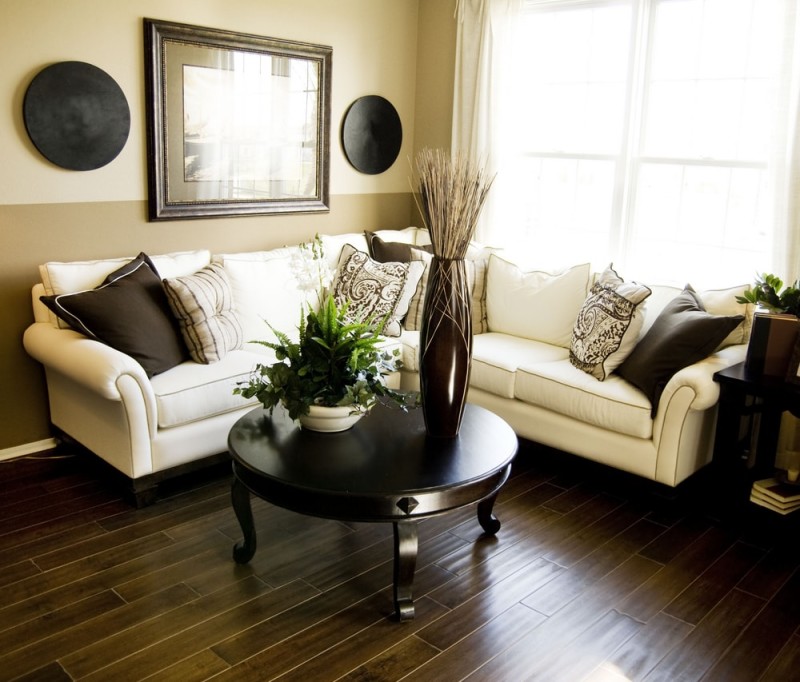 A beautiful living room with a dark colored hard wood floor that contrasts amazingly well with the two toned earthy colored wall and the creamy colored L shaped leather sofa and matching cushions and furnishings