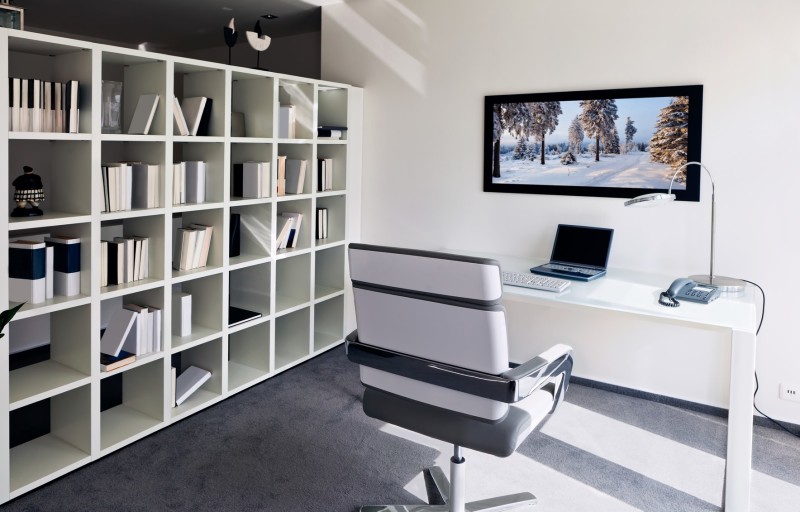 This home office design ideas example shows an interior with a large designer white bookcase, white desk and chair, grey carpet and wall mounted screen.
I adore home offices. They can be lots of different things to different people. They might be a professional client meeting room for some, or they may be a creative room where ideas are hatched. To others, they may be where they can conduct calls and conferences in peace away from the rest of the family and to others they may be where they catch up on some much needed study or academic demands.
A home office can be setup in practically any room of the home. In fact it needn't even be a separate room, there's no reason why you can't include it within an existing room like a bedroom, or perhaps even in the space under the stairs. Where you create your office room is really wherever you feel most comfortable and feel you can work best. The next point to consider, is what do you need to outfit your office room? Well that will all depend on the purpose of the room to you. Many people can create an home office with simply a chair and a desk. Other people may require, filing cabinets, book shelves and storage. Give it some thought, and you'll develop an environment where you feel you can achieve what you need to.
The following gallery of images show a variety of different types of home offices, from the casual and relaxed through to the professional and sophisticated. Hopefully, they will provide some insight to you that will help or assist you to create that little piece of your home where you can retire to and get sone work done.
Modern interior of a woman's home office with timber table, cane chair, white cupboard shelf unit and big plant
Dedicated home office room with green/blue walls, off white door and desk furniture, tan floor tiles and dark wooden book stand.
An example of an office and spare bedroom co-existing in a luxury mansion
Luxury home office with a hardwood desk, black leather executive chair, yellow walls, timber floor and large carpet rug
Funky interior design of a cozy American attic home office space with timber floor, skylight window and cream and olive green wall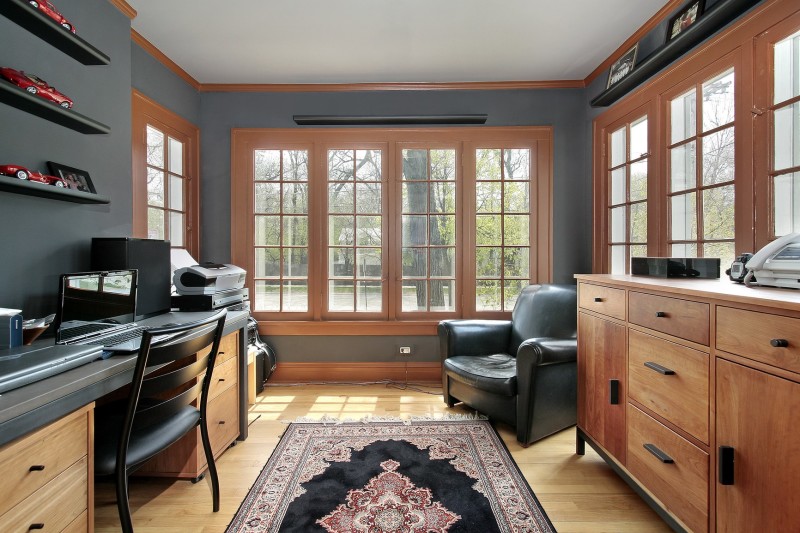 Home office with wall of French style windows around room, timber furniture, and comfortable black leather chair
Professional looking home office room with rich timber furnishings, fireplace, beautiful desk with globe and three chairs
Office in wing of a classic luxury home surrounded by windows, brown walls, white sills, ornate desk and two classical chairs
Stunning soft blue modern home office interior design with dark brown timber furniture with built-in desk, chair and TV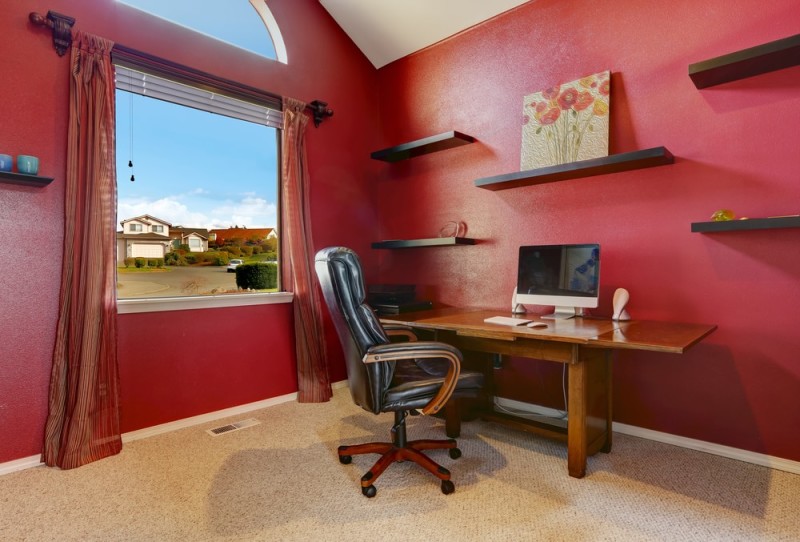 Bright red painted office study room with wooden office desk and leather chair, wall shelves and beige carpeting
Beautiful modern simplistic office desk and chair in open plan home office room adjoining the living room with room divider and sitting chair
Very modern contemporary home office with timber flooring, white desk, blonded timber bookcase, table, chair and footstool
A relaxed home office room with solid wooden office table, side table, and chair, an upholstered sitting chair with lamp and ladder style shelf unit
Executive setup in home office with polished dark wooden table, office chair, a wooden cupboards, drawer unit, timber floor and extra large window
Unusually decorated home office room with multi colored striped wallpaper offset against rustic floorboards and light wooden desk and black office chair
Open plan modern home office in upstairs mezzanine space featuring glass topped trestle table, office chair, and relaxing sofa
Rich golden colored home office with butterscotch colored walls matched with honey colored timber bookcase, office desk and chair, and tiled flooring
Classical styled home office with delicately carved office desk, and bookcase, timber chest, and office chair
Very modern apartment style office area with white bookcase and shelves, glass top desk and modern wire chair
A modern woman's home office room with white walls, white desk, white shelves and floral chair
Modern Home office with large dark timber bookcase, dark timber floors and desk and two modern office chairs
Home office interior with terracotta colored walls, magnificent old fireplace, timber desk and classic furniture
Home office interior with dark yellow walls and wooden corner bookshelves, green curtains, old leather chair and solid timber desk
Home office adjacent to other rooms in the home and with large expansive ceiling space and windows. A half height wall provides separation from the rest of the home