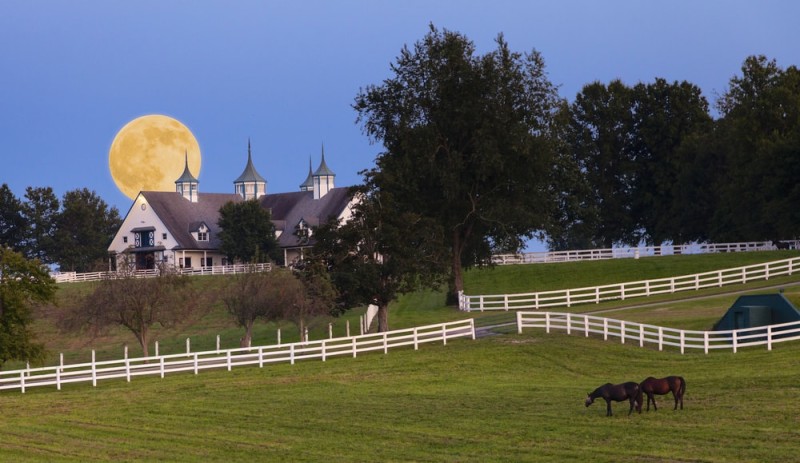 To many people, horses are a bit of a mystery. Horseback riding ranches are plentiful in many countries, as are horse stables, barns and the equestrian industry in general. The thing is, horses are never usually homed within the City and so to be involved with horses, one needs to usually either live, or travel to the rural areas where often large tracts of land are fenced off using traditional post and rail fencing techniques to keep any number of horses homed, fed and in their natural environment.
The racing industry, and the equestrian industry both provide competitive events for horse and rider alike, and yet to many people the keeping, feeding, housing, stabling, and even the riding aspect of having horses remains a mystery. In this gallery, we have chosen a number of images to hopefully demystify some of the equestrian aspects that relate to keeping and housing the horses.
You will see barns and stables, horse arenas where dressage training and competition often takes place, tack rooms where riders store their gear, like saddles, bits and bridles, along with many other things. We'll even show you some of the gear that riders use. You will also see the extensive fencing required for a horse ranch that also requires a significant investment to instal, (but always makes an equestrian property look really beautiful) so hopefully by the end of this page, you'll perhaps understand that having and riding a horse needn't be a 'big unknown' and perhaps you may even decide to give horse riding a try yourself.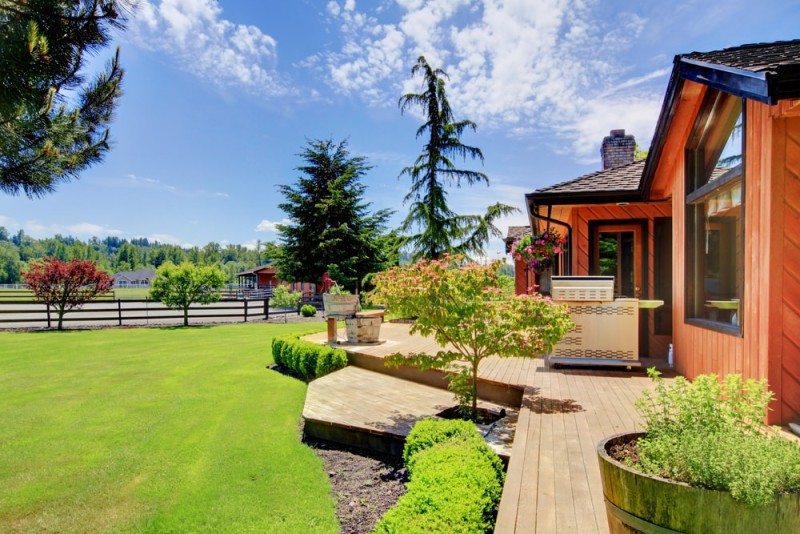 Beautiful horse ranch with charming house, landscaping and lawn area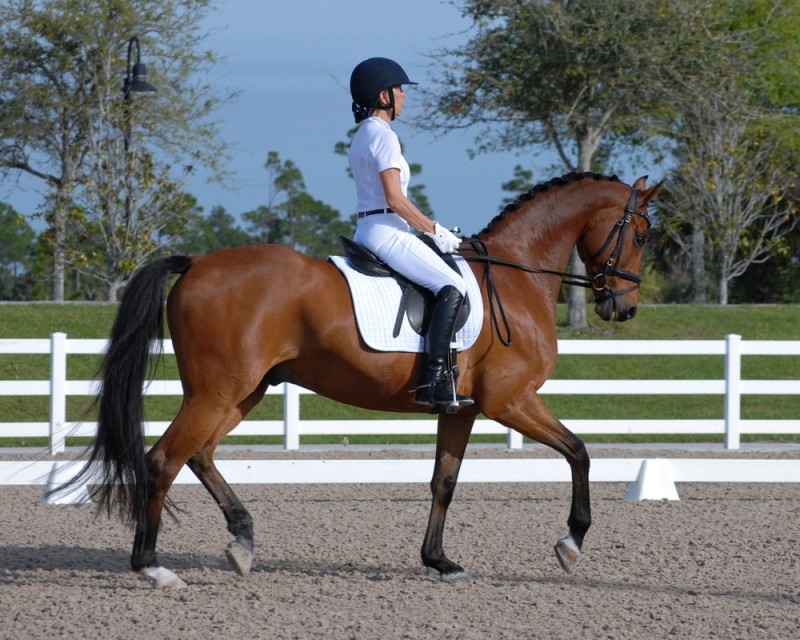 A dressage rider all in white on a bay horse in a dressage arena doing a dressage test.
A dressage test is a competition between riders and horses whereby they all compete within a defined arena area and over a pre-determined course within that arena. They are required to undertake specific actions and manoeuvres and are judged and awarded points based on how well the rider and the horse performed. The rider with the highest points wins the competition.
Dressage as a discipline is one of the three components that make up an eventing competition, the other two being showjumping, (where horse and rider navigate a course of jumps and try to avoid knocking down rails) and cross country where horse and rider cover a long distance with challenging jumps, water obstacles, etc and need to complete the course within a predetermined optimum time.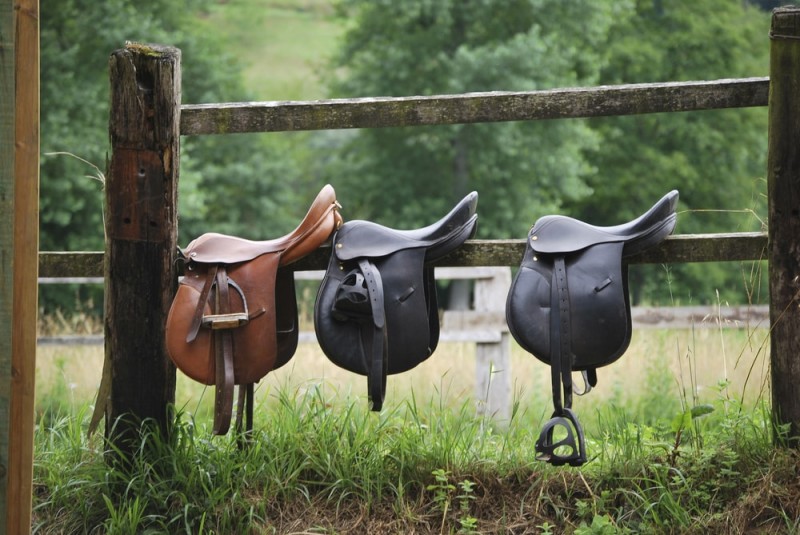 Beautiful leather saddles ready to put on the horseback. There are several different styles of saddles available that are usually created for a particular discipline, or as general purpose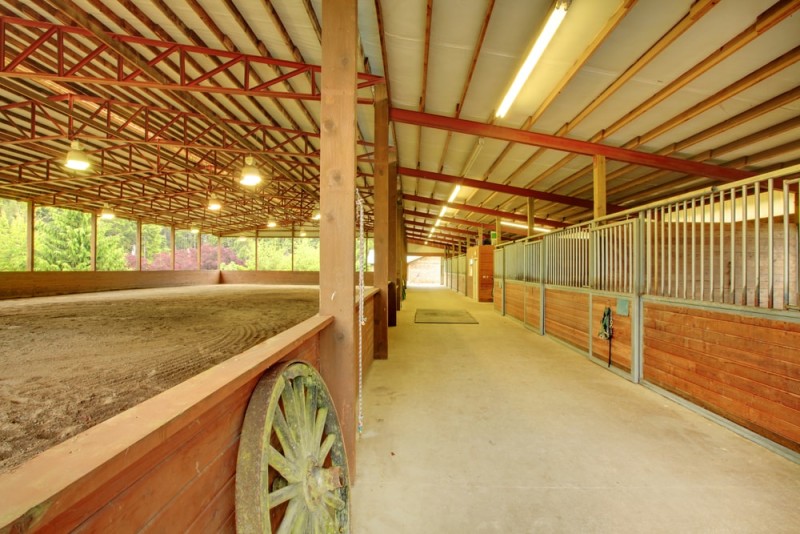 Large equestrian property with covered arena and stables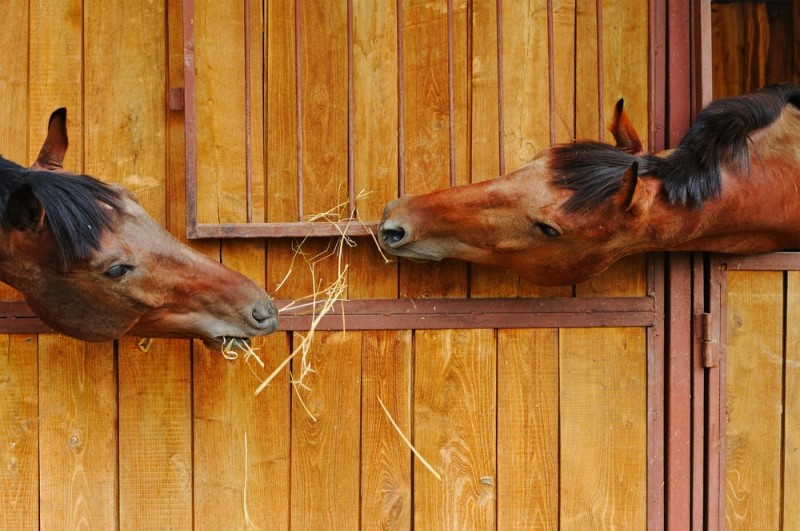 Two cute horses having a yarn in the stable. Horses are sociable creatures that like to associate with other horses, although they can also be unpredictable and flighty at times, reacting adversely to what may seem the silliest of things (like a wind blown plastic bag)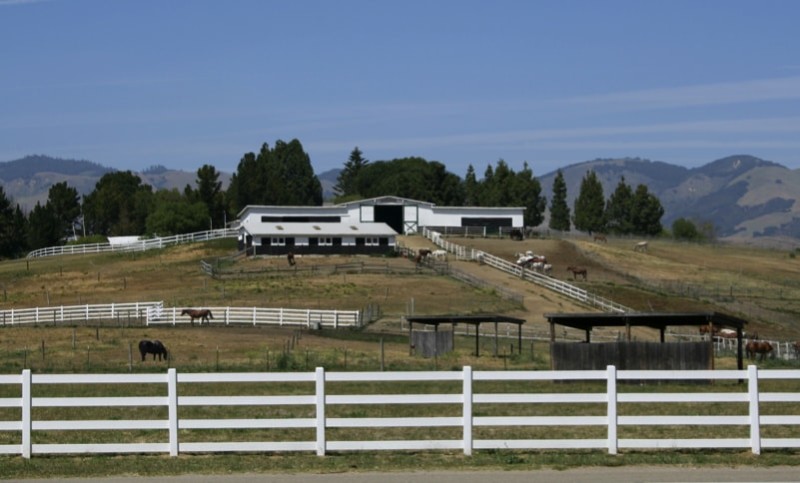 Wider view of an horse equestrian farm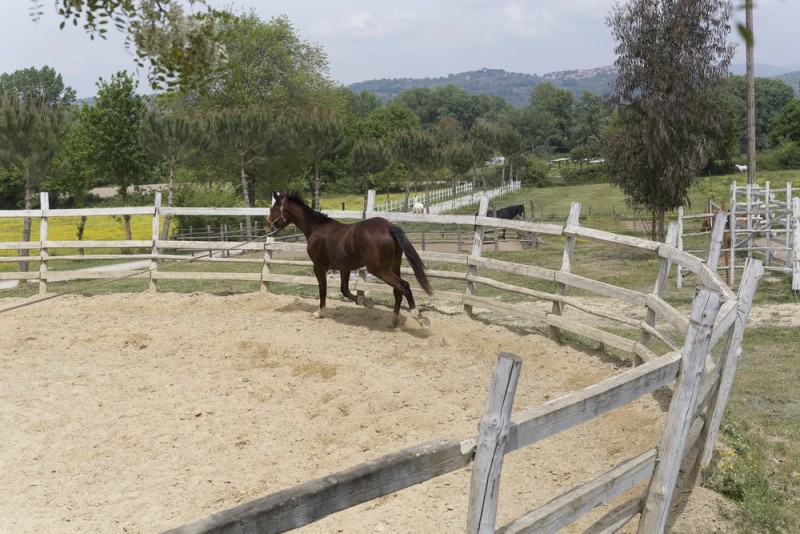 This horse is attached to a long rope and is being lunged as part of training in an enclosed pen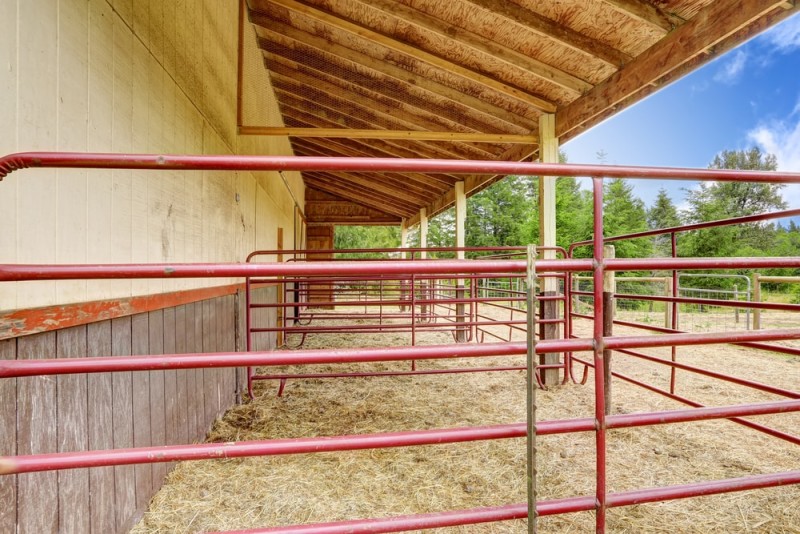 Horse barn with outside sheltered stables, hay ground cover and red railings for separation between pens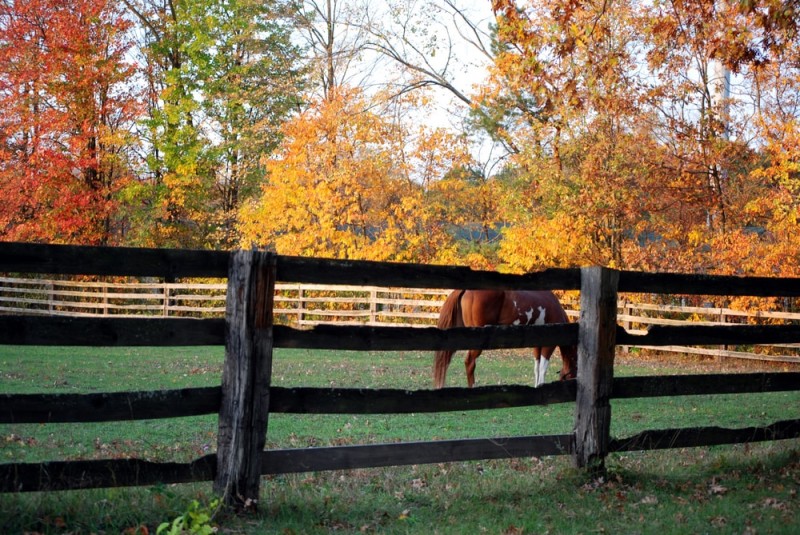 Stunning horse farm paddock with post and rail fencing in the fall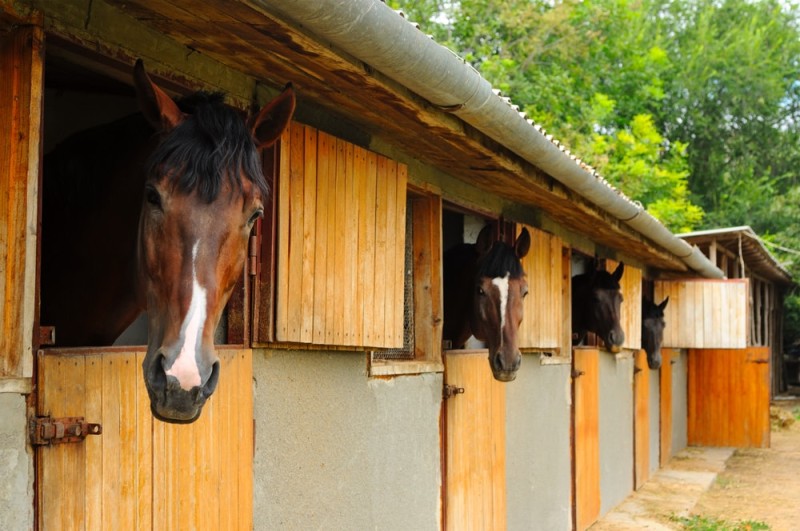 Curious horses in a stable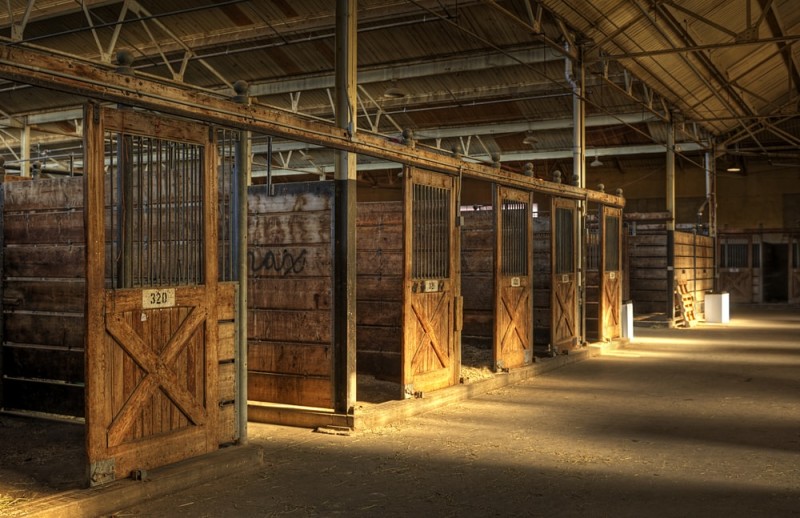 Empty wooden stalls with sunlight rays in horse barn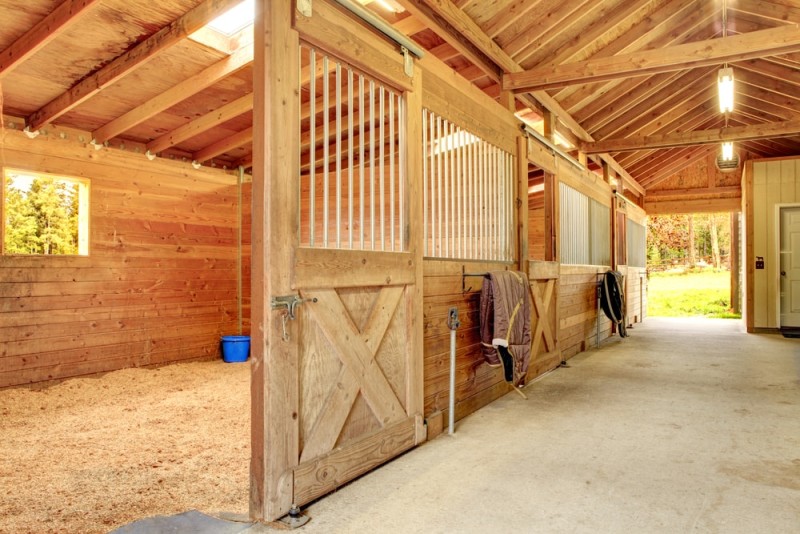 Stable barn with beam ceiling and open door to a clean stall. Horses aren't usually housed in stables all the time. They often reside outside in the fields where they feed themselves regularly on the grass. With exposure to various weather elements, hot, cold, rain, snow, etc, there needs to be some considerable care taken during the winter to ensure the horses are adequately covered with appropriately graded rugs in order to keep them warm and dry, and then in the summer, keeping them covered in breathable lightweight covers helps keep the flies off them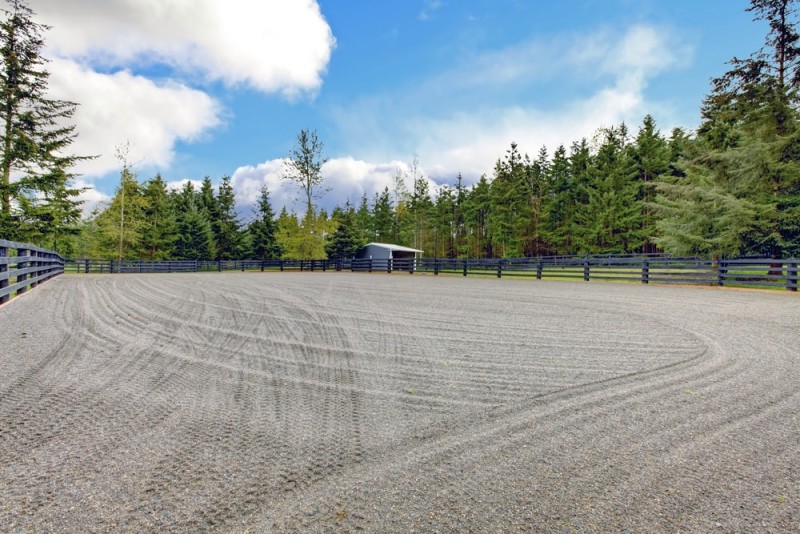 Large smoothed and dragged horse dressage arena with post and rail fencing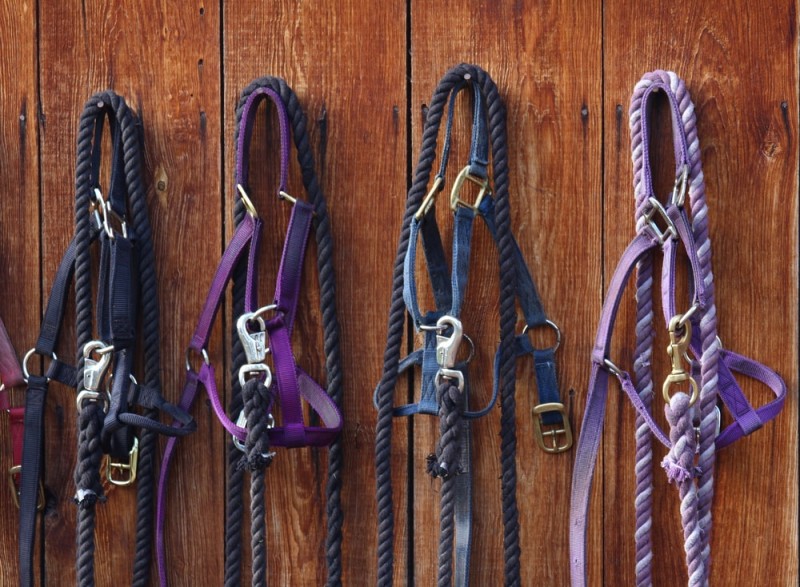 Four nylon halters hanging against a barn wall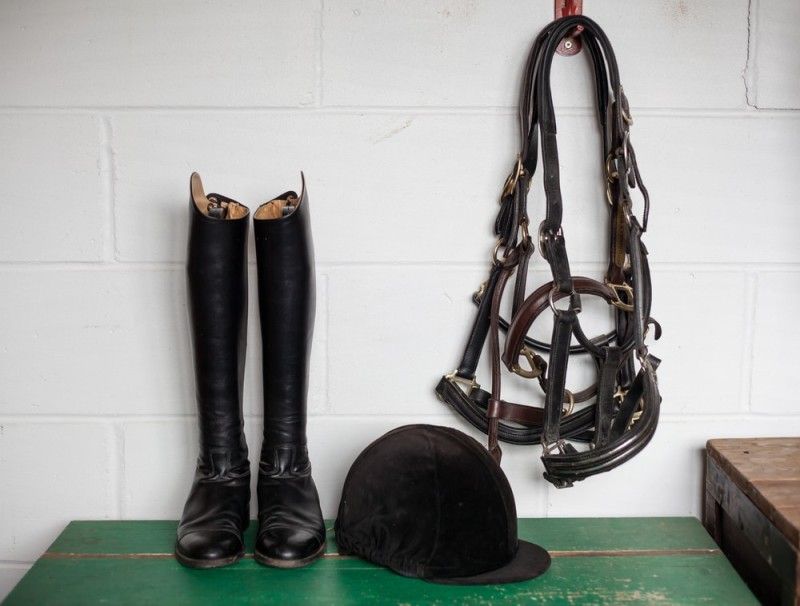 Tack room containing essential riding gear, riding boots, helmet and bridle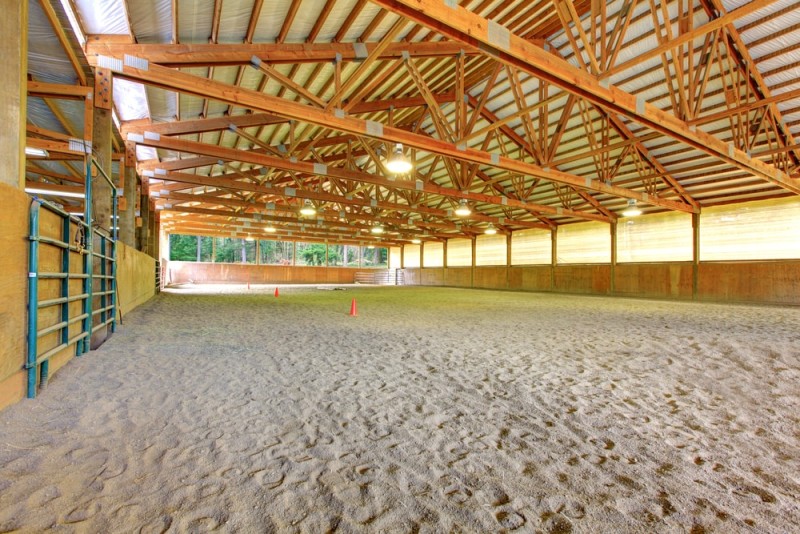 Large indoor horse arena with sand as the ground cover and high wooden beams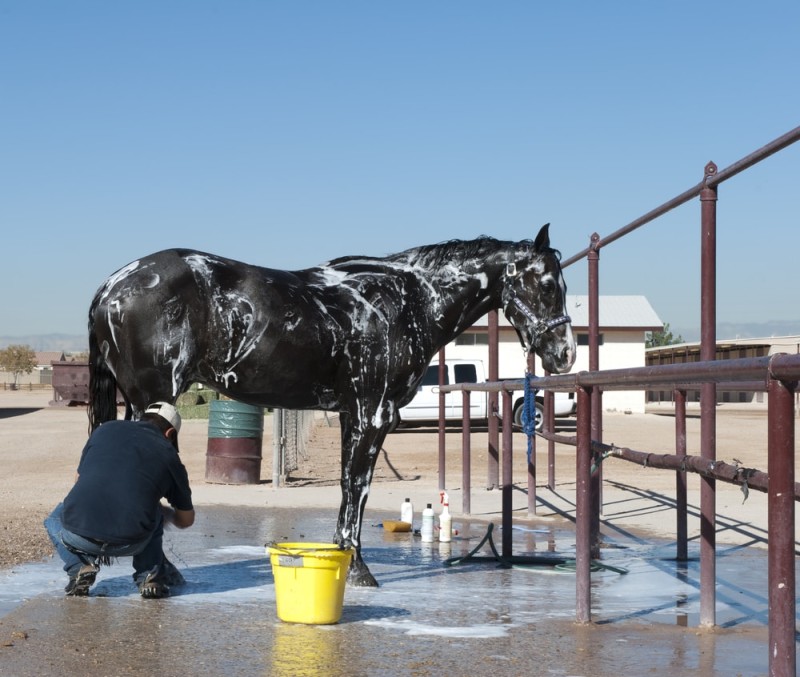 Horse getting a bath in a wash up area. Horse hygiene is important to maintain their health. Its particularly important to ensure their diet is adequate in terms of nutrition, supplementing where necessary, and taking general care so that they don't fall victim to some of the many ailments that make them lame or unable to be ridden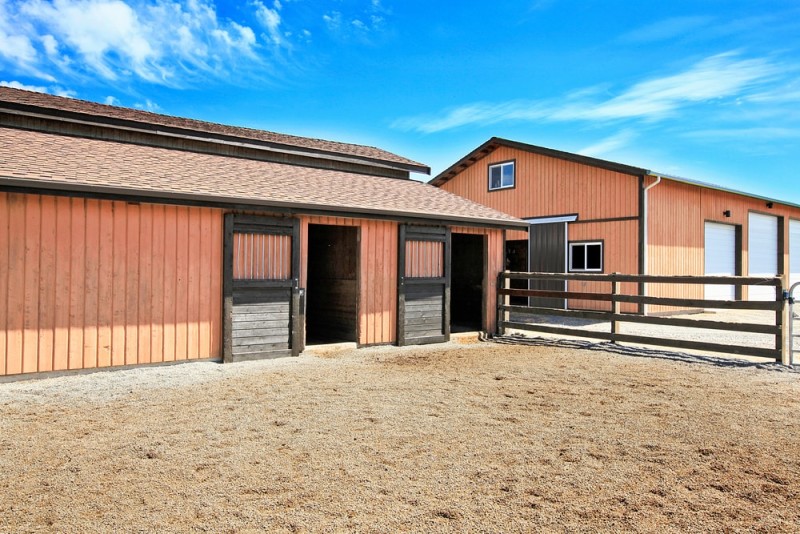 Horse ranch with two large barns and exercise area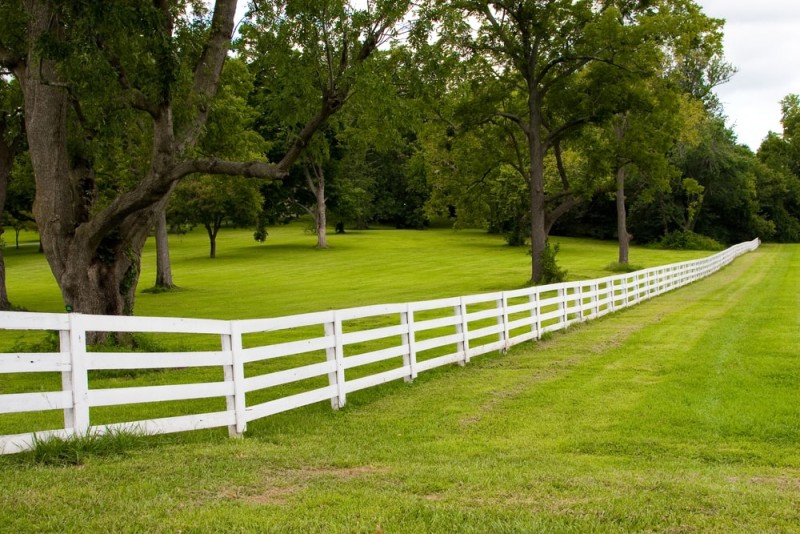 Horse farm showing trees and post and rail boundary fencing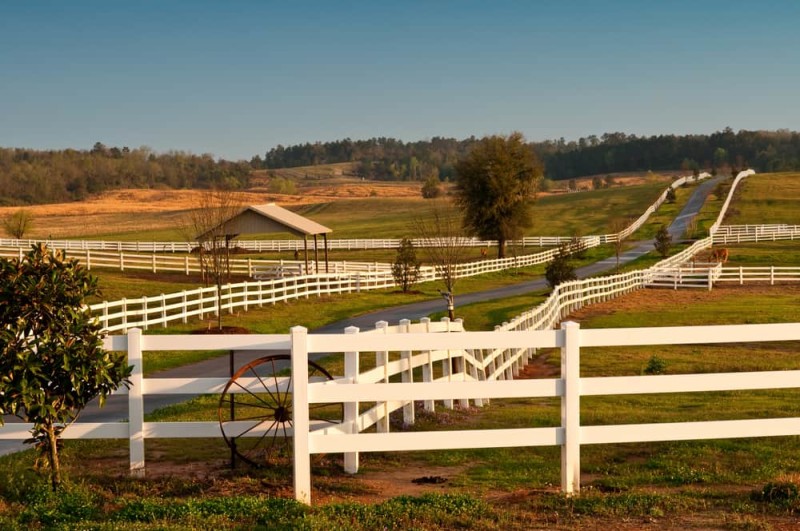 A modern horse ranch showing the extensive fencing required. It's fascinating when you think horses can often jump over 5 feet quite easily, and yet rarely do they ever jump their boundary fencing and escape.
Beautifully clean storage room within stable horse barn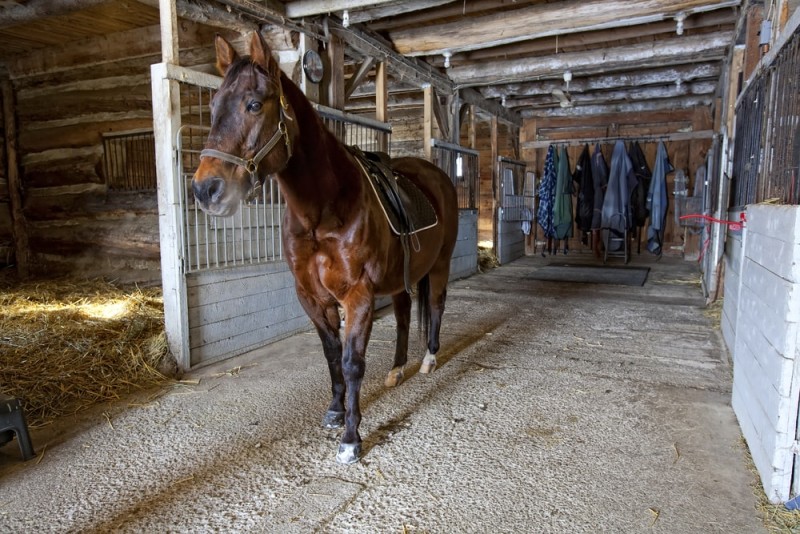 An untethered brownish red quarter horse in a small private stable wearing riding gear prior to heading out for a ride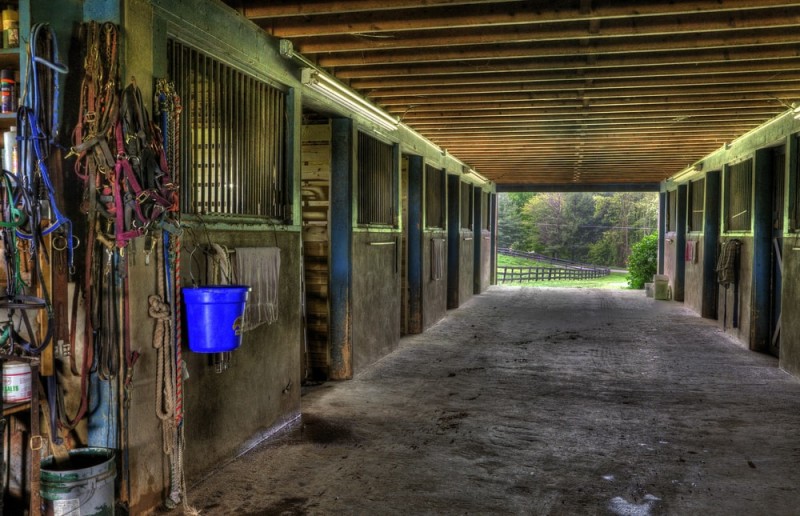 An older style well used horse barn with tack hung on side wall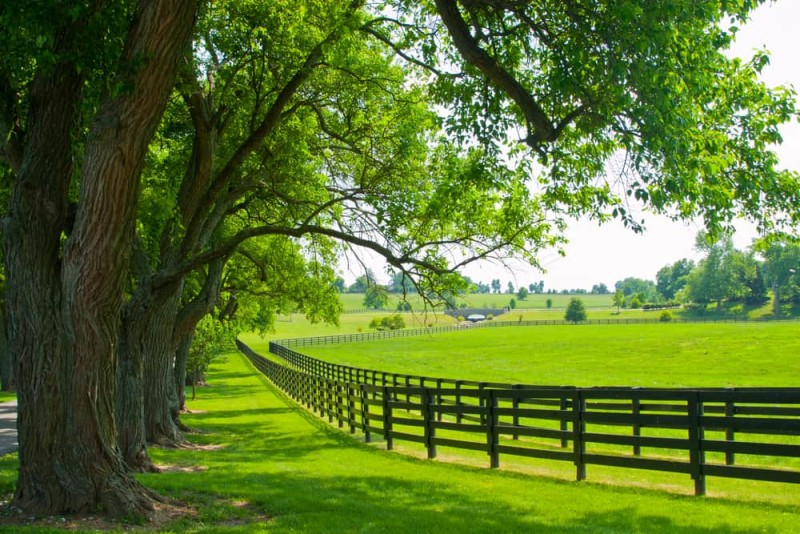 Spectacular horse farm ranch property showing post and rail fencing and big open paddock with neighboring mature trees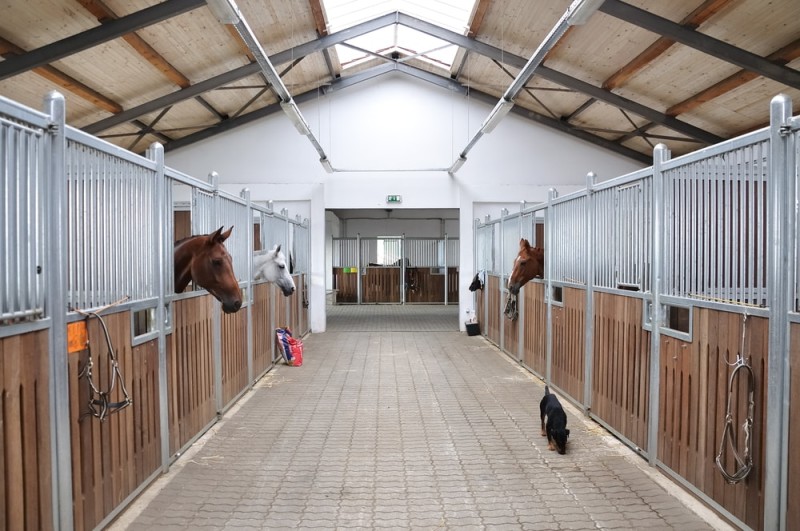 Modern clean and tidy horse stable in reasonably new building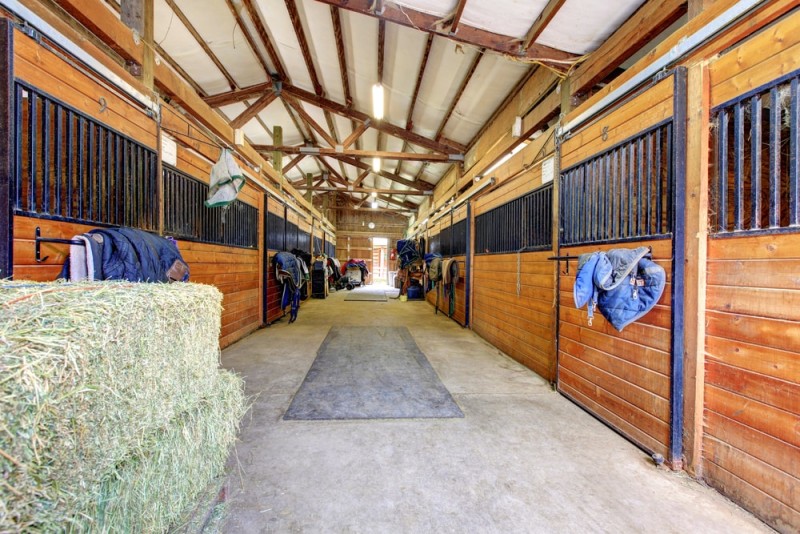 Large horse stable shed with bales of hay for feed and ground cover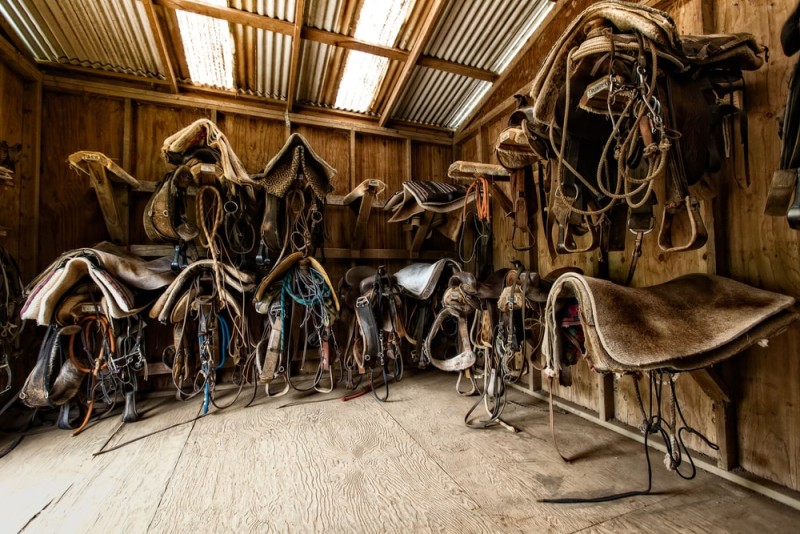 Old well used tack room at a professional riding training establishment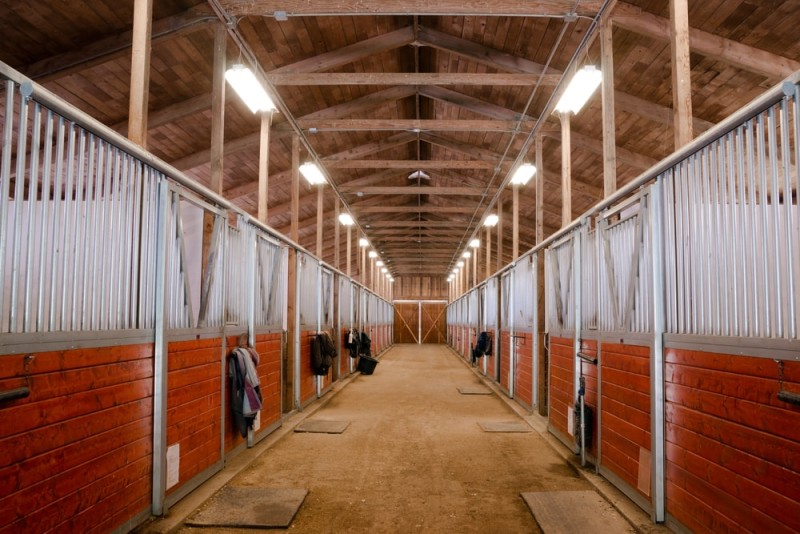 Well maintained equestrian ranch racing stables in a large horse barn