Beautiful ornate luxury decoration of a compact apartment studio. Image via www.drawn2style.com
A lot of people that live in small apartments or tiny houses have the same problem and that is often how to maximize the use of the space to create a fantastic living space.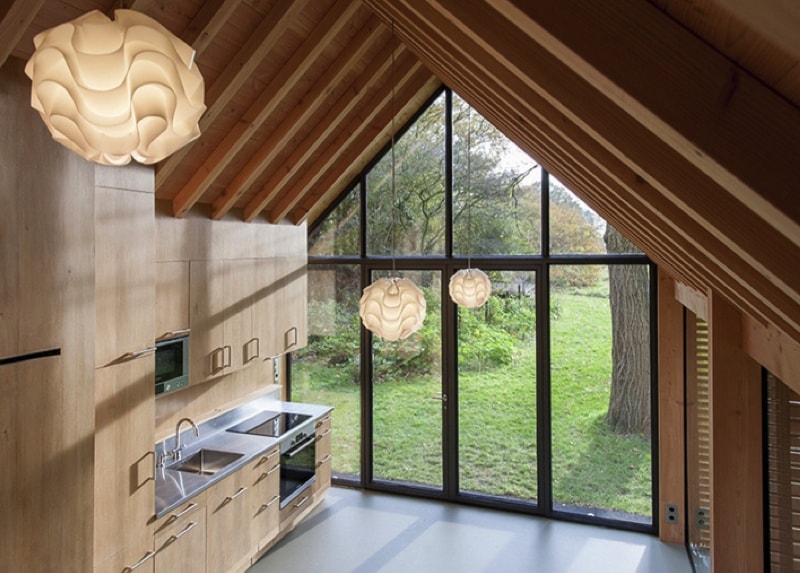 Tiny house with kitchenette view from second level mezzanine bedroom. Image via www.smallhousebliss.com
Its not unusual for people to think 'hey, it's a small space, it should be easy to decorate' , but the reality is that small apartments and limited space provide real decorating challenge. Nevertheless, with some careful thinking, and a little bit of research, the ideas should begin to flow.
Stunning use of space with bedroom separation from kitchenette and living space. Image via www.deco-moderne-fr.com
Check out how other people are decorating their tiny spaces or compact apartments. You'll find that this will give you many inspirational ideas on how to truly make the best use of the space, without feeling hemmed in, or overcrowded with stuff.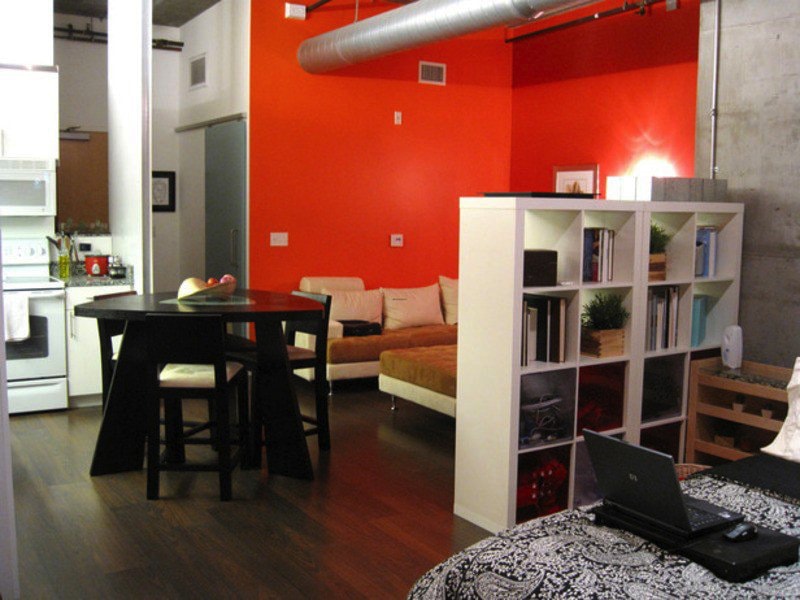 Compact modern apartment with effective use of space to create set areas of kitchenette, dining & living spaces. Image via www.furniturelives.com
Sure, there may be compromises in various areas. You may need to downsize your stuff or if your accommodation is temporary, perhaps even put some of it in storage if you can't bear to part with it.
Kitchenette and living area and view down hallway to master bedroom in a luxury tiny house.
When creating that fantastic living space for your apartment, your ultimate design will need to make efficient use of every last inch of space. There will be techniques, and ideas on how to make use of hidden spaces.
Small apartment with combined living bedroom areas and shelf room divider. Image via www.homester.com.ua
Using hideaway or fold away techniques or furniture that compacts down when not in use. Sometimes even selecting furniture that can 'multi-task', for example a dining table that double as a kitchen workbench, or as a study desk and then folds down when not required.
Tiny apartment floor space showing bed end and combined living space. Image via www.roomsty.com
The photos in this feature gallery should inspire you with introductory ideas. Don't limit your ideas, because it's the creativity of the mind to adapt to the spaces we live in that will help you to comes up a style, layout and functionality that will be uniquely yours. Who knows? it may even surprise you how simple and easy you find it to live within a small apartment space or tiny house.
Cute well lit apartment space with living, kitchenette and separate bedroom area. Image via www.room-ideas.com
One great resource that will provide plenty of ideas is how people make use of extremely small spaces in 'tiny houses'. These situations often have more than one person living in a space of 200-400 sq feet, which presents a lot of challenges to getting the very best functional and comfortable design. You'll pick up many great ideas from researching example galleries of tiny house plans and designs.
Bedroom and Living space with curtain divider. Image via www.moidom-interior.blogspot.com
Small apartment with kitchenette, dining and living space and bike storage. Image via www.liveinternet.ru
Tiny apartment space with mirror wall to make the space seem bigger. Image via www.jpsinteractive.org
Compact two level apartment with maximum use of limited space. Image via www.inthralld.com
Modern two level apartment with great use of limited space. Image via www.indulgy.com.
Modern two level apartment with great use of limited space. Image via www.rumahidealis.com
Small apartment living, kitchenette, and dining area. Image via www.frevinco.com
Eclectic decor of a small apartment studio with lots of decoration items. Image via www.bulleblog.hautetfort.com
Beautiful modern apartment studio room. Image via www.apoetadaalma.blogspot.com