The above photo is an good example of modern bathroom tub designs and is set in a very modern bathroom complete with freestanding modern luxury bath tub in luxury Australian waterfront house.
Relaxing in one of the modern bathroom tub designs included in this gallery with copious amounts of readily available hot water and even a great book can be just the thing to soothe those aching muscles and bones. Or if you've been out in the elements and feel freezing cold, a lovely hot bath can be just what you need to restore your natural warmth and blood flow.
A lot of interior designs for bathrooms in the modern home styles these days are being built with beautiful bath tubs installed. There are many practical types of bath tubs and they can be made from a range of different materials, from the old claw foot styled baths made of porcelain enamel over steel, to the modern versions made of acrylic or fiberglass, but alternatives exist too, where they may be made from cast iron, aluminium, ceramics, and occasionally even waterproofed wood.
Besides the construction material, there are equally as many shapes and styles, from the simple everyday rectangular shape with rounded edges, through to expensive elaborate examples of the same shape, or even the inset corner baths, round baths, free standing baths, square-ish shaped baths, jacuzzi baths (with jets) or oval shaped baths. Whatever your preference of style, shape or material, there is usually a modern bath style that will fit your needs. And if you have a big budget, then you can make your bath as elaborate and ornate as you like with custom built bath tubs.
This is a gallery of images showing bathroom interiors that all contain modern bath tub designs. There should be plenty of examples here to give you the ideas and inspiration you need to go exploring your local market for the perfect bath for your next home or renovation.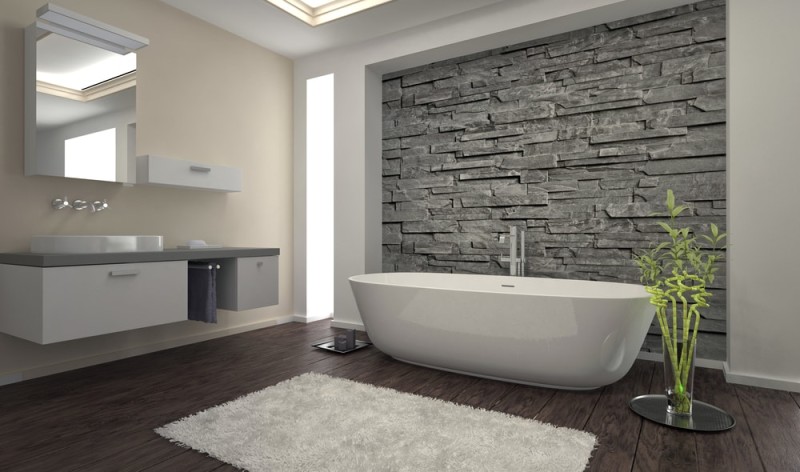 Modern bathroom interior with beautiful feature stone wall and a contemporary stunning bath tub on a dark timber floor and floating vanity cabinet
Modern white luxury bathroom interior with elegant reclining soaker bath tub on a light timber flooring and with stunning City scape outlook.
Urban apartment in the attic with sophisticated modern toilet, shower and handbasin with cream colored tile floor and a stunning modern white bath tub sitting directly below the attic windows
Stunning designer bathroom and shower with white rectangular bath tub set on a pebble base with chaise longues and cream tiled floor
View of a spacious and elegant bathroom with modern white bath tub, toilet and bidet with a marble floor and vanity bench, and matching colored half height wall
Ultra modern baby blue colored bathroom with large free standing modern oval shaped bath tub, tiled floor and large window outlook.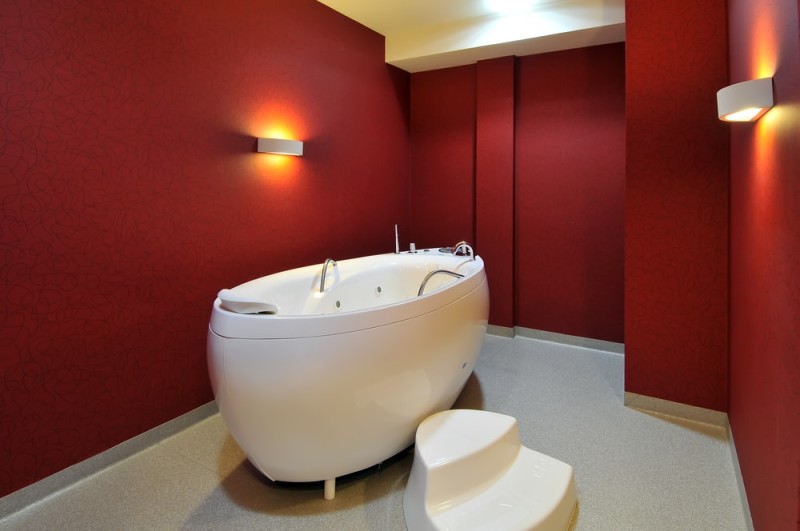 Modern red bathroom with specialized free standing hydro massage bath tub
Modern bathroom with cream colored walls and white corner set jacuzzi bath tub, toilet bidet, and shower on a dark floor tile
Stunning modern house bathroom interior with marble walls and floor with glass lined shower, wall hung toilet and a white semi circular corner bath tub
Modern bathroom with relaxing elegant free standing white soaking bath and large glass walled shower cubicle and marble tiles floor.
Modern bathroom with contrasting black wall and floor tiles against white bath tub, toilet and hand basin
Modern elegant contemporary bathroom with custom white bath tub and jets, washbasin, dark floor tiles and an eye catching multi colored tile feature wall