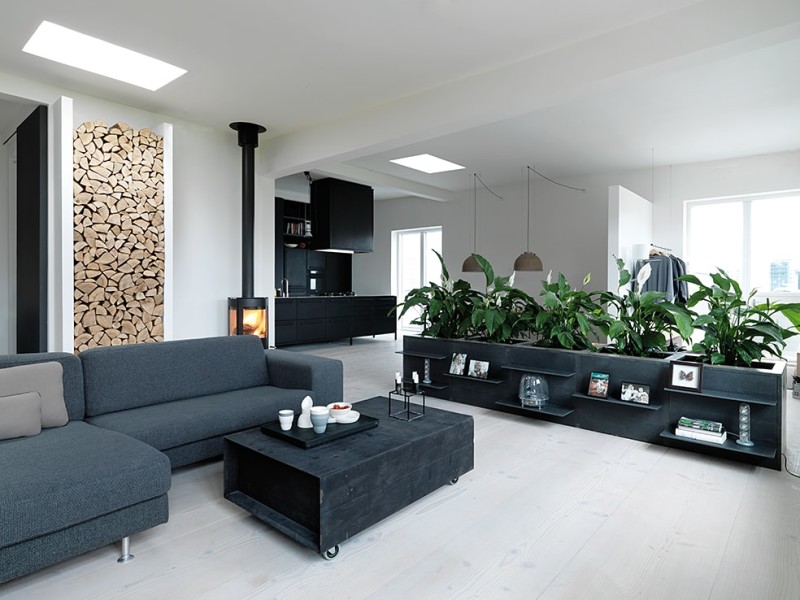 The above image shows the living room with Dinesen Douglas timber flooring treated with lye and soap, an Engell sofa, a room divider with house plants, a feature wood storage compartment, a central fire and a homemade coffee table.
The New-York Style Loft Apartment Restoration Project
Chief designer in Vipp, Morten Bo Jensen, has settled down in a private space that reflects how he works professionally. Together with his girlfriend graphic designer Kristina May Olsen (www.mayk.dk) & 5-years old twins, Morten lives in a New-York style loft completely restored from its original state as an old Viking-Pencil factory from the 1900.
The location area, Islands Brygge, is an old industrial, harbor area in Copenhagen. Today it is 50 % modern private housing and 50 % industry. An inspiring environment surrounded by traditional manufacturing workshops; steel workshop, Copenhagen Furniture carpentry, and old bike workshop, galleries. Morten is also a neighbour to the Vipp Headquarters. Neighbor to the grand Copenhagen canal, where BIG (Bjarke Ingels Group) have made a public bathing establishment, where you can swim in the canal.
The living room with the Engell sofa, Marc Newson Low Pad chair and homemade couch table viewed from the kitchen end.
The process
"The apartment was stripped to the bone; I spent a great deal of time reflecting on how I want to live. My conclusion was quite simple; function and efficiency must be the starting point, both in the architecture, the interior and in the location. I am close to work, and the city. Being located here, I can minimize transport, use the city and thereby optimize my daily life with the family" – Morten.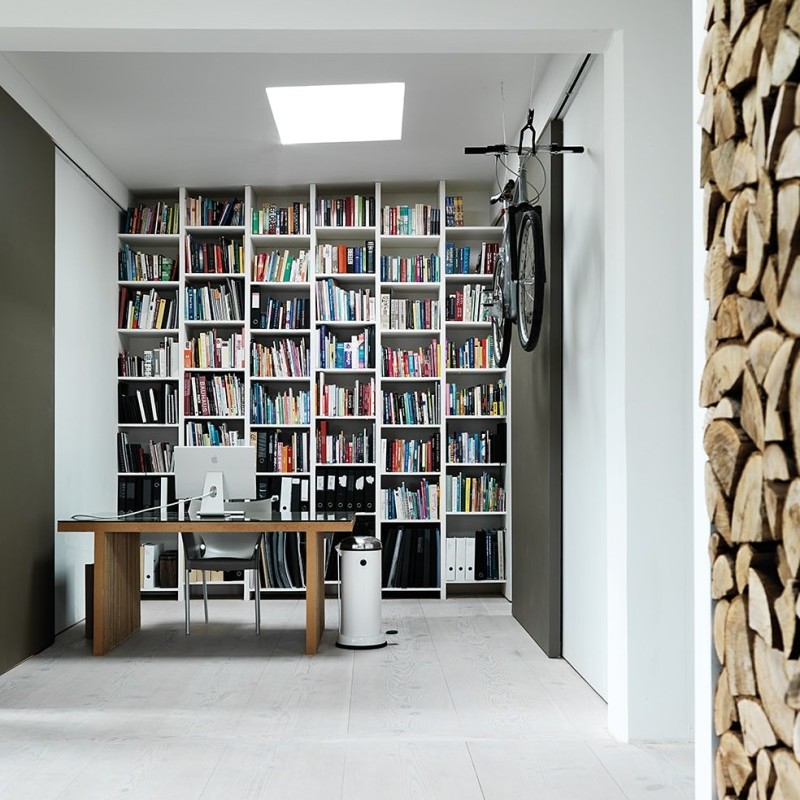 The Office with its cardboard and glass homemade desk, sliding doors and openness to the main living area.
The interior
"I feel fortunate to be living with furniture that I have designed myself. I have installed the Vipp kitchen island supplemented by 3 high cabinets that matches my old Vipp kitchen bin. The bathroom furniture as well as the accessories are also Vipp.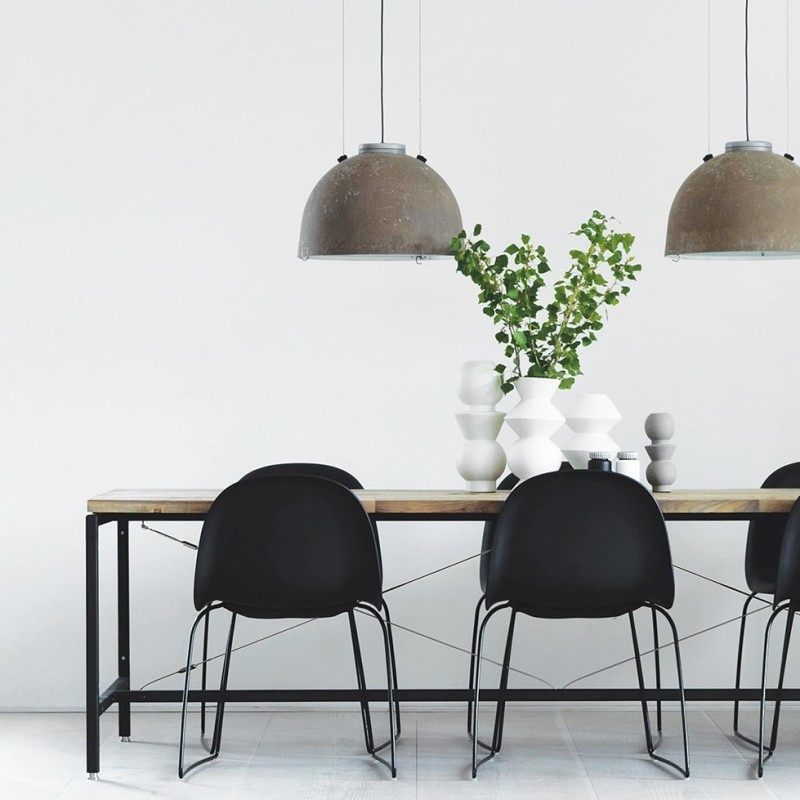 Above is the powder coated aluminum and recycled untreated teak dinner table with lamps that originated from the streets of Copenhagen where they hung for years.
When my profession is working with design DNA, I enjoy living in a space that is functionally and visually cohesive. It embodies a certain visual calm and daily efficiency.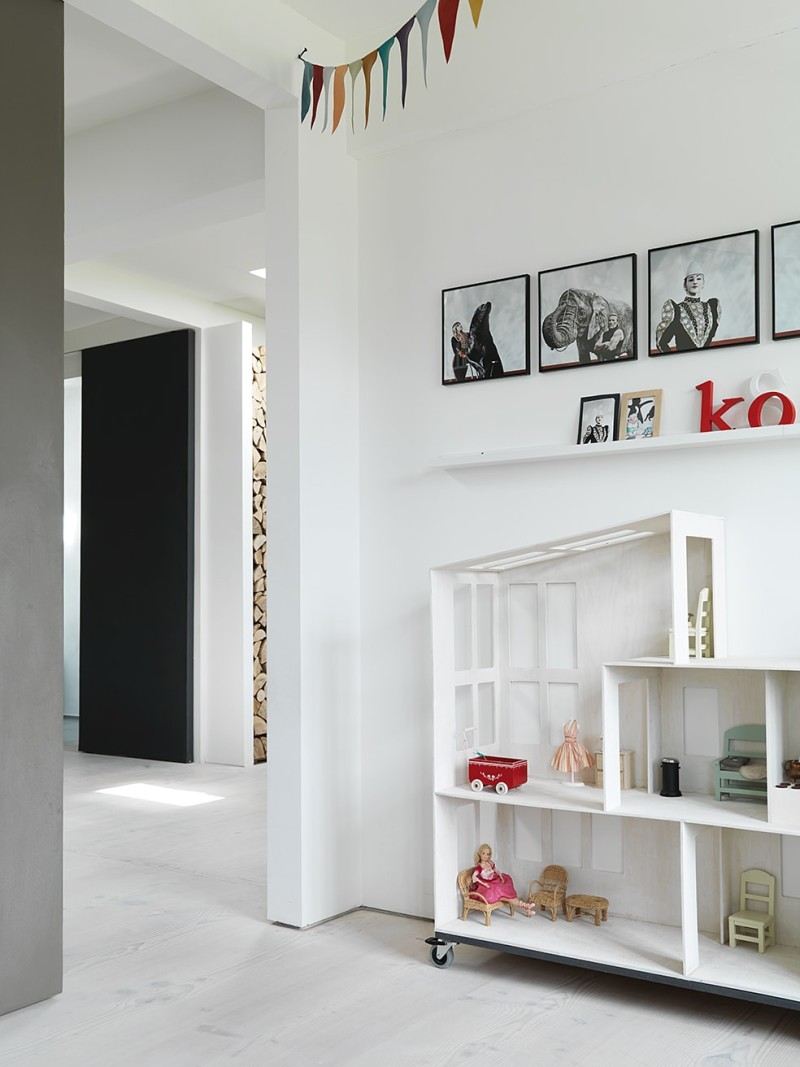 A part of the children's room with an homemade doll house. Wall pictures by photographer Kristine Funch.
Living in your own design is a confirmation of how you work and which choices you make professionally.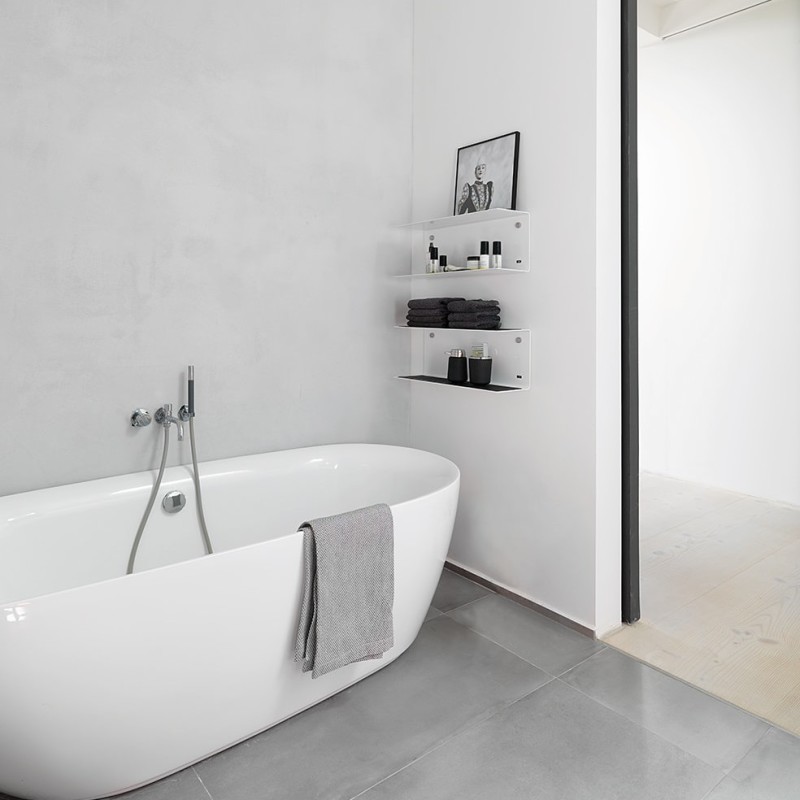 The bath within the bathroom with tiled floor, sliding door and wall shelves from Vipp.
At Vipp I work with a DNA that personally reflects my style and what works for me. Being surrounded by these values and using the products everyday is legitimizing why product design must start with function.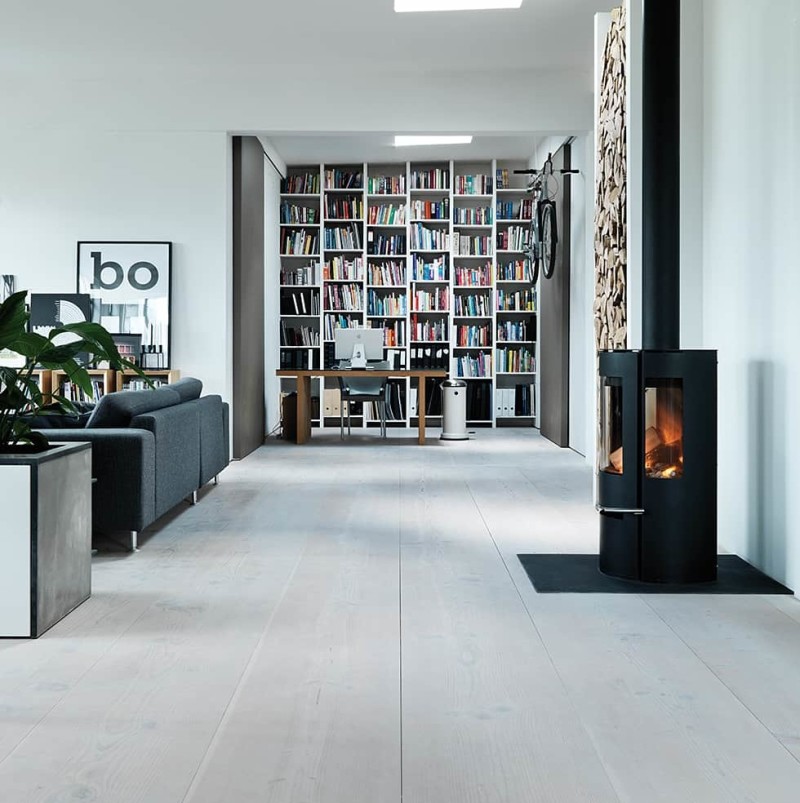 Dinesen Douglas timber floor and a central fire with glass that heats the home as well as illuminates the space.
That is why I don't have three different sofa arrangements but only one. I surround myself with things that are meant to be used, which only embraces the Danish concept of 'hygge' (cosiness)" – Morten.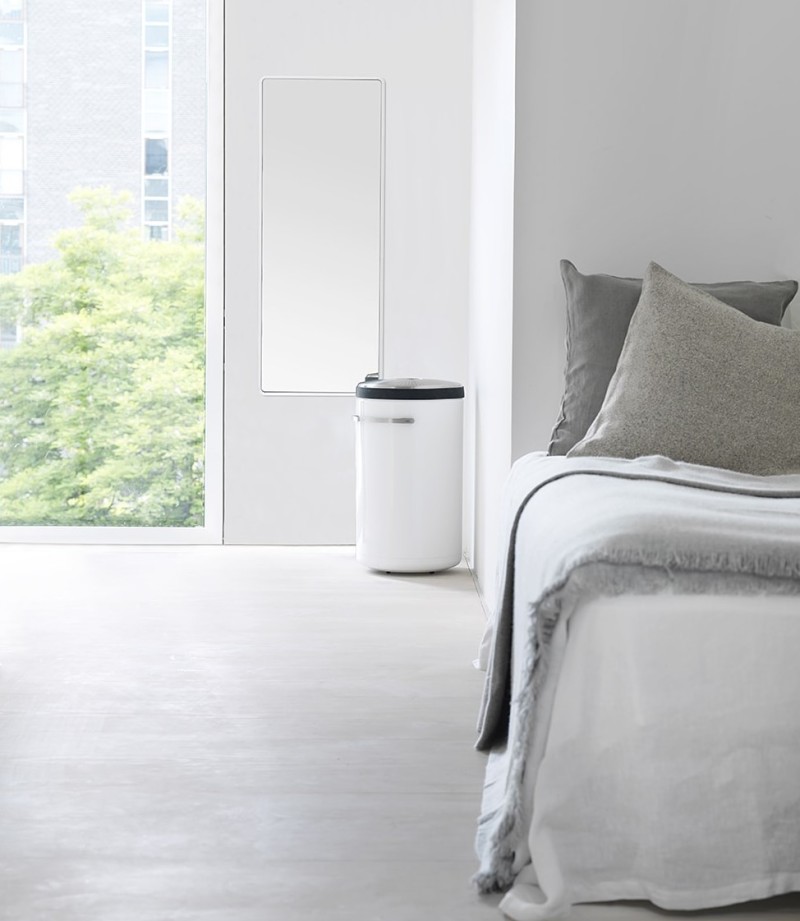 The master bedroom with mirror and laundry bin from Vipp.
The Tools
"When designing a new product, we consider it both before, during and after as a tool that will be used to produce or accomplish something – a tool that must have a long life and where the feeling of quality and product eligibility shall be loved each and every time it is used.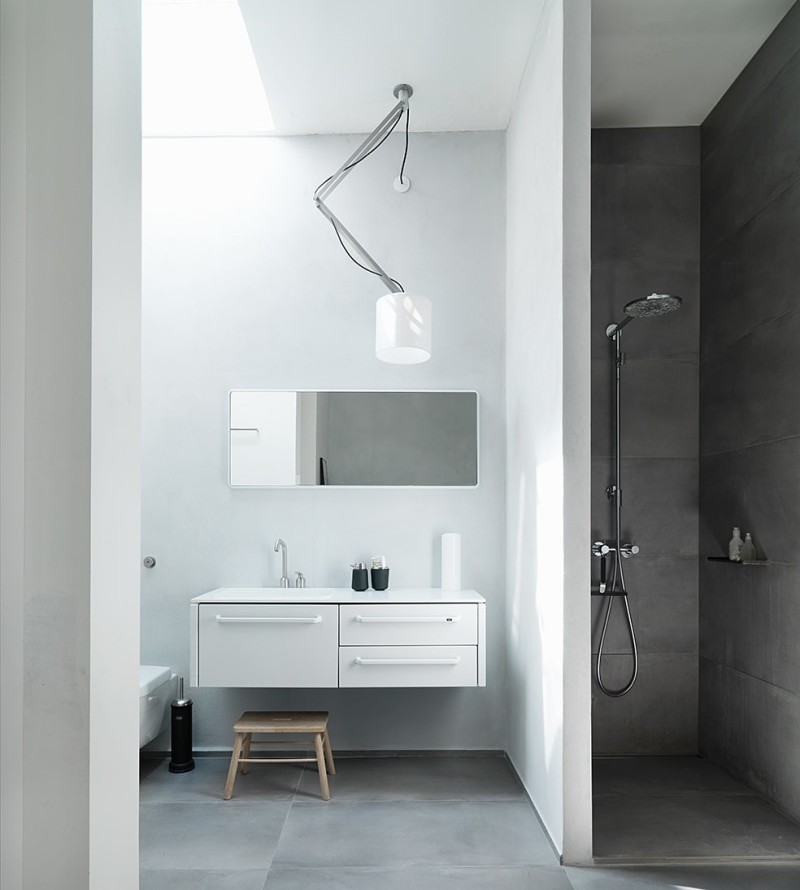 Bathroom Module showing the shower, vanity cabinet and mirror from Vipp.
With this approach we believe that we use our experience and expertise to maximize value for our customers. It gives me a daily pleasure to be surrounded by tools that work. It is a key source of inspiration in my work." – Morten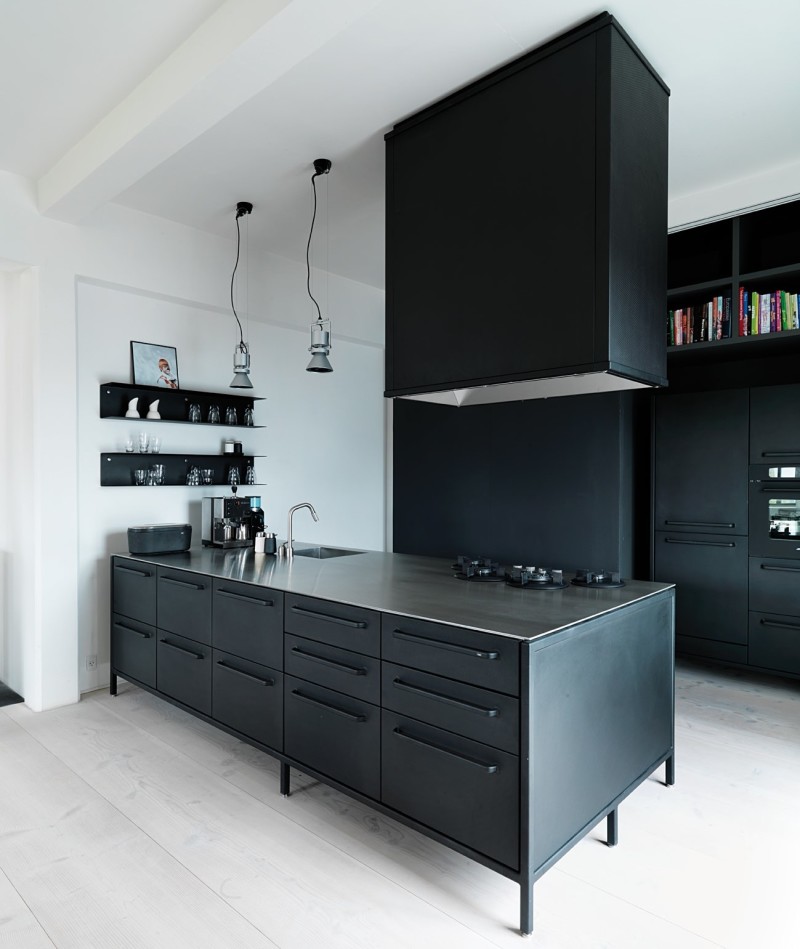 The stunning kitchen from Vipp with matching cooking hood and shelves.
The Optimization of Space
The sense of living in an open space is reinforces by the big inflow of light, the sliding doors and the long Dinesen wooden planks crossing the entire main room. The room is a result of our reflections on how to optimize space most effectively.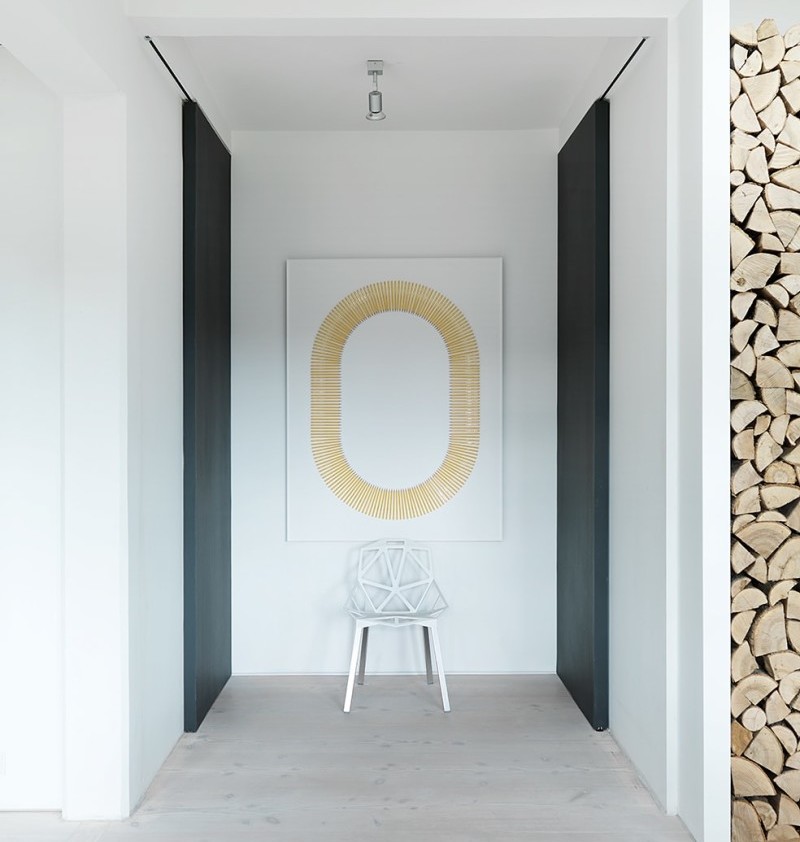 Pencil art piece inspired by the Viking pencils that were once produced in this building space.
"This explains why we have chosen only sliding doors, a build-in space for fire wood, an integrated book case, closets and cabinets. In this way we liberate a lot of floor space which opens up the room." – Morten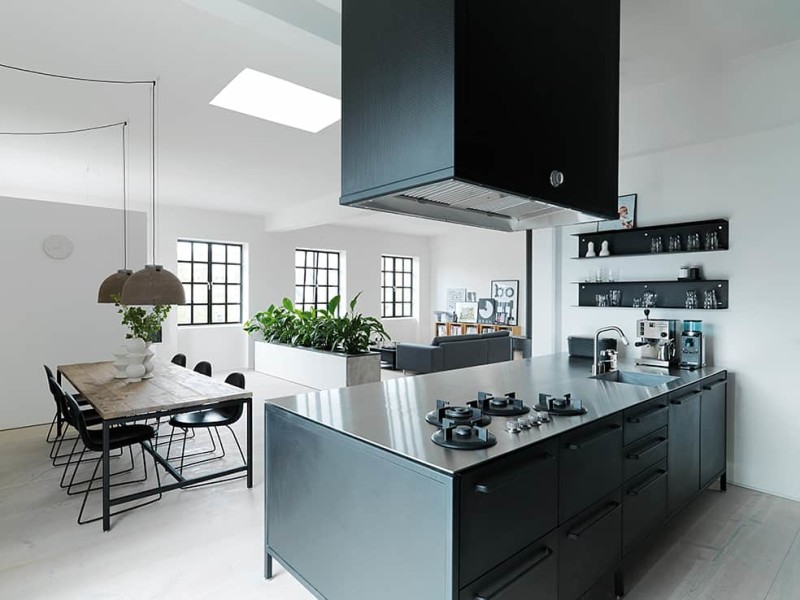 Kitchen by Vipp with 5mm stainless steel table top and integrated gas cooker hubs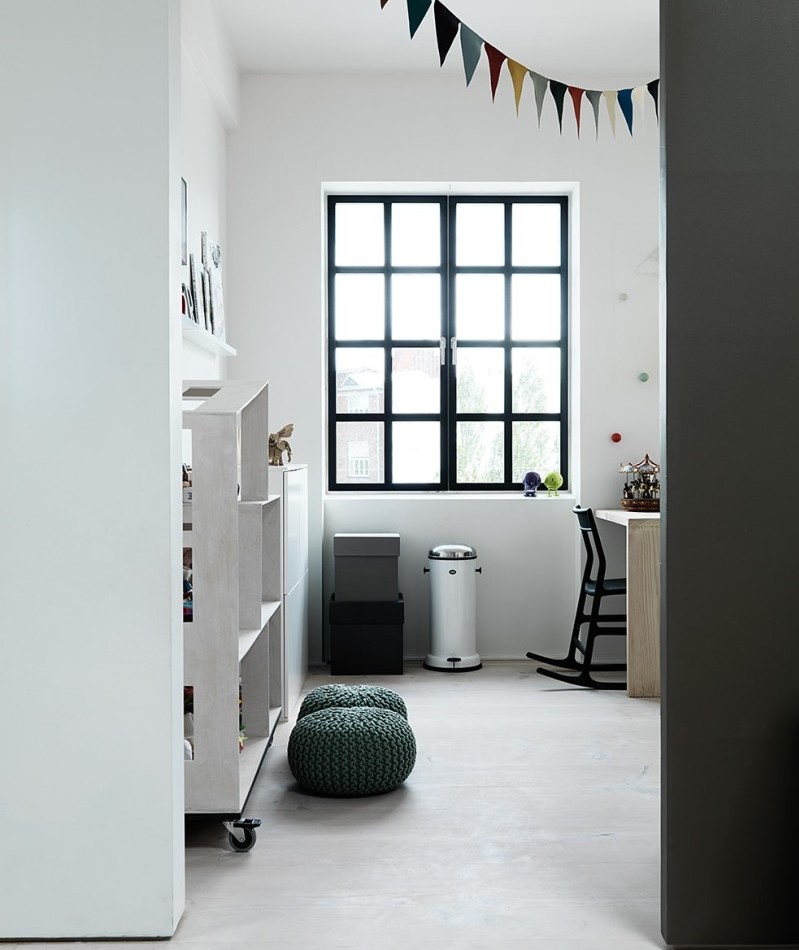 Children's room with homemade desk made of Dinesen Douglas floor planks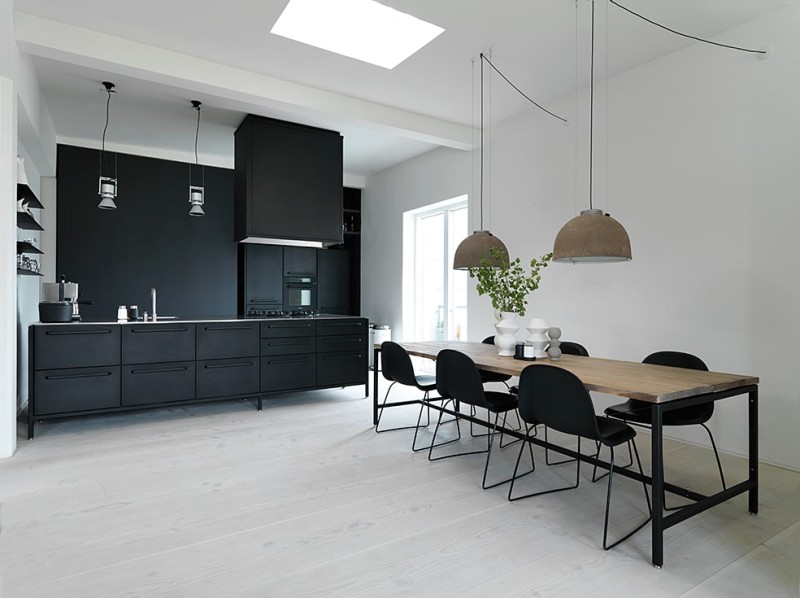 Eating section with kitchen and dining table.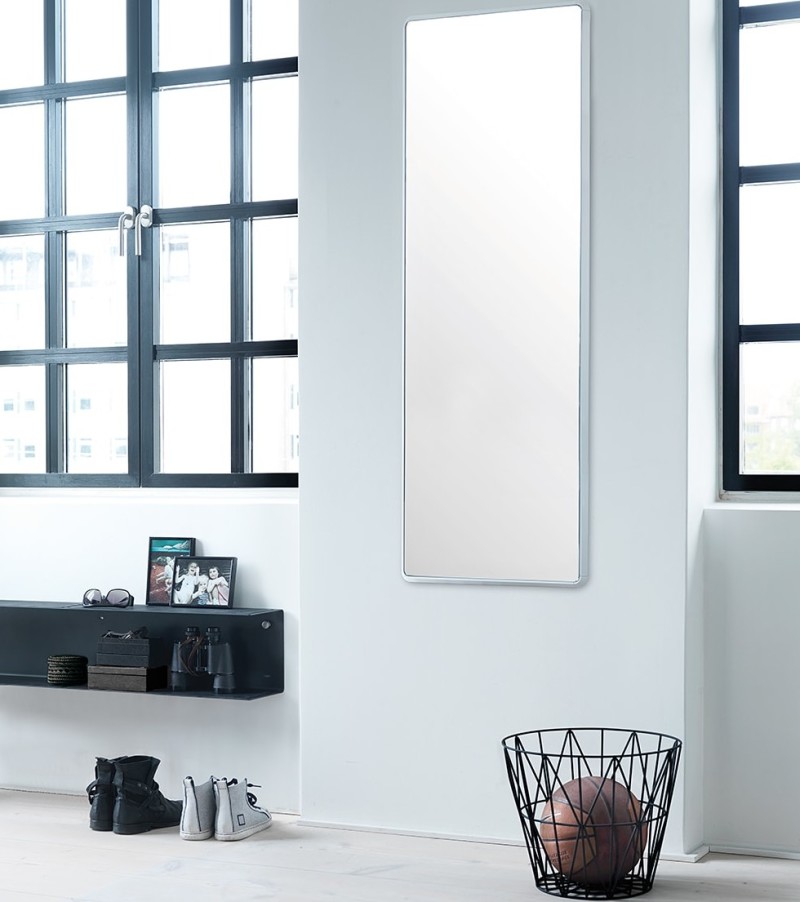 Entranceway with shelf and mirror from Vipp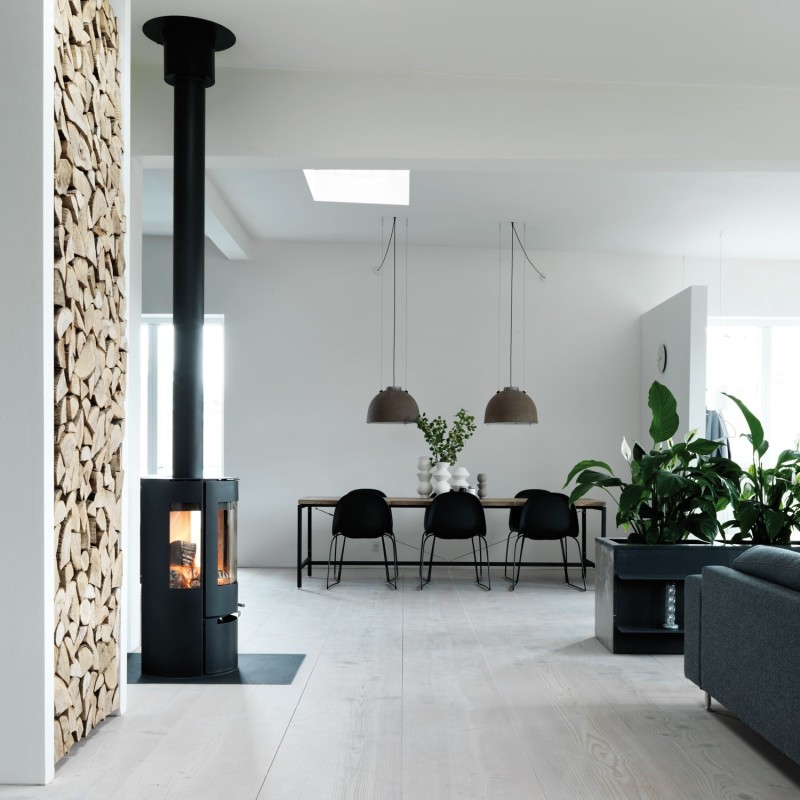 Dining area with fireplace in the left foreground and living area to the right.
Related Galleries and Rooms You May Like:
Architecture SoHo Loft, Manhattan, New York: Interior Architecture