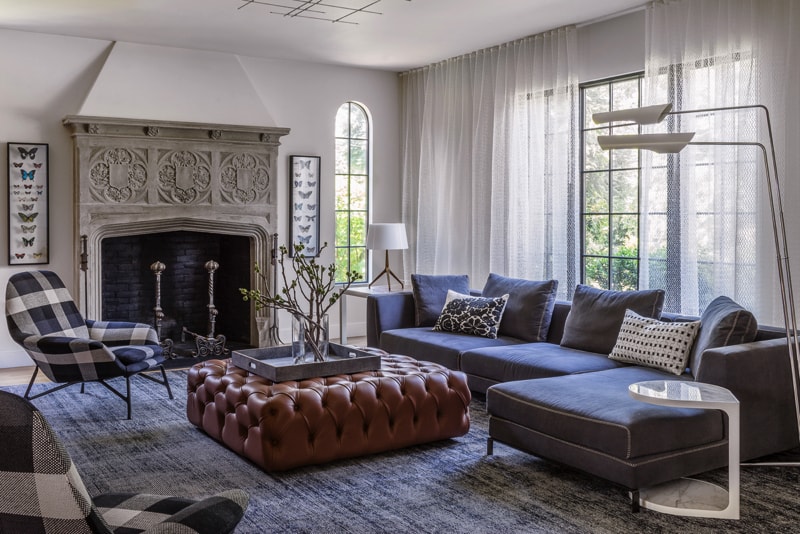 The Newton Tudor remodelling project showing the living room with a magnificently grand fireplace, co-ordinated colors and stunning selection of timeless furniture.
The remodel of this 1930's Tudor style suburban home in Newton, Massachusetts re-imagines a traditional, compartmentalized layout into a more informal living arrangement for a young family moving to the suburbs from the city.
The project included a full architectural renovation throughout this four bedroom home, as well as the design of all interior finishes, furniture, and fixtures. Rooms in the renovated home open directly to one another, providing long visual and physical connections accentuated by the use of natural materials that echo throughout the house.
The materials lend a contemporary feel to the house while respecting its original historic-revival identity. Repetition, reinterpretation, and an emphasis on natural materials and hand-made craft inform the integrated architectural and interior design concept.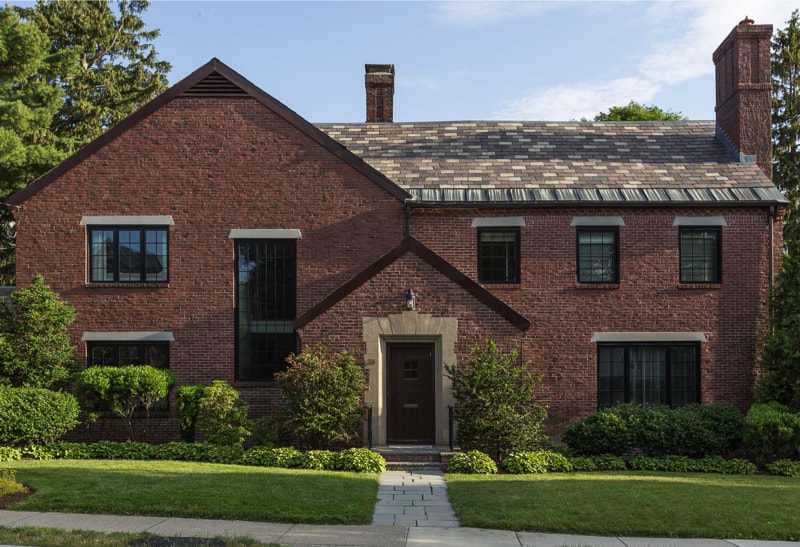 Color and material choices were based on a study of traditional Tudor architecture and design; furnishings, carpet, and decorative lighting were chosen with an emphasis on visible craft and casual family comfort.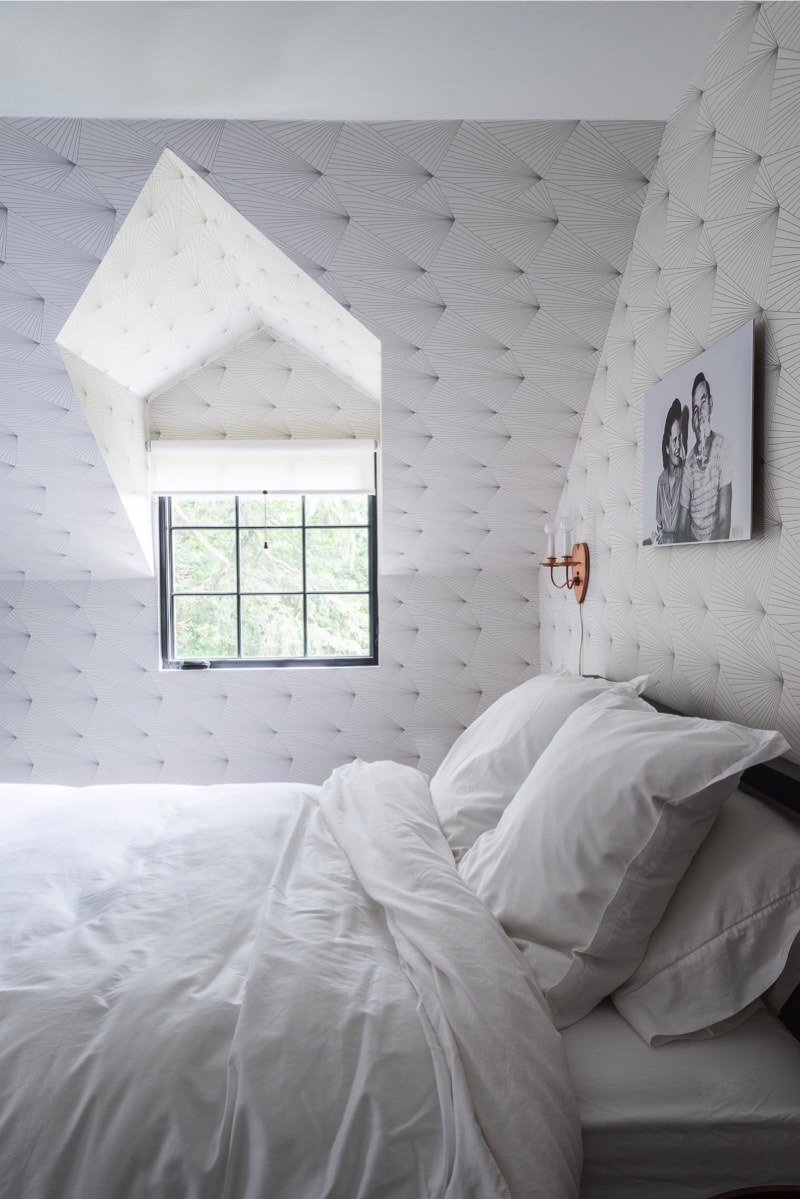 Contrast stitching, tufted leather, and embroidered fabrics provide visual texture and a handmade feel to the new, contemporary pieces.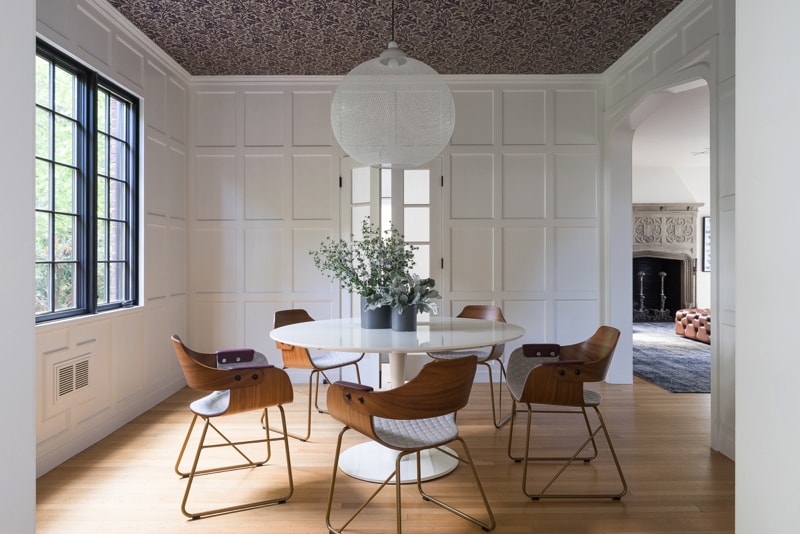 Modern interpretations of traditional patterning were selected for wallpaper and applied unconventionally throughout the house.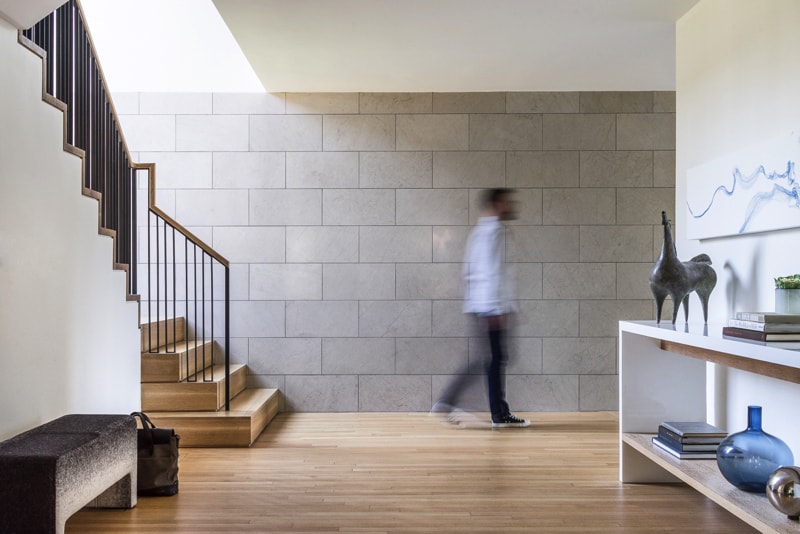 Entering the house, the downstairs foyer is flanked by a wall of limestone and an arched entry to the living room, one step down; the living room fireplace, made of a similar stone to the accent wall, can be seen across the space from the main entry.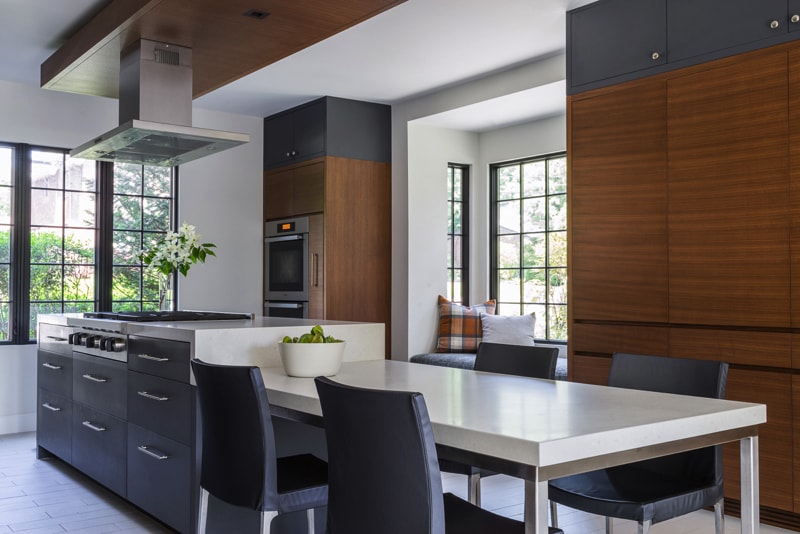 Kitchen with Island, bench dining extension and timber cabinetry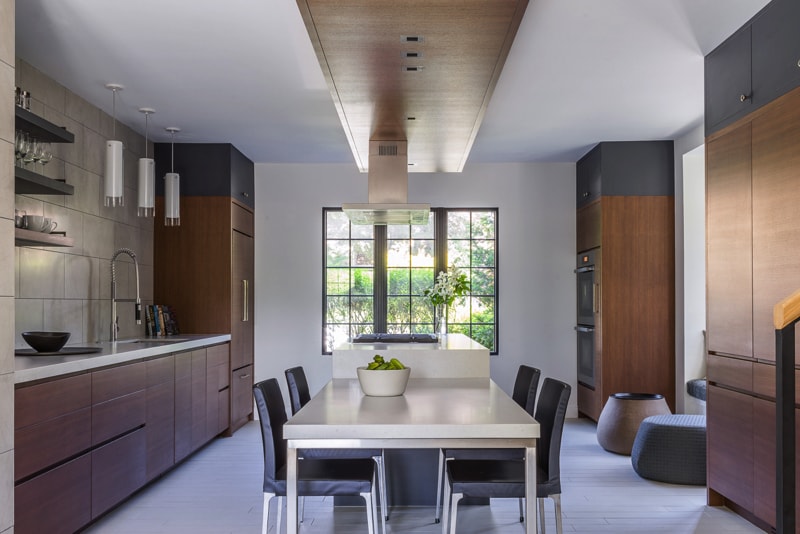 View along length of kitchen breakfast dining area.
Study desk, bookshelf and a built-in window seat.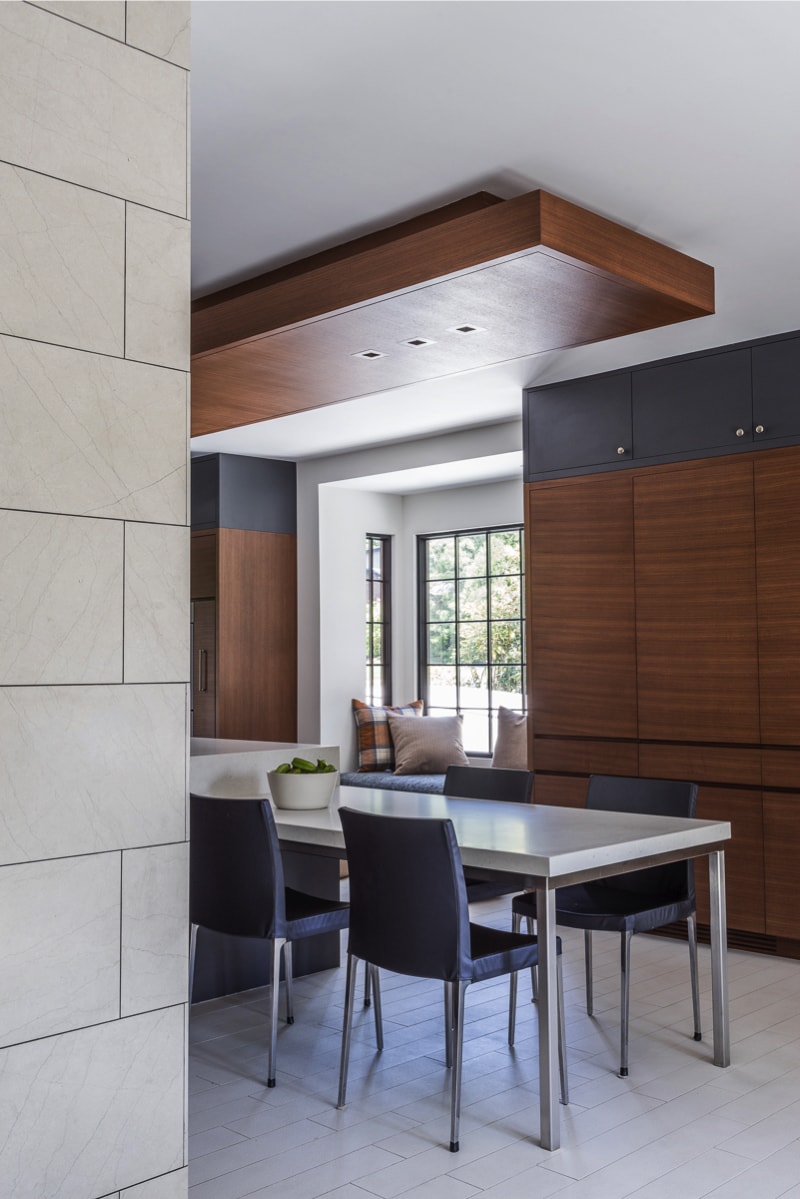 The limestone wall wraps into the family room and kitchen, becoming a backdrop for a mix of walnut and painted kitchen cabinetry, including a large window seat and family desk area.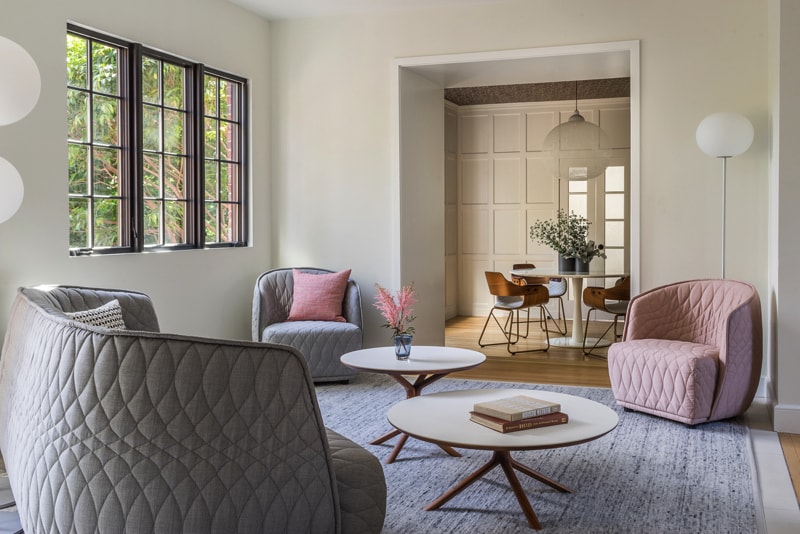 The adjacent family room acts as a soft transition to the dining and living room areas beyond with muted pastel tones, round-edged forms, and textured upholstery stitching.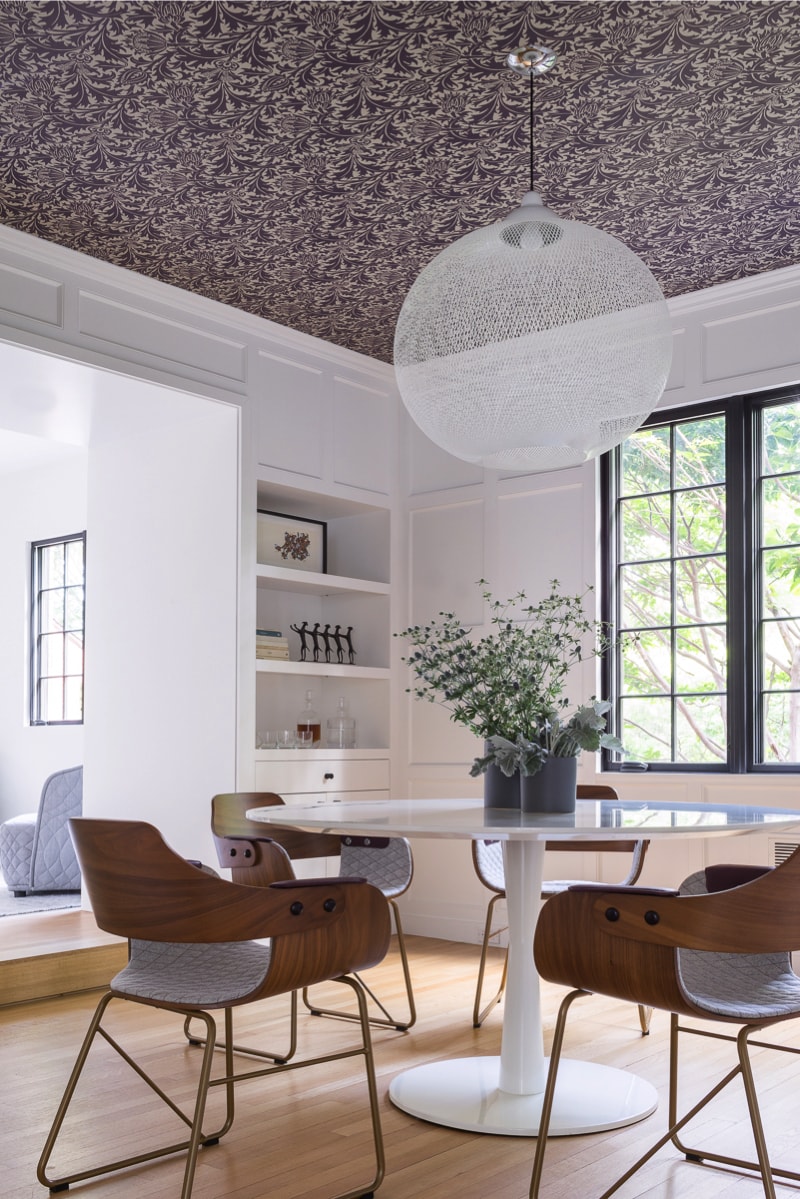 In the dining room, custom wood and wool fabric chairs with a mid-century aesthetic surround a white Saarinen table; the room also includes white wall paneling derived from the original Tudor interior and, on the ceiling, William Morris wallpaper acts as a backdrop to a netted pendant light.
A custom walnut wood panel system, including a built-in TV, covers one entire living room wall, accenting a Tudor-style arch and contrasting with the original fireplace.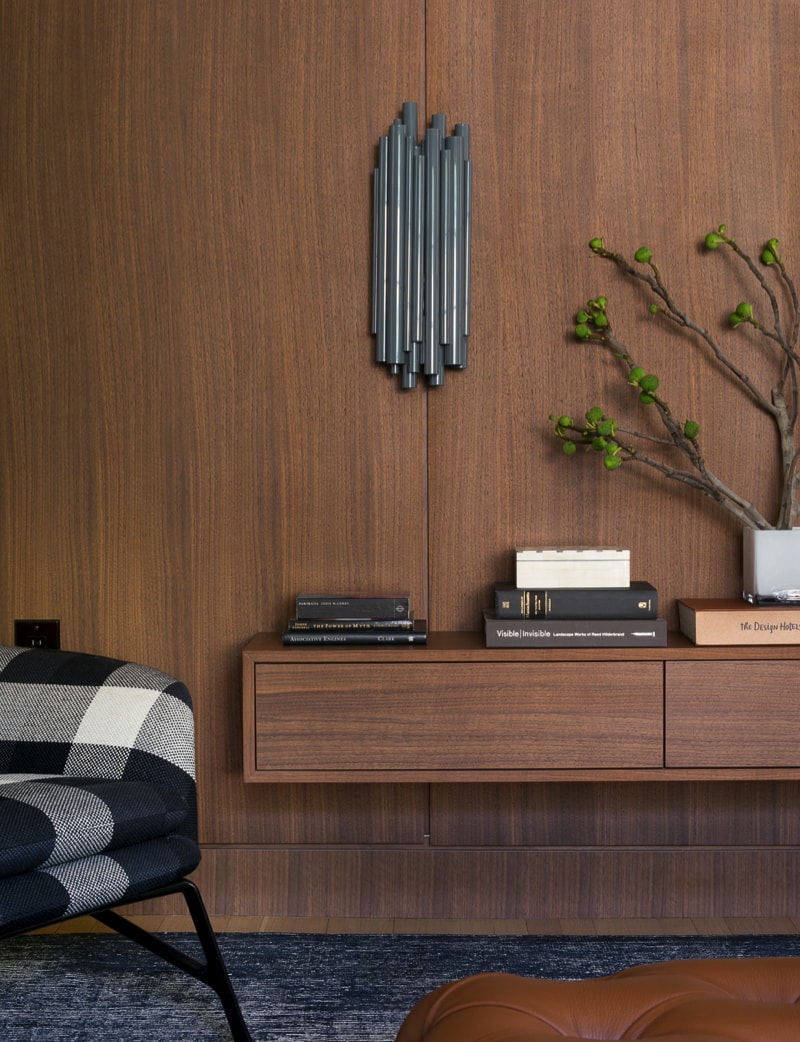 Floating desk on living room timber wall.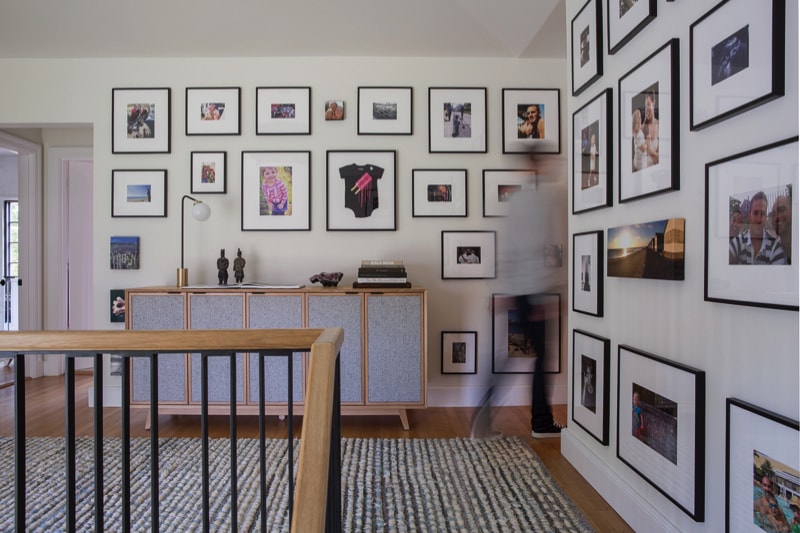 The living room includes deep blue fabrics, woven plaid upholstered seating, a tufted leather ottoman, and a David Weeks floor lamp — a deliberate mix of rich textures and traditional design elements with modern line and form.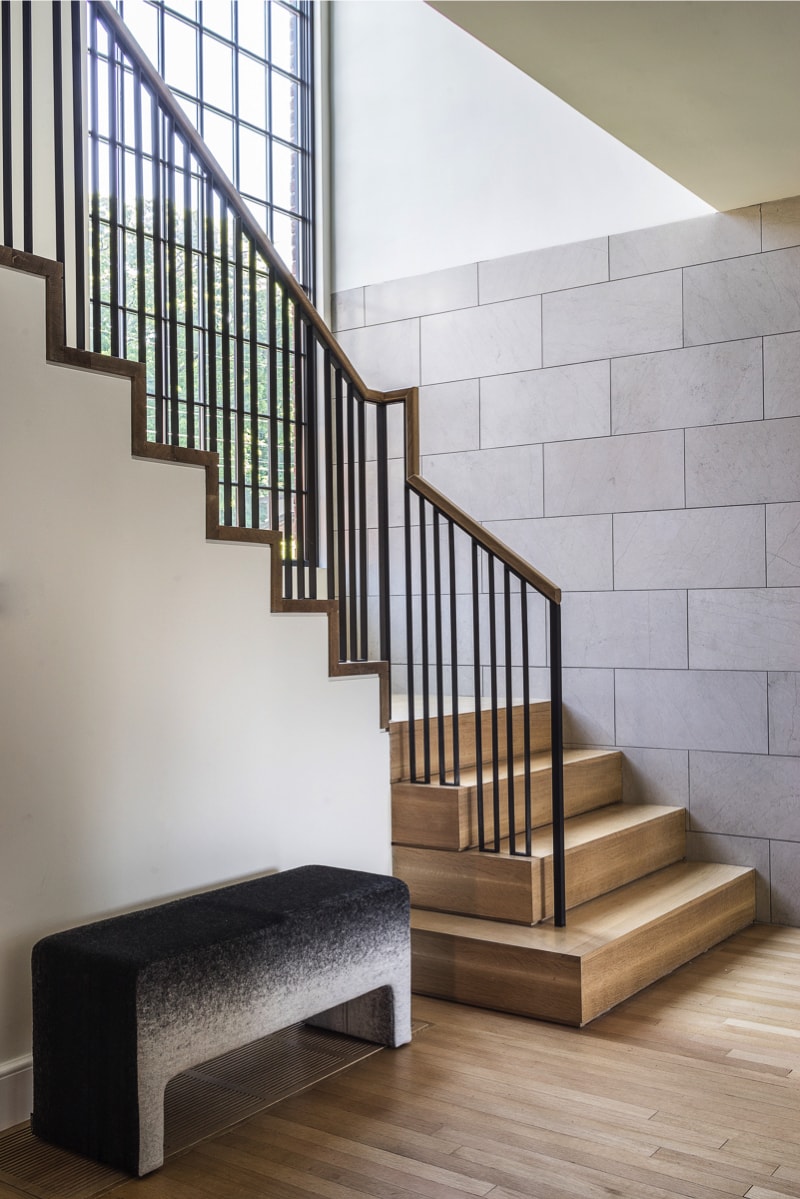 From the foyer, a new white oak stair with black steel balusters wraps past a new double-height window and up to a second floor landing which doubles as a play area and includes mid-century style furniture and a curated gallery of family photos.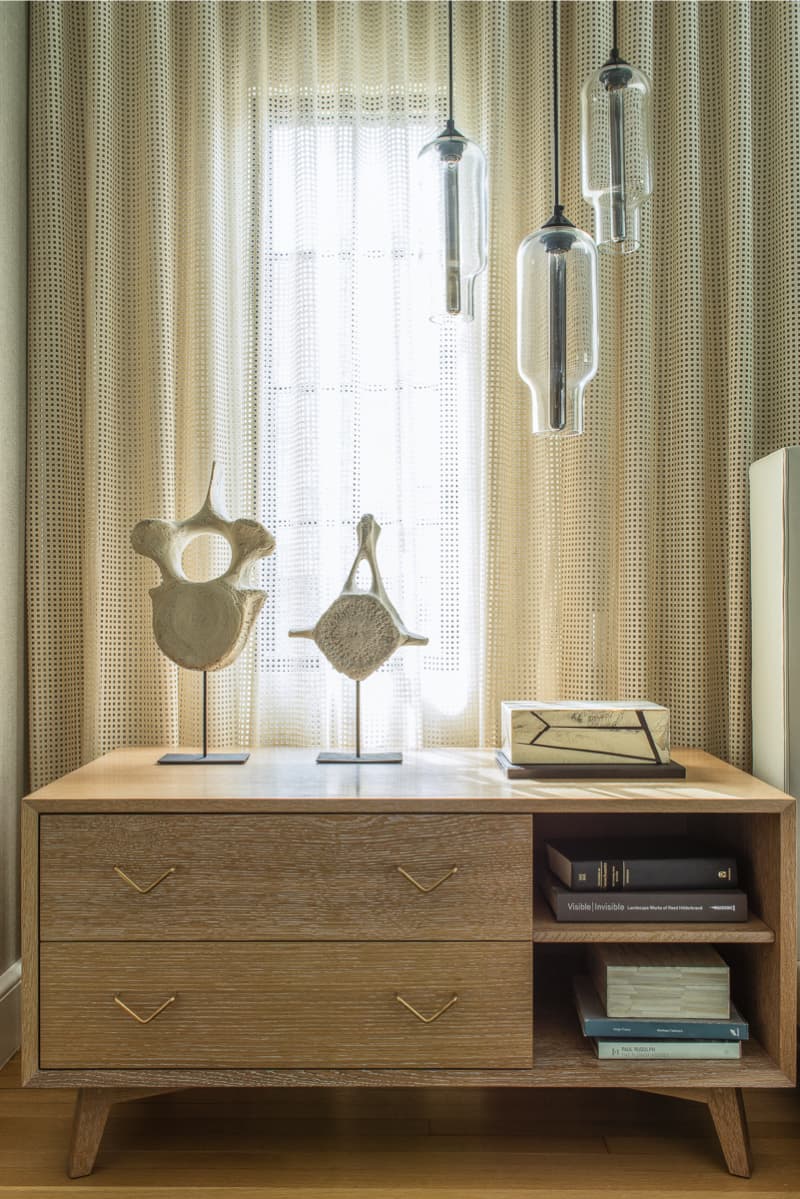 Mid-century accents continue into the master bedroom where seating and side tables with clean lines are complemented by wall-coverings, found objects, and suspended lighting.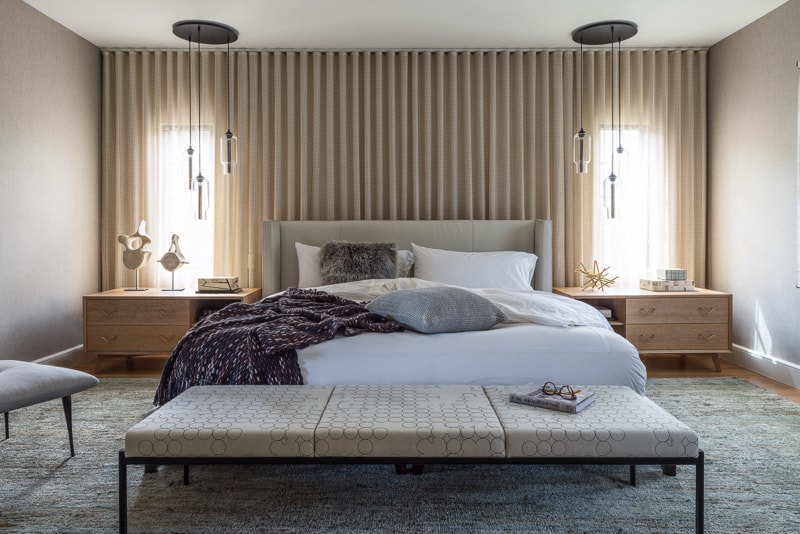 The master dressing room is covered in a modern toile wallpaper and has built-in millwork with stitched leather drawer and door pulls, continuing themes found throughout the home.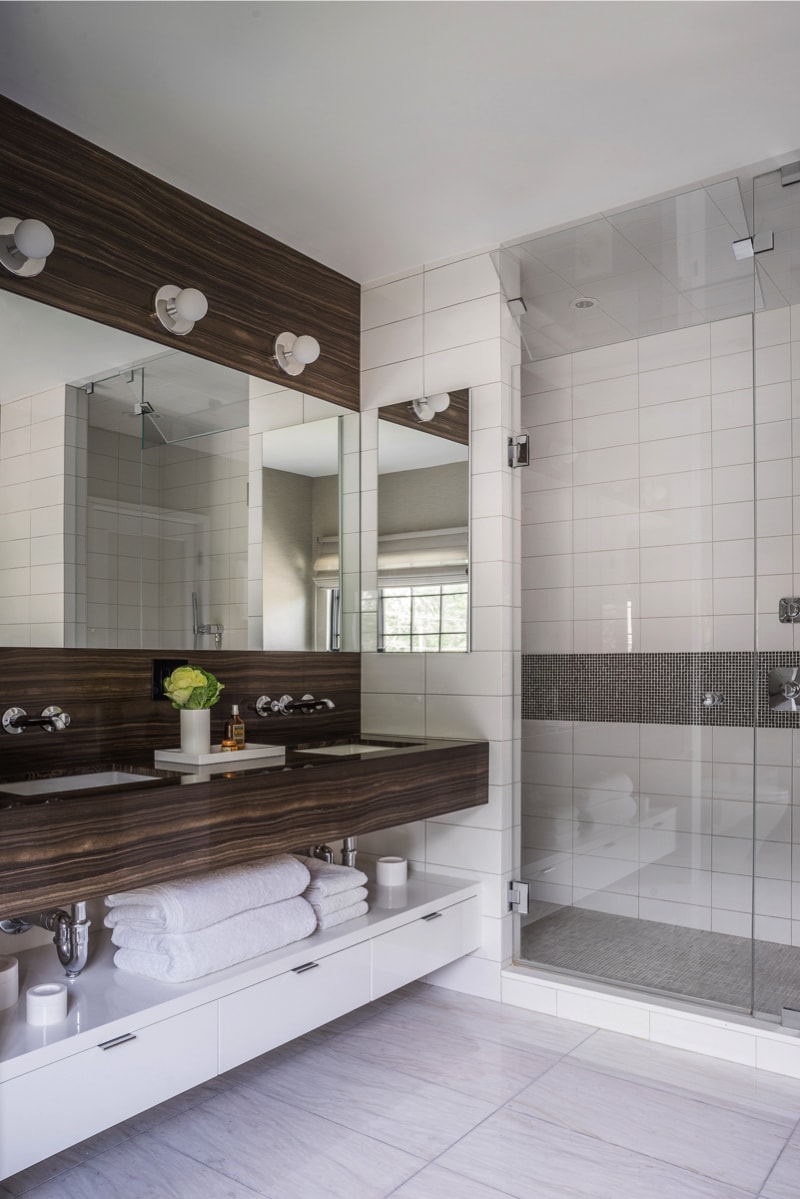 Project: Newton Tudor Residence
Architect & Interior Design: Hacin + Associates Architects
Category: Residential – Private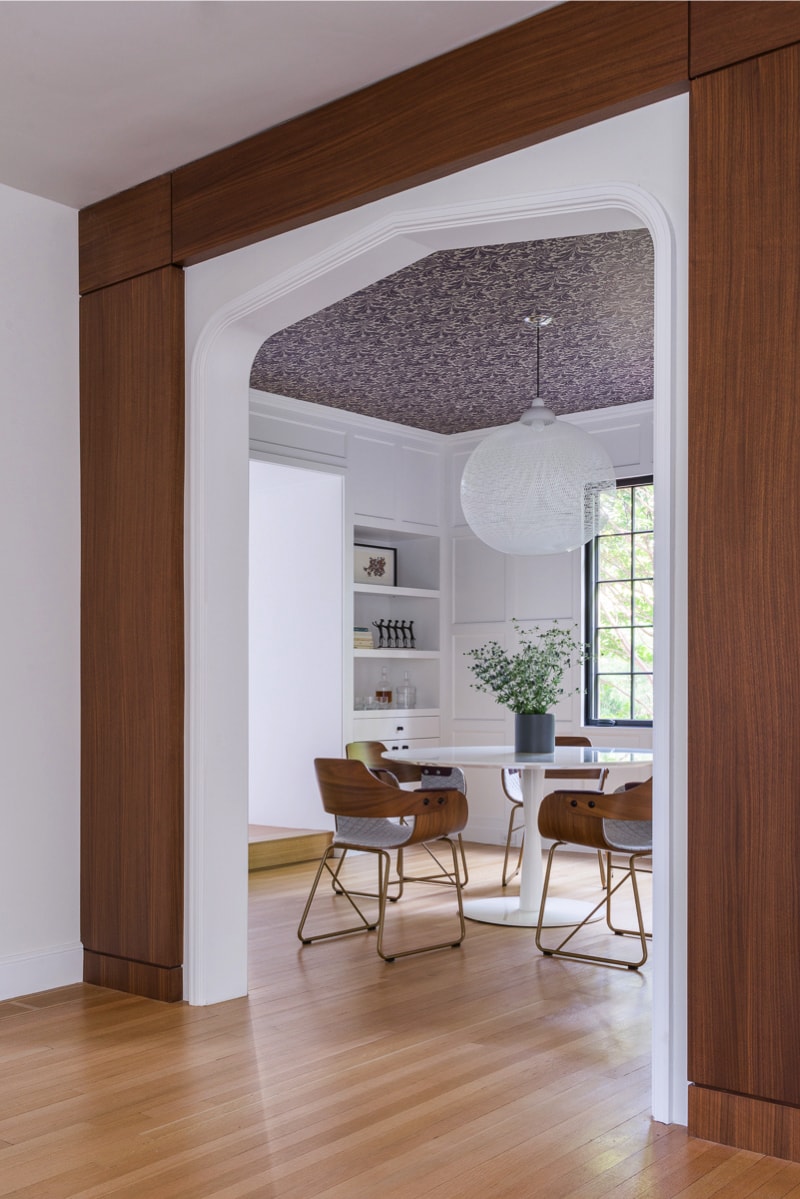 Location: Newton, Massachusetts
Size: 3,608 sf ft
Photographer: Michael Stavaridis
Completed: 2013