Have you ever contemplated owning your very own Private Island? Many of us when we decide to buy a home or a vacant lot to build a house for ourselves or our family, think about buying something handy to our work, or our extended family or friends. We usually buy something humble to begin with and as maturity creeps up on you, and lifestyles, responsibilities, and earnings all change (usually for the better) we look to sell and upgrade, or perhaps some of us, go on a 'sea change' and turn our lives upside down in pursuit of a totally new lifestyle.
Whatever your aspirations of home ownership are, have you ever thought of moving abroad, and potentially becoming an Island owner? Maybe it would be a vacation retreat for your family, or maybe it might even be a 'get away from the rat race' decision.
We've done some research online and have been amazed to discover that there are plenty of 'private islands' available for sale for under a million dollars. Some of these may be in remote locations, or a little isolated, but the fact that you can actually own your very own piece of paradise for such a reasonable sum of money is literally quite amazing. What makes things even more amazing is that many of these Islands actually include a house already.
How would it feel to be your own self appointed Governor, or Mayor, Chief of Police, or President of your own Island? Pretty cool I would imagine.
Take a look through this gallery page and you'll find a 15 interesting Private Islands for sale. (We aren't selling these, just showing what can be bought for the money) We can't guarantee that these will still be available when you come to see them, but as they say, 'you never know your luck in a big City' and whats more, even if these have been sold on, there's bound to be a whole lot more.
If this post has sparked an interest in you, then that's fantastic. The world's your oyster and perhaps you can even grow some of them on your very own Private island. These Private Islands for sale listings have been sourced from Private Islands Online
$400,000US – Isla Paloma, Location: Bocas Del Toro, PANAMA -Private Island, 0.1 Ha
Isla Paloma is in a quiet tranquil bay. The property is located on the north side of Panama (Caribbean Sea) in the Bocas Del Toro region. Isla Paloma is found between Almirante Bay and Chiriqui Lagoon in calm waters surrounded by barrier islands. The house features 2 bedrooms plus a loft space, walk-in closet, 1 bath, kitchen, dining, pantry, laundry room, garden, workshop, party-shack and beach, boathouse and swim dock.
$163,908US – Leader Island, Location: Jeddore Harbour, Nova Scotia, CANADA – Private Island, 11.00 Acres / 4.45 Ha
Leader Island is a little undeveloped gem of approximately 11 acres, with its own cove, conveniently located 1/4 mile off the mainland in spectacular Jeddore Harbour, 30 minutes North of Halifax/Dartmouth airport
$995,000US – Charlie's Island, Location: Marathon, Florida Keys, USA -Private Island, 0.32 Acres / 0.13 Ha
Charlie's Island, just off shore of Marathon in the heart of the Florida Keys is a worry free site and truly a get away from it all. The exposed fossilized ancient reef is beautifully landscaped with trails wandering throughout.
$995,000US – Coco Plum Quay, Location: East of Roatan, HONDURAS, Nearest city is Oakridge – Private Island, 6.00 Acres / 2.43 Ha
Coco Plum Cay is a 6 acre private island situated off the east end of Roatan, Honduras. Its many reefs and outer banks make it the perfect spot for a small dive or fishing resort. It would also make a spectacular setting for a remote island home. With no other resorts for miles, the reefs and walls are rarely dove and spectacular. 3 small structures are powered by solar and backed up by a 21kw diesel generator.
$975,000US (Sold) – Little Ironsides Island, Alexandria Bay, New York, USA – Private Island, 1.30 Acres / 0.53 Ha
Located only 1 and 1/2 km from Canada and very close to festival filled Alexandria Bay, this is a fantastic place to enjoy the seasons. Enjoy the comfort of your waterfront house, which includes a full bath in every bedroom. Two other cottages on the property also have a full bath as well as 5 additional beds. The property totals 5 bedrooms, 6 baths and is currently configured to sleep 11.
$750,000US – Lime Cay, Location: Pearl Cays, NICARAGUA – Private Island, 9.50 Acres / 3.84 Ha
Lime Cay is situated in the Pearl Cays about 3 miles off mainland Nicaragua. The island is 9.5 acres in size and is surrounded by white sandy beaches. The northern most part of the island has a mangrove forest and the rest of the island is covered in coconut palms and many other types of vegetation.
There are 3 buildings on the island. A main house on the beach, a small house in the middle of the island and a caretakers cottage also overlooking the beach. The main house is 27m x 9m (88ft x 29ft) with concrete foundations and wooden construction. It has 4 bedrooms all with ensuite bathrooms, a large kitchen and a living room and open outdoor living area. It also has a large patio and swimming pool. A generator provides power and there is running water throughout the house, with a large septic tank set away from the house for collection of waste.
$705,742US – Cirella Island, Location: Province: Cosenza, Calabria, ITALY – Private Island, 27.00 Acres / 10.93 Ha
The island of Cirella is an island of Italy, located in the Tyrrhenian Sea, in Calabria. It is located in the northwestern coast of the Tyrrhenian Calabria, opposite the town of Cirella, a hamlet of Diamante in Province of Cosenza.
On the top of the island of Cirella are the ruins of a military fortification, called Tower Isle of Cirella, of square plan with sides about 10 meters long and three to four meters thick walls. It was built in 1562 to prevent the attack by Turkish pirates.
$725,000US – Turquoise Caye, Location: Blackadore Caye, BELIZE – Private Island, 4.75 Acres / 1.92 Ha
Aptly named Turquoise Caye, this 4.75 acres private island could be made your private getaway in the sparkling Caribbean waters of Belize. Situated only 5 miles from the highly anticipated planned green project of Leonardo Di Caprio and Four Seasons on Blackadore Caye and 7 Miles from Cayo Espanto, a private island resort frequented by the upper echelon of the movie and sporting set.
$677,937US – Paradise Island, Location:Georgian Bay, Ontario, CANADA – Private Island, 1.75 Acres / 0.71 Ha
Located in one of most sought after locations near Batteau Island. Paradise Island is 1.75 acres of mostly smooth granite and has panoramic views in all directions & sheltered docking in a cove on the west side of the Island. The 2 bedroom rustic cottage with loft sleeps 12 & has living room with granite fireplace, porch, kitchen with propane appliances, solar powered lights & water pressure system.
$650,000US – Diamond Cay, Location: Off the western end of Utila Island, HONDURAS – Private Island, 1.40 Acres / 0.57 Ha
Diamond Cay is 1.43 acres of absolute paradise poised at the bottom of Utila Islands, south of Roatan, one of Honduras' famed Bay Islands. It offers some of the best diving, snorkeling and fishing just off the beach, and has a substantial roughly diamond shaped reef surrounding the island, giving the island its name and helping to also protect the island's sandy beaches and tropical vegetation.
$650,000US – Sheep Island, Location: Near Lawrence River, Quebec, CANADA – Private Island, 3.00 Acres / 1.21 Ha
This beautiful little island is a perfect getaway from the big city, with a charming rustic cottage and postcard-perfect location. Surrounded by the maple wood forests and pretty towns of southern Quebec, Sheep Island is close to civilization while still giving the impression of seclusion in the wilderness.
The island has a small older cabin that has running water, gas fuelled lights and kitchen facilities, and a full septic system.
$640,000US – Ahe Atoll Mutu, Location: Tuamotus, French Polynesia, SOUTH PACIFIC – Private Island, 17.00 Acres / 6.88 Ha
This island is located in the Ahe Atoll, a favourite location of Bernard Moitessier, an icon among sailors and adventurers. This area is where Bernard Moitessier dropped anchor for awhile. Moitessier was a renowned French yachtsman and author of several bestselling books about his voyages and sailing.
$595,000US – Sunset Key, Location: Sunset Key, Tarpon Springs, Florida, USA – Private Island, 5.00 Acres / 2.02 Ha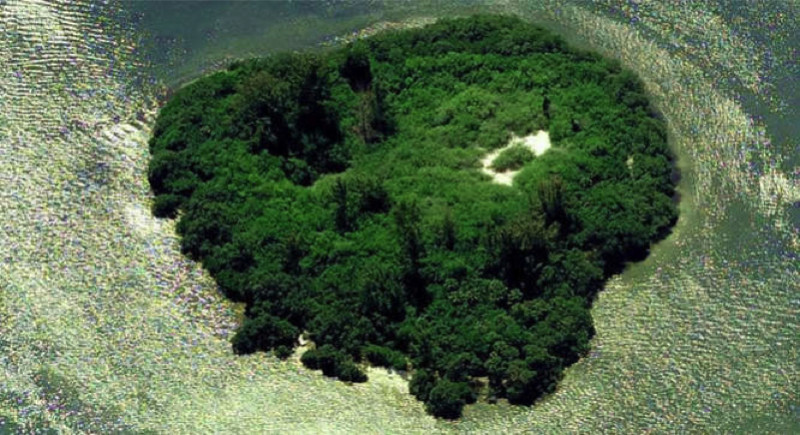 This stunning little Florida Key is everything you dream of in an Island oasis. Pure white beaches and a great locale. The island is 2.2 acres of build-able island, measuring 450ft wide x 600ft long. It has grown over the decades to around 5 acres due to the mangroves and sand accumulation and is still growing even today.
Sunset Key is located in the beautiful Gulf of Mexico at the entrance to the Anclote River at Tarpon Springs, Florida, and only 200 yards from shore, with several marina's close by for the boating needs.
$500,000US – Pink Pearl Island, Location: Pearl Cays, NICARAGUA -Private Island, 2.00 Acres / 0.81 Ha
Pink Pearl Island is situated approximately 3 miles off of mainland Nicaragua's Caribbean Coast, amongst the Pearl Cays island groups. Surrounded by white sand beaches and turquoise water this private island is the epitome of what we probably all imagine a tropical island to look like.
Operated as a tropical resort, the Island has three round-thatched cabanas, a traditional 'Fishermans style' shack, made of zinc with a leaf roof and sand floor, a main two level house, situated in the middle of the island, circular in shape and made of cement construction and it even has its very own bar/restaurant.
$499,000US – Scabby Island Chain, Location: Starboard Cove, Machiasport, Main, USA – Private Island, 18.00 Acres / 7.28 Ha
This sparsely treed island (with open views in all directions and a deep shoreline with boat access on its north, east, south, and west sides) rises to a height of 93 feet above sea level and has its own small freshwater pool which can serve as an auxiliary water source should there be an unlikely dearth of rain.
At this location, it doesn't take a survivalist to appreciate the relative safety provided by Mother Nature's twice-daily tide; this peninsular site has most of the advantages of island living (as it is typically accessible by road twice a day for about two-and-a-half hours each side of low tide). At high tide, the cross creek access road to this peninsula becomes covered by a saltwater pond where Starboard Creek is only four inches deep at low tide.
Just to re-iterate that most of these properties are or were available for sale on Private Islands Online and the images are from this site. If you need updates on what's available, just visit their site and do your own search.
Pricing was correct as at Jun 2015