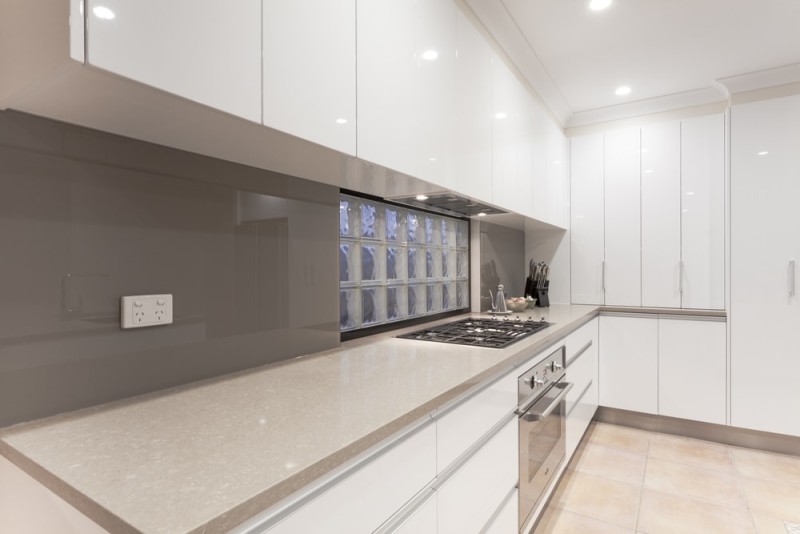 The above image shows simple kitchen backsplash ideas within a new modern minimalistic kitchen with stone bench top, stunning white high gloss cabinets and a matching colored glass backsplash.
Kitchens all need them, and yet often they are an afterthought of the overall design. The classic back splash. The wall area of the kitchen that sits adjacent the stove or cooking area, and sometimes even extends the full length of the wall. These areas of walling serve a practical purpose as well as also offering the potential for decoration and adding your own unique styling to your kitchen.
Backsplash examples range from colored glass through to ceramic tiles of all sizes, shapes and colors and even granite, stone and marble tiles or solid panels. Whatever the style, or design, a beautiful backsplash can add polish and personality to the overall kitchen design.
When looking to enhance your kitchen area through a makeover or a remodelling project, you should pay some attention to your backsplash area, as this can help dress up any old kitchen creating a whole new look and feel giving it a new life from what may have previously been an old and dreary, dated kitchen. We hope that this selection of kitchen backsplashes will provide some creative inspiration for your own kitchen renovation, or at the very least provide some ideas on a simple budget makeover to improve and enhance the overall look.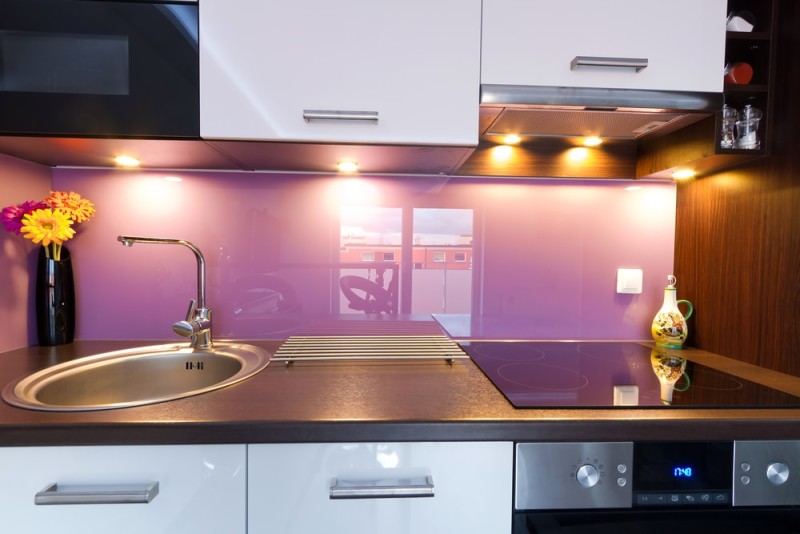 This picture shows a modern white cabinet small sized kitchen with a contrasting purple colored glass backsplash for a dashing visual effect
A luxury apartment kitchen with white cabinet joinery and bench top offset by a black and white tiled backsplash.
This minimalist style kitchen interior is finished in a monochromatic style with black kitchen cabinets and appliances, white contrast walls and a grey tile backsplash.
This open plan kitchen has very earthy tones with granite bench top, matching marble tiled flooring, stainless steel appliances and a multi colored tile backsplash wall in similar tonings.
A remodeled kitchen with timber cabinets and cupboards, a white stone bench top and a glass tile backsplash
This modern kitchen with dark cabinets and black granite counters is contrasted with colored circular backsplash tiles creating a stunning mosaic effect.
Modern kitchen with matte brown caramel colored cabinets, speckled tan granite tops and matching backsplash wall
This beautiful modern kitchen has neutral toned cabinets, a cream stone benchtop and a matching polished light stone backsplash
Modern kitchen with hardwood floor, white kitchen cabinets and black granite bench top and matching backsplash.
Luxurious kitchen with crafted white cabinetry, a large stainless steel oven, white stone bench top, a separate island wash-up area and a backsplash with tonings that blend everything together.
Kitchen sink area with stainless steel backsplash wall. Stainless steel backsplashes when well installed and maintained are timeless additions to any kitchen and look good whatever the era or fashion.
Dark green kitchen cabinets with monochromatic black, grey and white tiled back splash trim in a small kitchen with a vaulted ceiling
Contemporary kitchen with cream stone bench top offset with stunning designer patterned glass back splash panels
Blue glass backsplash and stainless steel vent hood in modern kitchen
This black and white modern kitchen with white bench top, and black kitchen cabinets is contrasted beautifully with the multi-colored tile backsplash
A simple but effective kitchen work bench with wooden cabinetry and red ceramic tile back splash wall
Beautiful new dark colored kitchen with massive twin oven, and heavily patterned granite bench and back splash
Beautiful kitchen stove with black speckled stone benchtop and matching backsplash made from one inch glass tiles that accentuate the speckled colors of the benchtop
A beautiful kitchen in a luxury home with mahongany colored timber cabinetry, white stone benchtops, a separate kitchen island and offset with a stunning blue glass backsplash wall.
A modern kitchen cooktop with brick splashback
A kitchen featuring wooden cabinetry, tile flooring and a contrasting dark brown tiled backsplash.