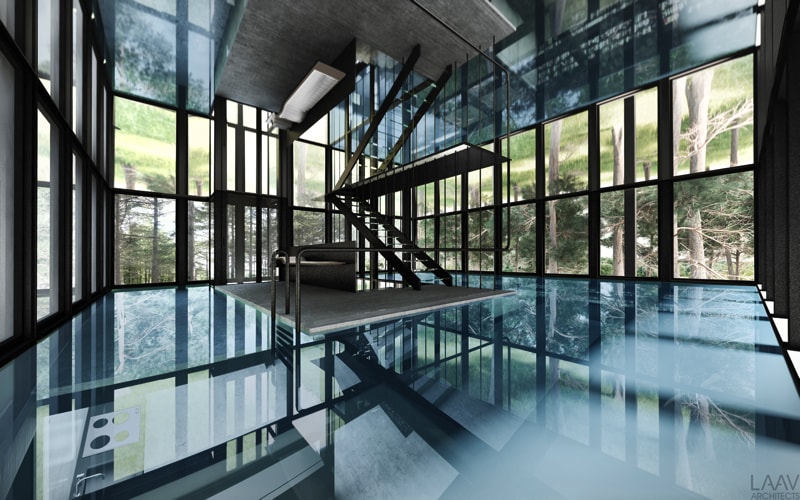 Villa Clessidra is a geometrical and atmospheric sanctuary. It is a construction of defined proportions and as such it is also a bet. A bet in designing freedom within confinement. A bet in allowing continuity with the environment through an austere geometrical structure.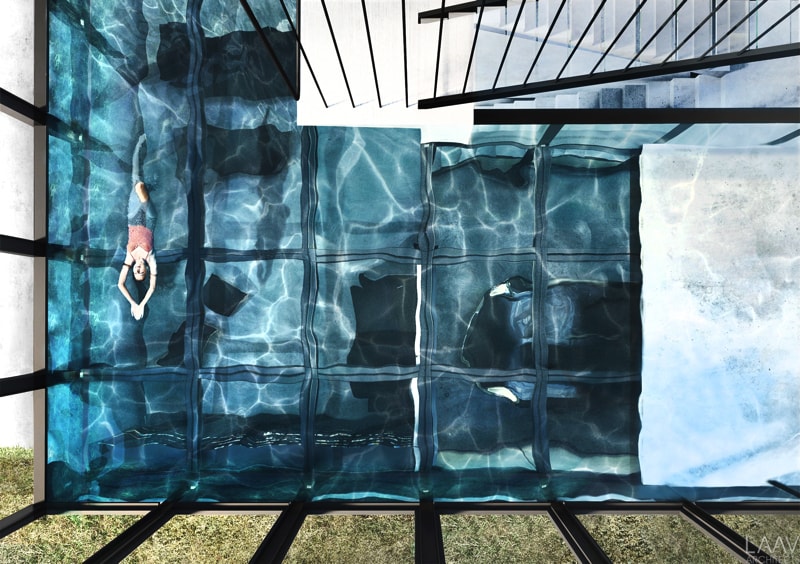 Villa Clessidra is a 200sq.m. 3-level residence of an almost cubic shape, with dimensions 9.7m x 9.7m x 10.4m (LxWxH). It has no underground or excavated parts and consists of steel frame and bare (foamboard molding) concrete, only as paneling cladding.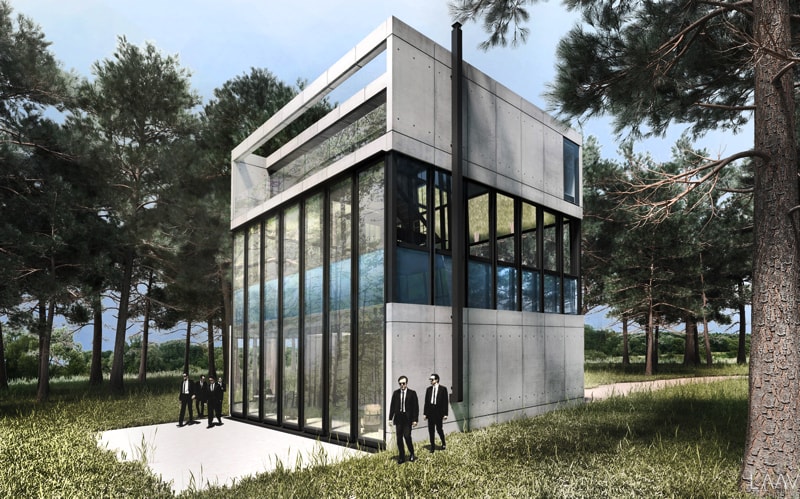 Villa Clessidra is hypothetically placed amidst the beautiful pine forest of the Dutch dunes. The surrounding nature communicates with the residence via the use of glass, water and mirrors. The front (South) façade opens up with rotating, sliding windows to allow in the smells, sounds and images of the sublime forest.
A swimming pool is strategically positioned in the middle of the house, creating a concrete shape cut in half by a transparent zone. The upper floor of the house constitutes the "night zone", a space dedicated to sleep and relaxation.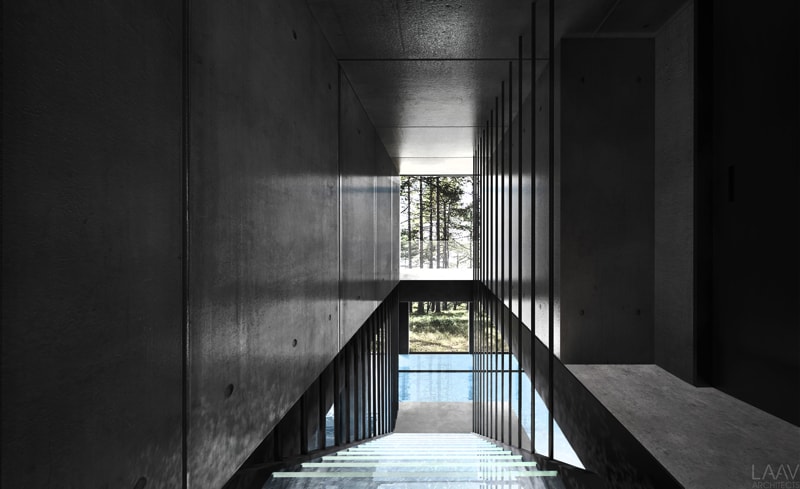 This simply contains two spacious bedrooms with South orientation and en-suite bathrooms. In addition, the master bedroom has a glazed floor opening allowing direct visual contact with the swimming pool beneath the concrete bed.
In contrast, the ground floor is designed to contain the activities that create the hustle and bustle of everyday life. It includes the library/living room, dining room and kitchen, as well as an outdoors, sheltered parking space.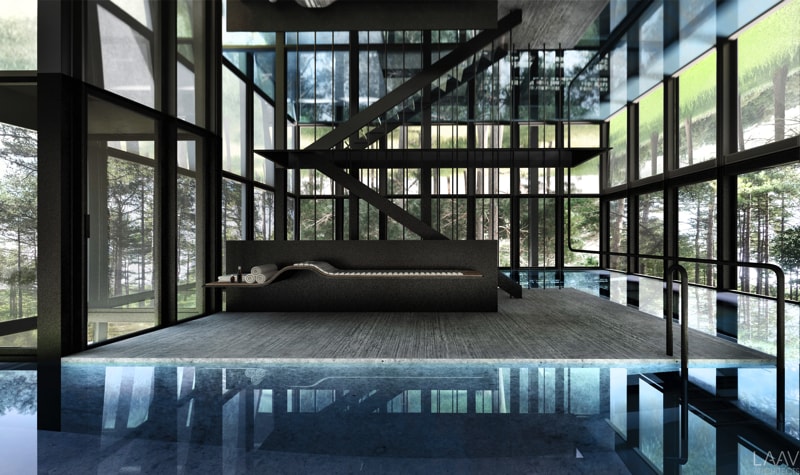 This clear functional division is reinforced by the presence of a middle floor that is in its entirety a swimming pool. Being required to pass through this aqueous interim distills the daily activities and purifies and mind.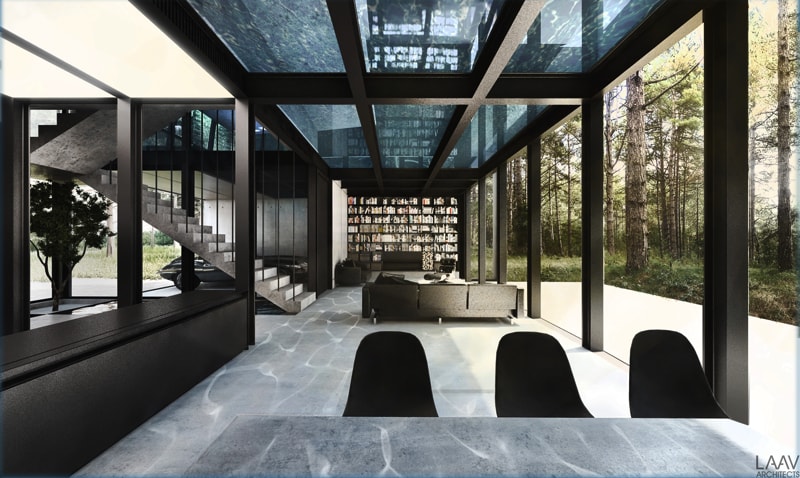 The movement enforced by the aforementioned structural elements resembles that of a grain of sand in an hourglass (=clessidra in Italian / κλεψύδρα in Greek), and it is for this similarity that the project was baptized Villa Clessidra. But in a more allegorical sense, Villa Clessidra is the place where time stops. It is a place for thought and contemplation. It is a place for relaxation and meditation.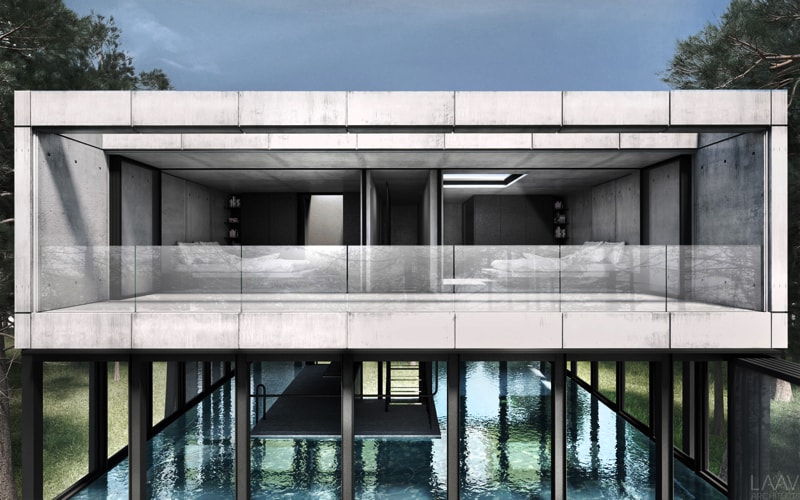 The element of nature, abundantly present, invades the house through the large glass facades and is amplified by the water and mirror clad ceiling of the swimming pool level. Light penetrates the transparent middle floor of Villa Clessidra, bringing playful caustics patterns in the living room.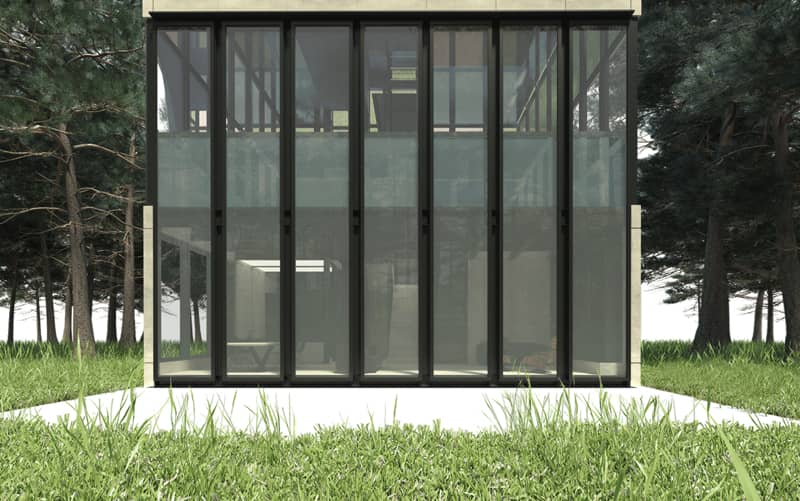 The light patterns with refractions and shadows multiply in the mirrored ceiling above the pool. This creates an optical illusion of a double-height space and simultaneously it offers optical connectivity with the rest of the residence. Ultimately, the staircase to the upper floor meets its mirrored idol and forms the shape of the hourglass.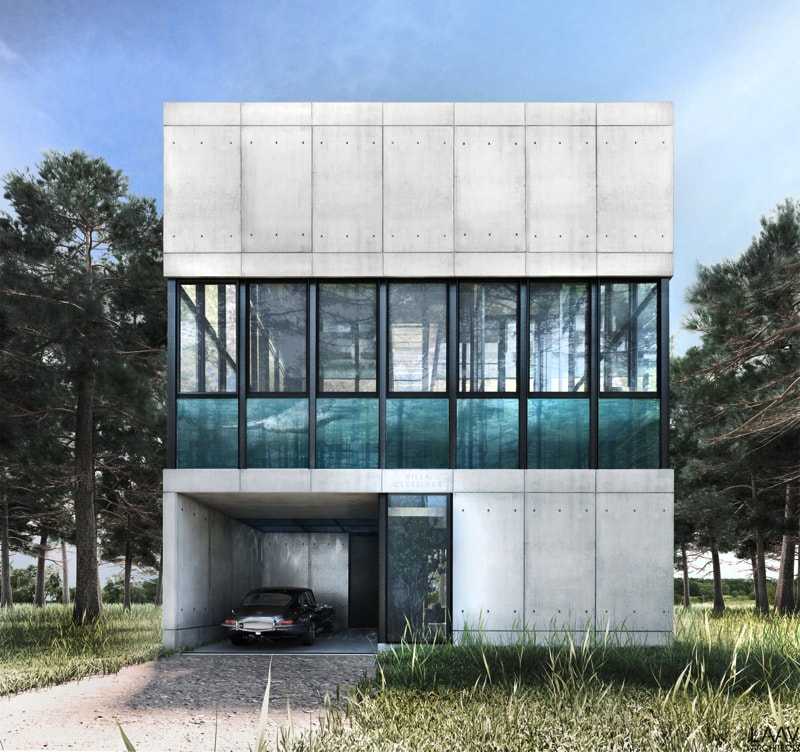 Villa Clessidra is a cube. It needs no frills, vague geometries, violent edges to create a living space. It is an honest "vessel of life" (quoting Aris Konstantinidis), containing life and interacting with the life that surrounds it. If it should be described with one word, that would be pure.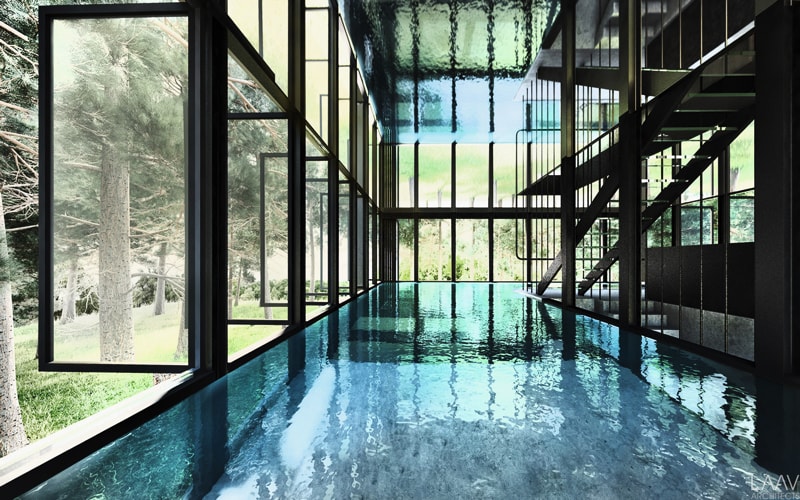 Head / Project Architect: Laertis-Antonios Ando Vassiliou Associate Architect: Michalis Takopoulos, Renderings: Lefteris Schetakis ([email protected]) Scriptwriter/Publication manager: Xanthippi Alexi Vassiliou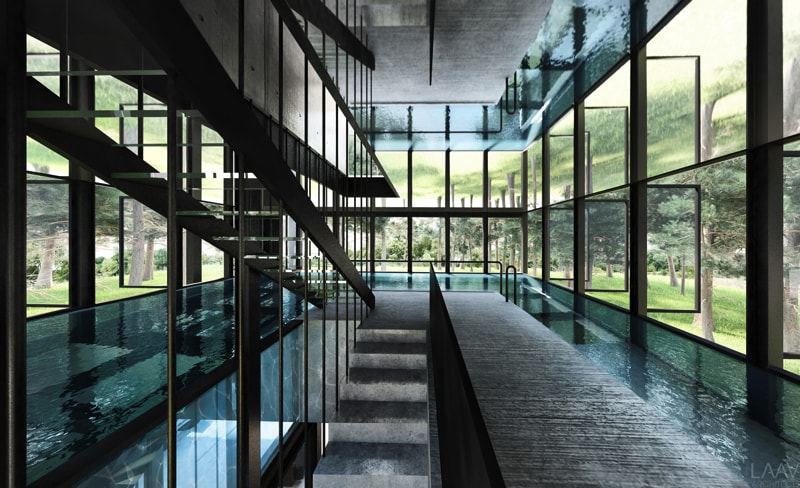 Programme 3-level Forest dwelling of 200m² (concept) BREEAM Pending report Design 2016 Realisation Pending Interior architect LAAV Architects Client Concept Phase Project management Arup (Amsterdam) bv Structural, electrical and mechanical engineer; fire safety, acoustics and building physics consultant Arup (Amsterdam) bv Design management and cost consultant Partnership Pending Landscape architect Partnership pending Main contractor Partnership Pending
LAAV Architects is a young Architectural and Industrial Design practice established in 2016 by Laertis Antonios Ando Vassiliou in Haarlem, NL (co-founder and partner of OPA Open Platform for Architecture).
The practice aims to create an expandable network of professionals, including Arup Group Ltd, Mijksenaar Wayfinding, Demco Properties a.o. We are able to take on diverse design projects and deliver high-end products of all scales and typologies.
LAAV Architects believe that life is too short for designs that people will soon forget.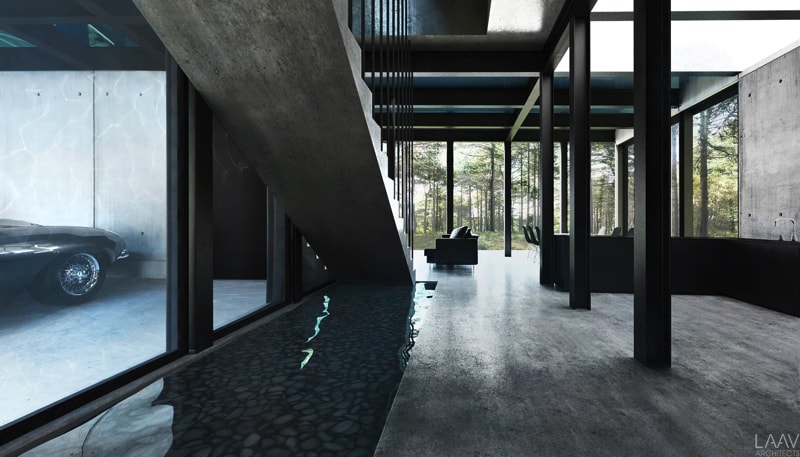 Laertis-Antonios Ando Vassiliou
Was born in 1983 to Greek & Japanese parents. He grew up in Rhodes until 2001 when he started studying architecture at the Technical University of Athens (NTUA). In 2005 he earned his first distinction at an architectural competition, which allowed him to study for six months at ISA Victor Horta in Bruxelles (2006). Since then, he has built his first commissioned design in Rhodes (2006-2008), received his MArch diploma (2008) and in 2010, completed his second project in Rhodes.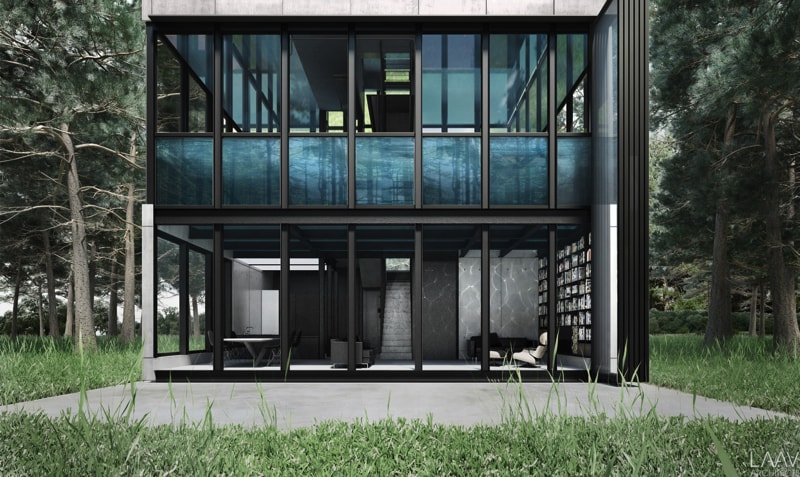 The same year he left Greece to explore architecture in the Netherlands where he completed his MSc in Architecture & Urbanism at TU Delft (2010-2013), supported with a full scholarship by the Greek Scholarship Foundation (IKY). During his study he worked for Mecanoo Architecten (2012) and entered his first professional competitions, with distinctions. In 2014 he worked for UNStudio (AMS) and by the end of the year established OPA Open Platform for Architecture with a cutting-edge portfolio including the world-renowed designs of Casa Brutale and Lux Aeterna.
Since October 2016 he established his personal architectural practice, parallel to OPA, LAAV Architects to continue the cutting-edge design legacy of Casa Brutale with Villa Clessidra and other projects.
Laertis is a registered member of the Greek (2009) and Dutch (2013) architectural registries. He is a passionate architect but he dreams of becoming a novelist. He is a family-guy who loves books, cats, memes and motorbikes.