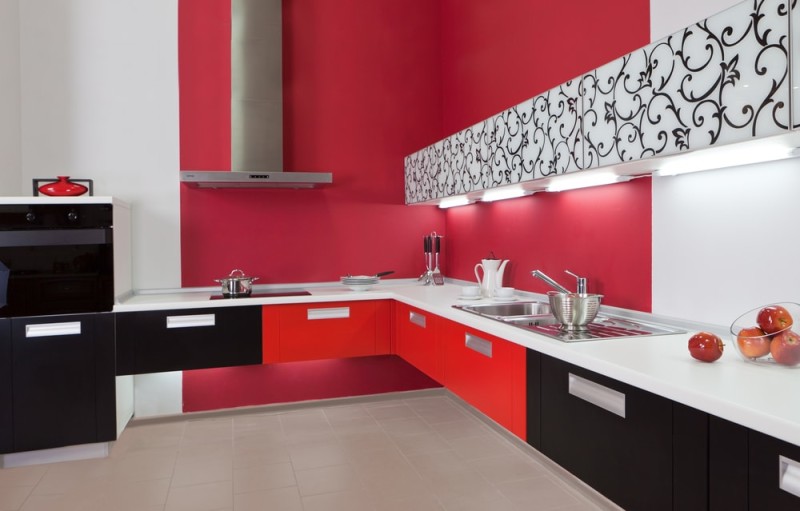 The above image is a great example of a luxury modern kitchen design interior with red and black coloring of cabinets and walls. A simplistic L-shaped design with floating bench top, white stone bench and tile flooring.
Beautiful kitchens in a home can make all the difference to the perception people have about your home, so it makes sense to invest wisely in your kitchen design. With kitchens, you can often achieve a great look overall with the kitchen by spending on quality appliances. Cabinetry can often be where a lot of the expense and value of a kitchen is hidden due to the nature and the quality of the various 'hidden' componentry, and so to achieve a great look doesn't necessarily require a big spending budget, although the longevity of a 'more budget' kitchen will be limited when compared to one crafted from quality finishes and components.
If you're planning a home makeover, renovation, or a new build, you should ensure you spend a good portion of the available funds on the kitchen. Options open to you include the use of kitchen designers, or architects, or other specialist kitchen companies who will often create a bespoke (value based) kitchen that will be designed around your budget. For someone seeking more of a budget solution for their kitchen, there are plenty of competitive 'flatpak' style kitchen companies that can give you a great looking kitchen for a reasonable price.
The key with decision making around the home kitchen is understanding what you can afford to spend on the kitchen. There is no doubt that when selling a home, a kitchen is probably the most important room in the home (closely followed by the bathroom(s)) when it comes to impressing a prospect, therefore make the most of your decision making ability by shopping around for quality appliances, especially those that might be on sale, or closeout for perhaps dated models. And then choose well for other aspects, avoiding the cheapest option (if you're a budget seller) and going with the best value you can obtain for your overall budget.
This is a beautiful new apartment interior with a modern kitchen design, black granite bench tops, white cabinets and cupboards and honey colored timber floor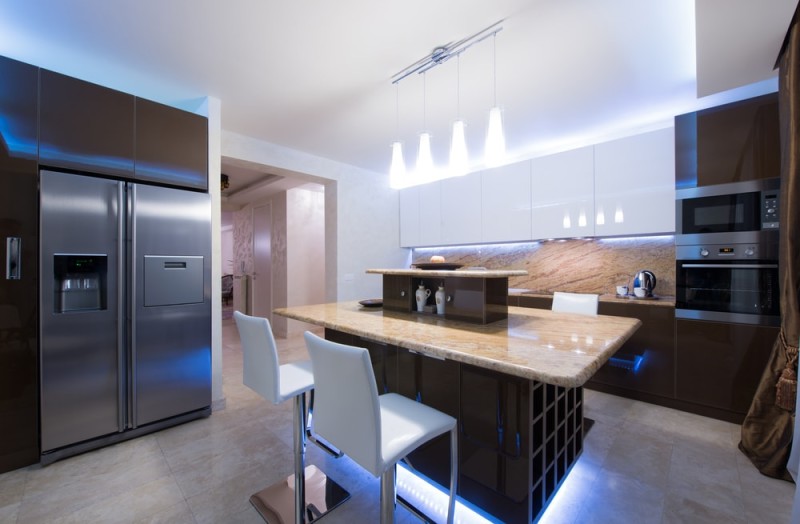 This is a very modern kitchen interior with black cabinets, and tan colored marble benchtops and splashback. A central island with an upstand and wine storage completes the picture.
New modern minimalistic white kitchen interior with central island including sink and four stools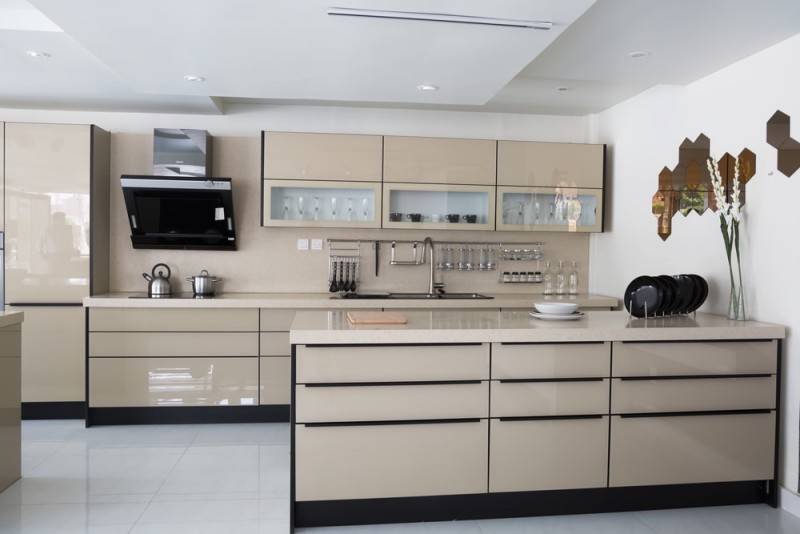 A beautiful contemporary modern kitchen set up with amazing glossy taupe colored cabinets, matching benchtops and black edging highlights around the cupboards and cabinets
This kitchen in an ultra modern home with large black granite island bench containing both cooking and sink and beautiful light honey colored timber cabinets
Quite a simple modern new kitchen with luxury black and white finish interior. The black drawer handles and black benchtop work well as a contrast against the stark white cabinets and cupboards
This is a large modern kitchen with stainless steel appliances iset into a long island bench and additional dining plinth. An abundance of additional cupboard and drawers give this modern luxury home an amazing kitchen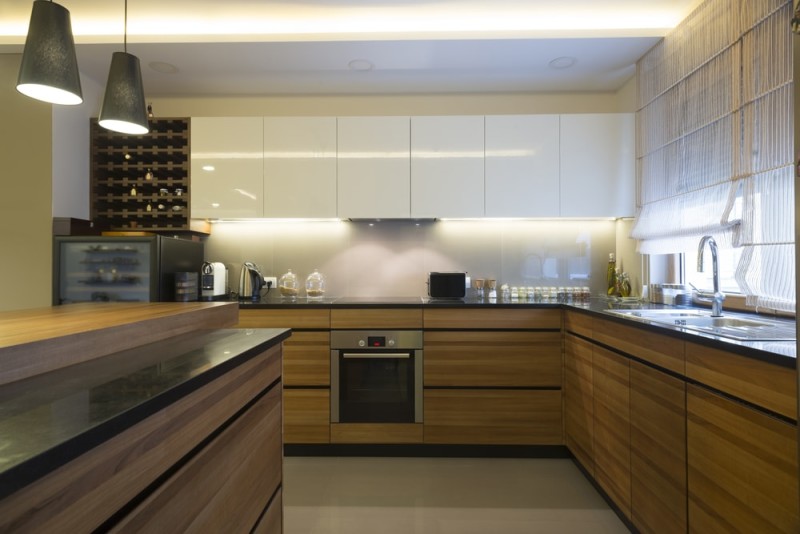 A stunning modern kitchen interior decor with rich grainy wooden handle free cabinets with recessed grooves for opening. White upper cupboards and black granite bench tops offset the color contrast
Modern kitchen interior design in black and white style with vertical grained wooden cabinets, and a black granite bench top
White kitchen cupboards with wooden central island kitchen with stainless appliances and attached composite stone dining table in large contemporary home