A house with blue and white interiors is a timeless look and great for the cool summery look.
This classic styled bedroom above has contrasting blue pillows and Chinese style lamp on the bedside table as well as a blue and white patterned wall behind the bed.
As people we are often emotionally connected to the colors around us, in our homes and our environment. Have you ever thought about how comfortable and relaxed you often feel when you're surrounded by blue and white interiors of a home, or perhaps feel overwhelmed by intense reds and fiery colors?
Its not unusual that we become more tolerant and accepting of colors we are familiar with and feel comfortable around, for example when you look up into the sky on a cloudless summer day, you see a vivid blue. When you look out to the ocean as far as the eye can see, we notice the blueness of the sea, and coupled with the purity we associate with white and you have the perfect combination of colors for a home, blue and white.
Depending on the intensity or variation of the blue color, there can be many feelings evoked; feelings of summer days and vacations when you're talking soft sky blue, perhaps even feeling of having a new born baby with the baby blue color, or the sense of being on the sea with the vibrant intense blue. Any which way you use the color blue, if you create contrasts with it by using some of the many variations of blue and matching it with white, you'll have a color match that never goes out of style.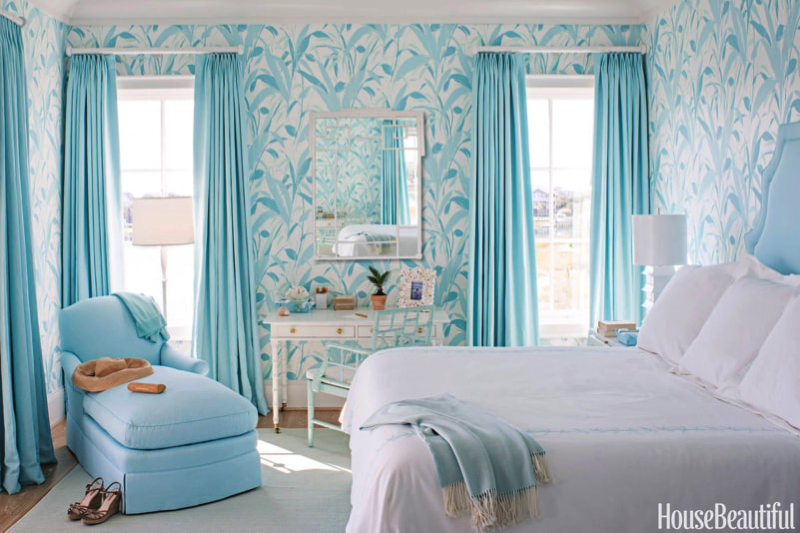 Stunning Blue and white bedroom decor with soft blue and white furnishings, and wallpaper. Source -House Beautiful
This white remodelled kitchen is well highlighted with its vivid blue wall tiles.
Modern living room interior with white entertainment unit furniture and sofa with blue cushions and curtains and vase
Interior of a dining room and hall with blue and white walls in a contemporary modern home with high ceilings
This bathroom which possesses lots of storage space, is stunning with its powder blue walls and white vanity and furniture
White remodelled bathroom with fitted counters, wooden floor and pale blue walls
Dark blue classical style sofa couch with blue and white wallpaper, patterned blue and white cushion and white furniture.
Light blue laundry room with modern steel appliances and white cabinets
Multiple white and blue bedding and pillow sets on the bed, with white windows, walls and decorative features
Blue walls and white panelling in this antique luxury bathroom in an old house
A very modern white and blue kitchen combined dining room with built-in white cabinets and household appliances and highlighted with blue accents
Bedroom with large glass wall, blue carpet and light blue bedding with white wood storage cabinets
Blue and white enamelware on a kitchen table next to a blue wooden wall
Beautiful holiday feel table setting with white and blue color crockery, napkin and glassware features
Light blue bathroom with vintage white claw foor bath, and white wall panels
Dining room interior with white clock, table and chairs, flowers and a vivid blue wall
Semi formal look with blue and white table setting highlighted with a white vase containing blue flowers
Interior of teenager's bedroom with white and blue colored features
White side table and rocking chair with blue furnishings and books set against a blue wall
Soft blue bedroom with matching soft furnishings and white leather chair
Modern white and blue furnished seating with Buddha statue and white tray on the table
Modern kitchen interior with blue wall and bench top and white cabinets
White couch and side table with blue vases, in a blue walled living room with white wood panelling
Beautifully decorated small bedroom with white bed and blue wall and pillows
Modern bedroom with light blue curtains and textured blue and white cushions
White and blue sofa and coffee table with blue and white glassware
Contemporary bedroom with large white furnished double bed and headboard and blue patterned wallpaper
Modern designer bedroom with twin beds, light blue ornamental wallpaper and white marble flooring