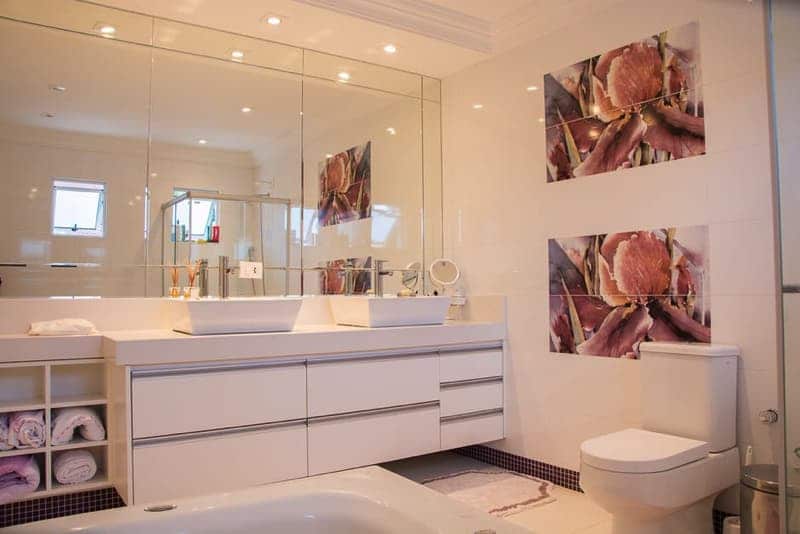 When it comes to designing your bathroom to look modern & minimalist, we are often having to deal with existing bathroom spaces, where they were not made big enough because it was not seen as an area that is as important as the other parts of the house. But having larger bathrooms seems to be the trend these days. People allocate more space for the bathroom in their house and decorate that space with modern components. Even with the larger area and expensive components installed, people find it difficult to give the bathroom a modern and minimalist look.
After having a tub, shower, sink, and toilet plumbing have been installed, the bathroom looks even smaller. It becomes more visually overloaded when tiles and stone of heavy patterns along with ornate fixtures are installed. So what can be done with this?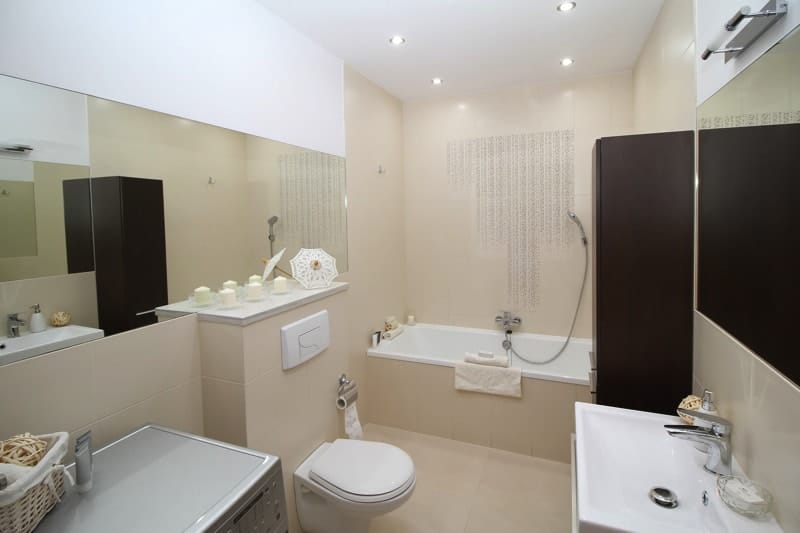 Instead of all this visual clutter, you can keep it simple and clean with a minimalist look that is in itself a treat to our eyes. The modern bathrooms feature geometric designs (patterns and shapes), minimal colors, mid-century furniture, and clean lines. If the factors described below are considered, your bathroom will look one amongst the best.
Since we use the bathrooms every day, we should give them credit for their importance in our lives. These days, many modern bathrooms exhibit various looks from bright and light to imposing and sophisticated.
Modern bathrooms have moved beyond the limits of space. With these modern details, even the dull bathrooms are transformed into incredible relaxing and refreshing spaces. Here, some of the ideas are presented that can provide you information about designing your bathroom to look modern and minimalist.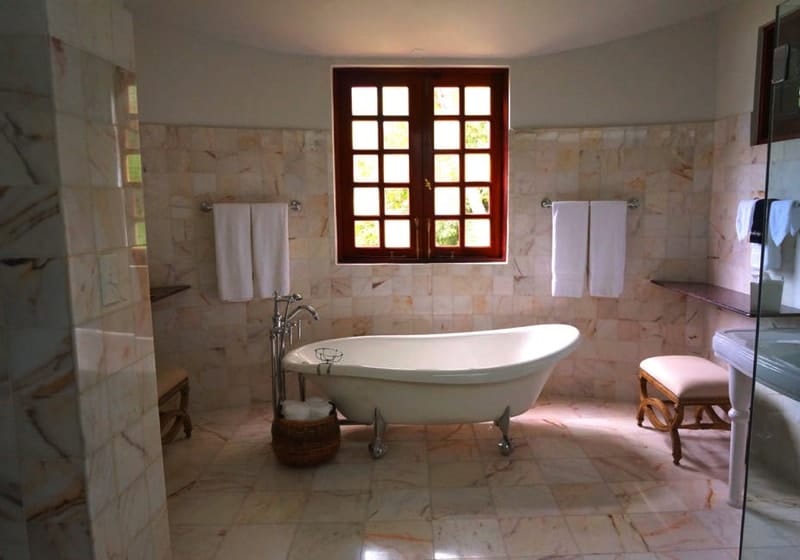 Mid-Century Modern Designs
To give your bathroom the minimalist and modern look, implement the various styles and designs of the era 1933-1965. The interior style, furniture, graphics, and architectural designs of that era constitute the mid-century modern design. This design features natural colors, geometric shapes, and straight lines.
When you are designing your bathroom, start with the bathroom furniture. Search and analyze the patterns and colors that may be best for your bathroom. You will be analyzing the type of mirror, faucets, and fixtures and the place where they can be installed in your bathroom.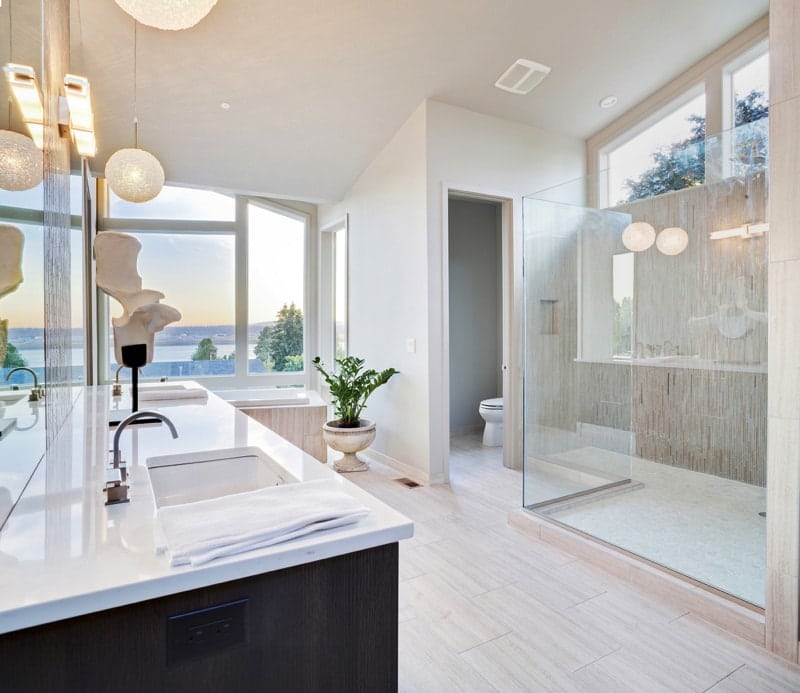 Simple and Minimalist Design
For the modern design of the bathroom, simplicity is the key. You should make sure that the bathroom should be clutter-free and has a lot of vacant space. There are many unwanted personal items in bathrooms; all of them can be hidden in the built-in shelves and cabinets.
All the novelty items and toiletries should be kept out of the bathroom space because this is a place to relax, it should not be cluttered with unnecessary things. The tiles opted for the bathroom should be of geometric shapes so that the bathroom looks elegant without sacrificing the minimalistic design.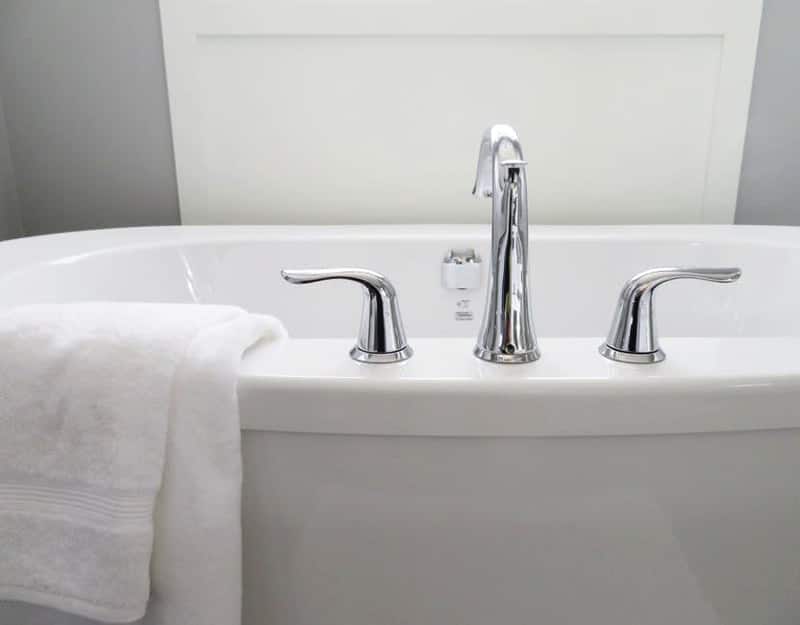 Some of the Simple Bathroom Décor Ideas

These are some of the simple ideas to decorate your bathroom and give it a modern yet minimalist look.


• You will get an organic feel by placing some small white flower pots on the shelves.
• On the bathroom wall, install mirrors that are framed in a geometric shape.
• Get some framed modern artwork and hang it in your bathroom.
• To give a modern look, add the floor-to-ceiling mirror.
• Instead of using bright color towels, go for the accessories in white or gray color.
• Showcase wooden and concrete elements.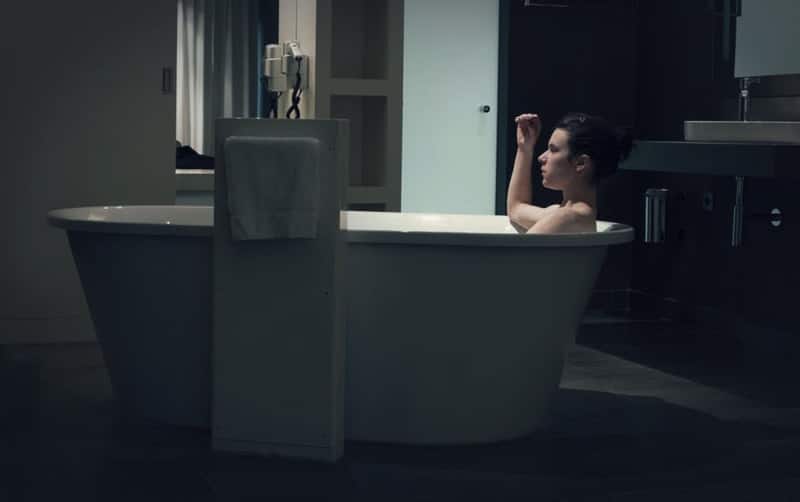 Freestanding Bathtubs
If you want a modern bathroom design, then free-standing bathtubs are a must. Balance it with the other components of your bathroom and choose the right area to place it. You may consider Feng Shui advice and find the right direction to place it in your bathroom. The traditional bathtubs were mostly in the oval shape because they were in demand at that time. At, present you can go with a rectangular design or give pedestal tub a try.
Connection with Nature
You should add some greenery in your bathroom and establish a connection between your indoors and the outdoors. The presence of greenery reflects the direct connection with nature and having nature's presence in your bathroom will calm your mind and make you happy. While choosing to put greenery in your bathroom, remember that both the outdoor and indoor space should aligned with each other.
You can bring the outdoors inside your bathroom by adding either one or two indoor plants. Moreover, the minimalist style can also be achieved by creating bright, clear and modern interiors decorated with greenery or houseplants in the courtyard. The big glass walls will add luxury to your bathroom and enhance the minimalist style. Nothing can match the view of greenery from the bathtub. You will have a natural feel inside the bathroom.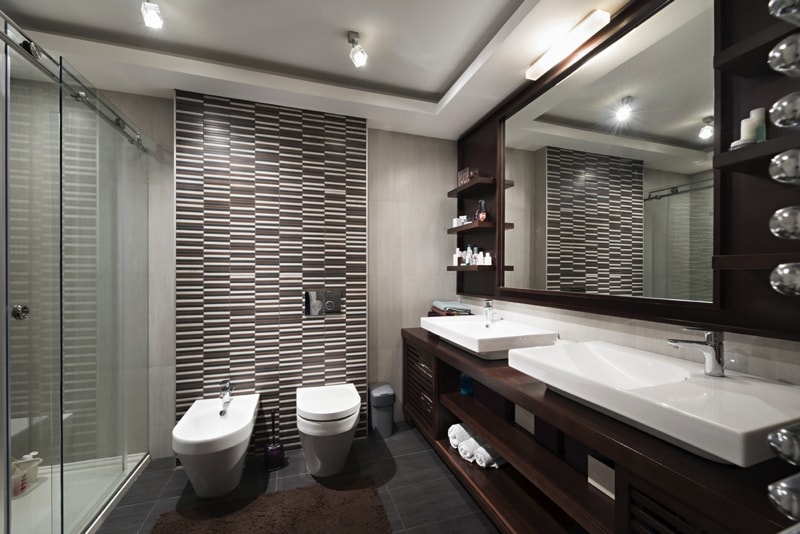 Lighting
In a modern design styled bathroom, lighting plays an important role. You should do proper research and analysis before choosing that perfect light for your bathroom. In the market, there are numerous lighting options available. Previously also, it was stated that modern design is all about geometric shapes and lines, so while shopping for the lights keep in mind the windows, fixtures, and placement of lights.
Moreover, always remember that not only the quality of fixtures matter but the quality of lights also matter, too. For the modern bathroom style, you can get skylights installed because these lights add more of a natural-effect lighting and attention to your bathroom. It is advised to consider practically simple and comfortably functional bright and clear lights for your modern and minimalist bathroom.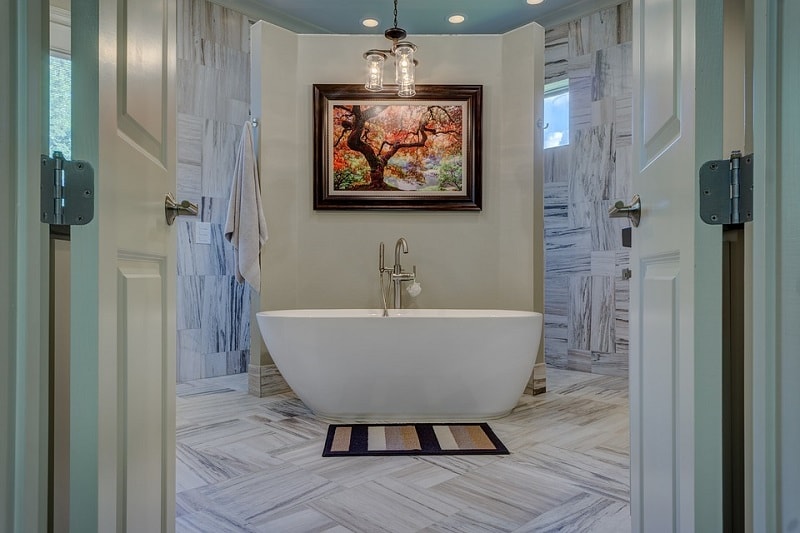 Texture
Textures improve the minimalist style and create visual appeal even to the normal bathroom. You can use various finishes and materials such as wood, steel, glass, and plastic mix to create modern and minimalist bathrooms. Rattan accents, eye-catching faucets of copper, wooden elements, clear glass lamps, colored glass lamps, and textured tiles are some of the many ways to achieve that modern yet minimalist style.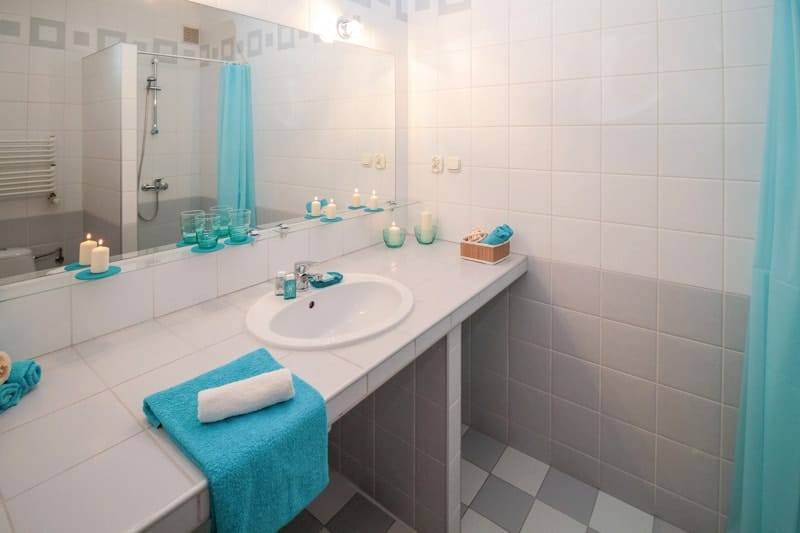 White Decoration
The white colored decoration of the bathroom makes it strikingly attractive and fresh. With white decoration, brown colors and gray color tones create dynamic contrast. Other colors that create a great contrast with white decoration are shades of blue or warm orange, but the green color makes the best choice as it adds a nature-inspired look to a modern and minimalist bathroom design.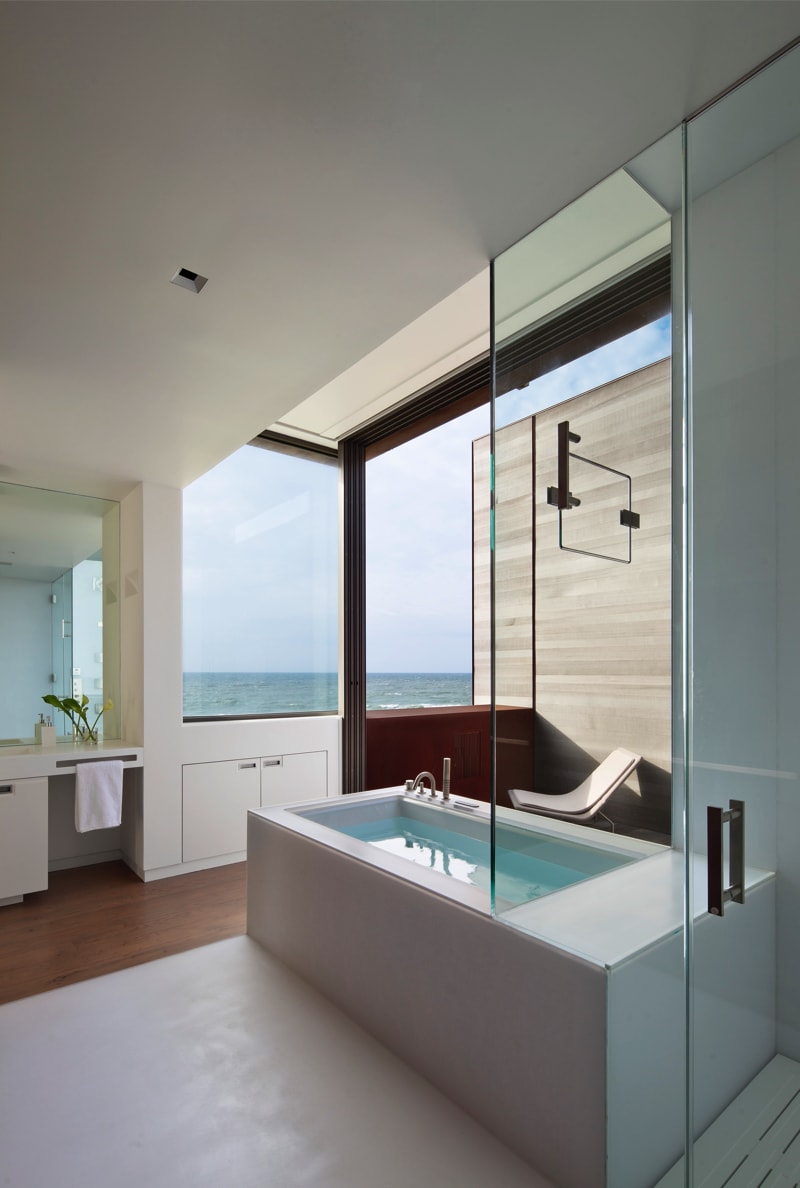 Ergonomic Design
Ergonomic designs of the bathroom mean smaller spaces should be more comfortable, and the interiors should be functional. The bathroom should have proper storage options and appropriate area for each task. In this way, the bathroom will maintain a neat & airy environment and represent a clear look.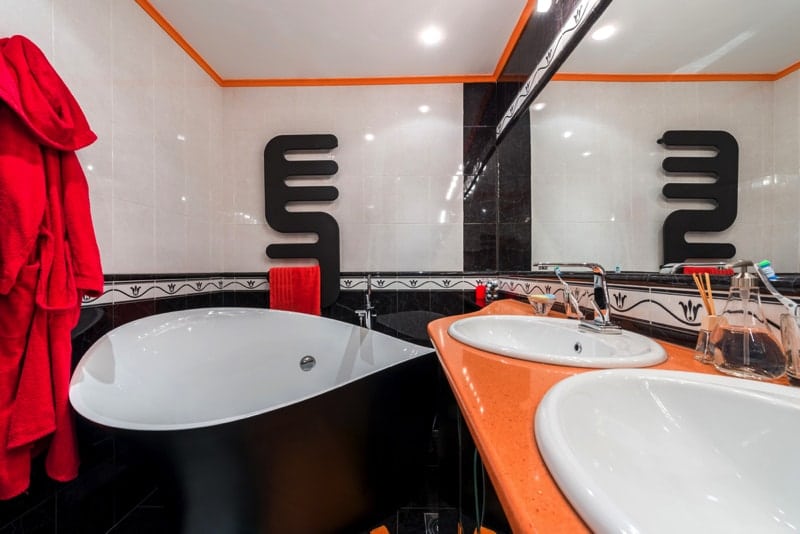 Minimal Decoration
As discussed above, the geometric shapes and simplicity enhance the looks of a minimalist bathroom. So, these designs create a unique beauty that doesn't need any artificial decoration. Round, rectangular or oval bath tubs and sinks, contemporary glass shower doors, and light window treatments, all emphasize the organic curves and straight lines. Every element in a modern bathroom is efficient and simple to use. In a minimalist style, there is no room for conventional embellished accessories.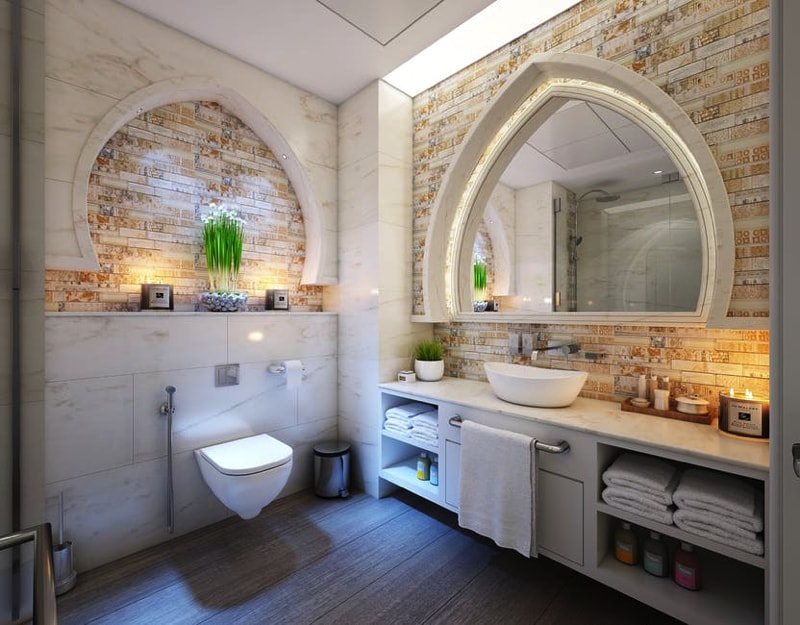 If all the ideas and elements above are considered properly, you can easily get a modern and minimalist bathroom. You should understand that to add a modern look to your bathroom, instead of adding one or two of the elements, you should consider applying all the elements and get the best look and feel. To maintain the privacy, get shutters installed. They look excellent from inside to the outside.
What do you think are other elements that can be applied to make a modern and minimalist bathroom?
Kristoffer Canimo is a Manila-based writer who strictly cannot start his day without coffee. When he's not writing, he spends his time reading various topics like architecture, home design, and search engine optimization.