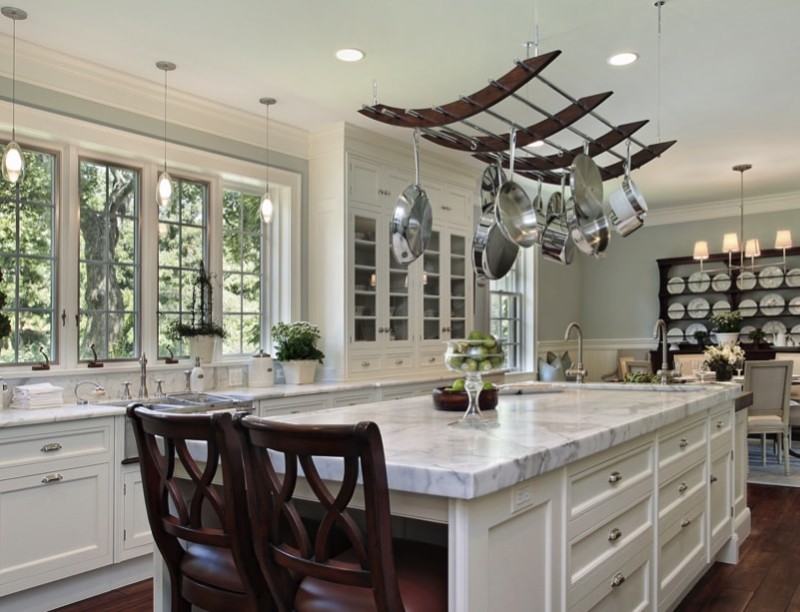 The above beautiful white kitchen in a luxury home features a soft grey and white granite island bench with an overhead fancy pot and pan hanger hanger that has these items hanging directly above the island counter.
In your kitchen, equipping it with either kitchen pot shelves on a wall, or a place where Hanging Pot and Pans feature, will bring a sense of life and vibrancy to any modern kitchen. It has several advantages, with the first being that you don't have to rummage through cupboards or drawers looking for the right pot or saucepan, they are just hanging there waiting to be used, second, they help with storage of these larger pieces of kitchen equipment when perhaps storage space within the kitchen is limited, and third, there is just something magical about a bunch of pots and pans hanging cohesively together in a kitchen from a single point that adds to the overall look and feel and desire of a kitchen.
There are many different techniques, and methods to hang up pots and pans. The most obvious is to set up a few handy open shelves where they can sit. You could even have some hanging directly below the shelves, so you have the best of both worlds. You can have a number of simple hooks hanging from your ceiling, or your wall that enables you hang any number of pans and pots, or you could go the whole way and purchase (or have custom built for you) a specialist pot hanging piece of equipment that will most likely hang from your ceiling area above your kitchen.
This gallery of images, shows examples of kitchens where there are pots and pans arranged on shelves, or hanging from simple hooks and complex hangers. Hopefully, this gallery will provide you with a few ideas and some inspiration for your own kitchen, especially if you like the look and are limited to kitchen storage space.
This stylish kitchen is complete with two separate hanging devices with stainless steel pots and pans hanging within ready access of the cooking area in a luxurious house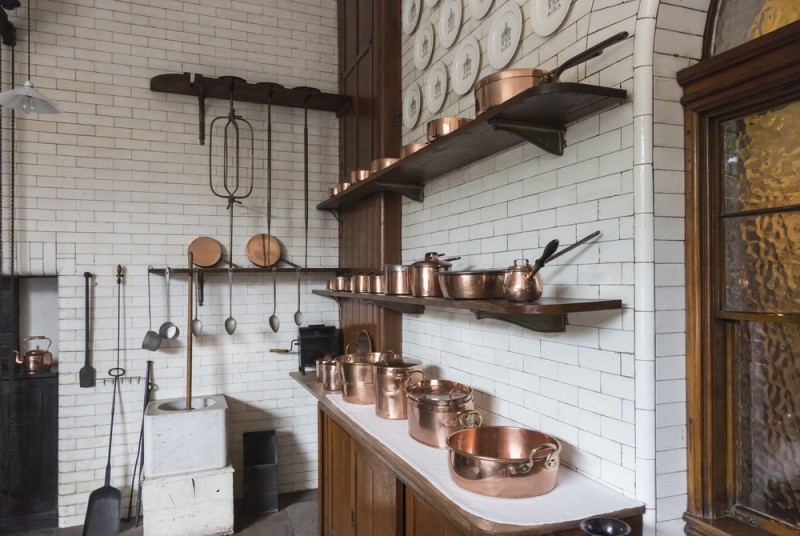 Shiny copper pots, pans and saucepans in a white tiled kitchen. This shows how a couple of shelves can provide a great look in a kitchen and especially when combined with the fashionable copper theme for the pots and saucepans.
Timber kitchen interior with honey colored timber floors and stainless steel kitchen appliances, finished with a stainless steel hanging pot rack hanging from the ceiling with a number of pots and saucepans readily accessible.
A large number of pots and saucepans hanging over a sink above few potted plants on a kitchen window sill. This is a great example of the space saving possibilities achievable when you find a convenient place to set up the pot and pan hanger.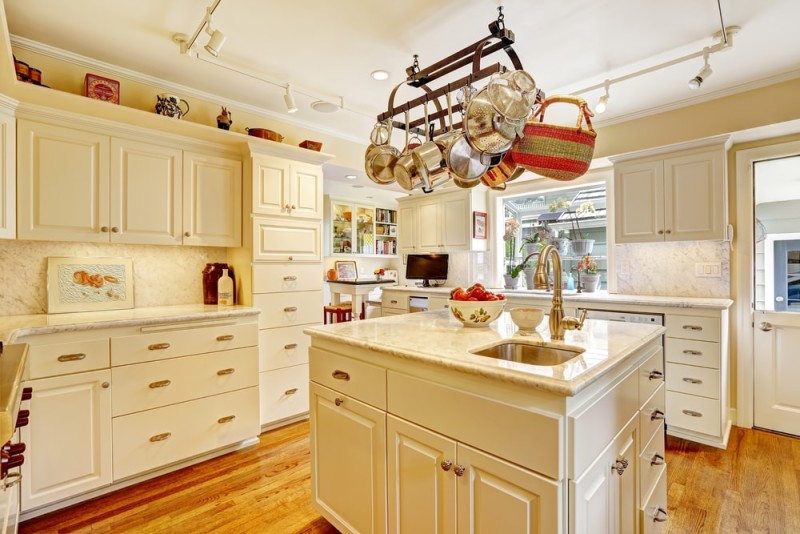 A stunning white kitchen with white granite tops, an island bench with a sink, timber flooring and an unique hanging pot rack hung from the ceiling directly above the island bench
Another example of space saving saucepan and stainless steel cookware storage hanging directly above a large gas hob
Hanging pots and saucepans within an open cupboard space in a kitchen also used for the storage of drygoods. Source www.thekitchn.com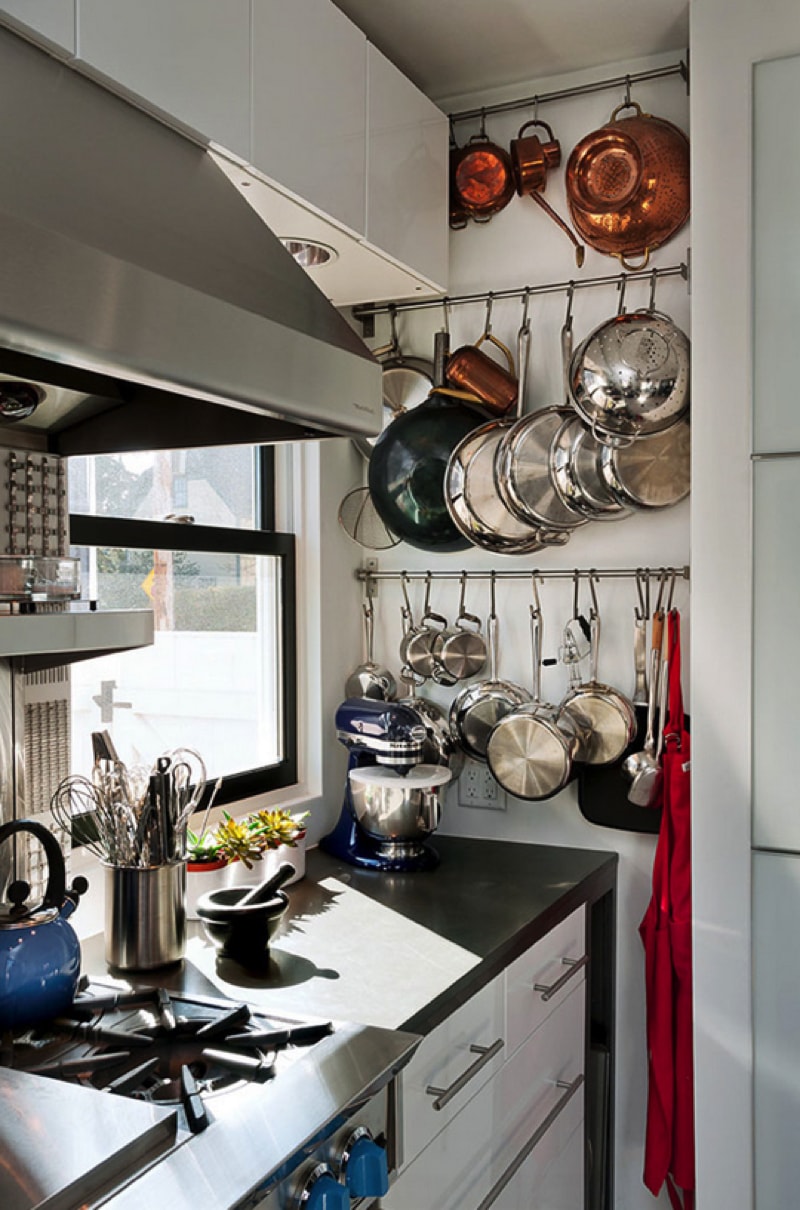 A really clever example of hanging pots and pans in a kitchen, with three wall rails spanning the length of a short wall near the cooking facilities, and then used with meat type hooks to hang all sorts of pieces of kitchen equipment. Source www.thekitchn.com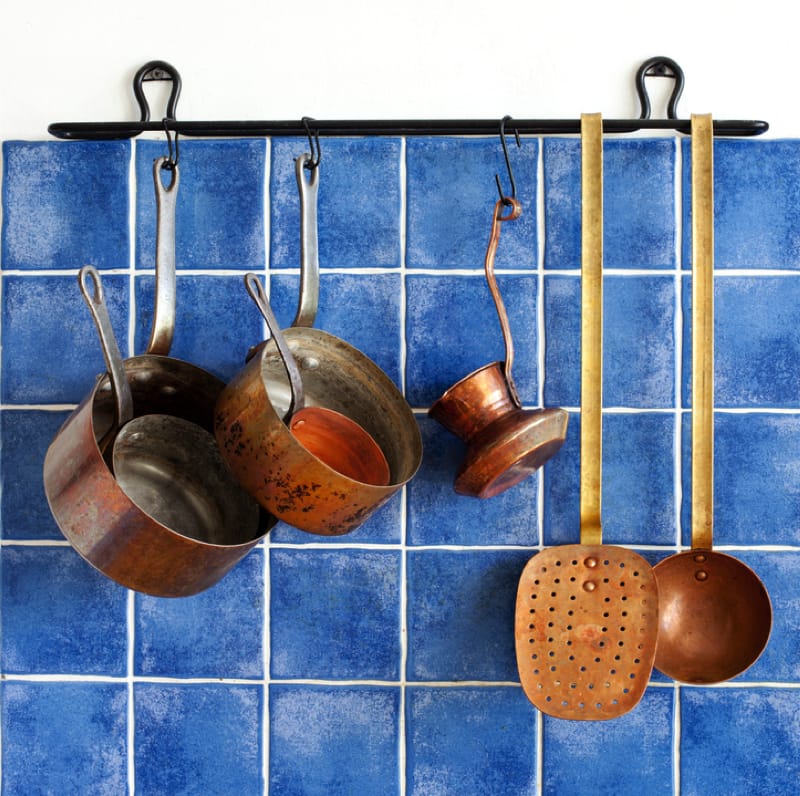 This beautiful blue tiled wall acts as a backdrop for the retro design copper kitchenware set hanging from a wall mounted hanging rod.
Another simple idea of a hanging rack created between cabinets in a kitchen window space and used for hanging a selection of pots and saucepans. Ideal when storage space in a kitchen is at a premium
Closeup of a number of copper bottomed pots and pans hanging from a stainless steel hanging rack in a modern kitchen
Beautiful wooden kitchen cabinets with stunning timber floor, black granite benchtops and a ceiling mounted pot and pan hanging rack
A simple ceiling mounted hanger with a number of stainless steel pots hanging in a kitchen
A really simple wall shelf with copper pots and pans in a kitchen with a selection of copper pans hanging below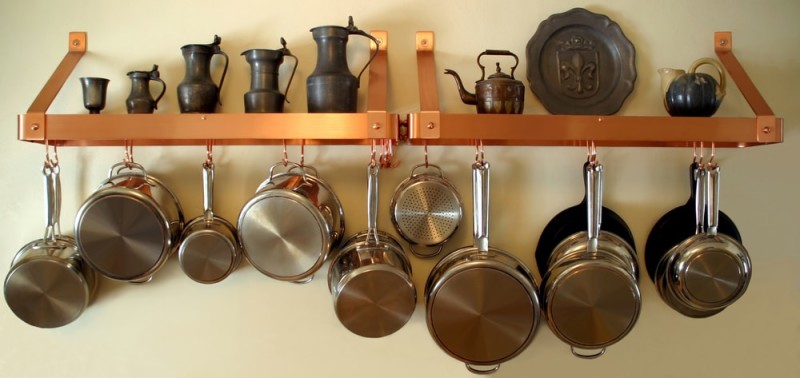 A fantastic example of a wall hung specialist pot hanger where not only are you able to hang any number of stainless steel pots and pans in a kitchen, but you can also use the upper part of it as a shelf too.
A luxury kitchen dining room timber kitchen cabinets, honey colored timber floors, marble bench tops and with an over the counter pot and pan hanger.