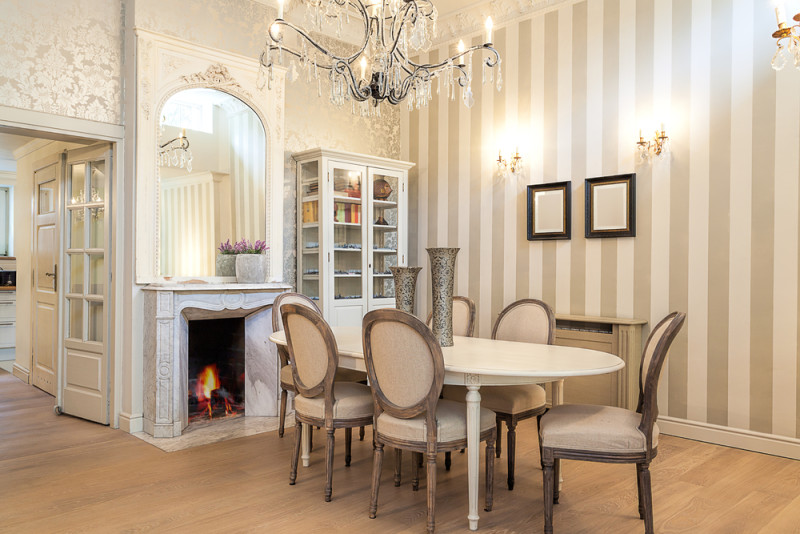 The above image shows a vintage mansion but with a modern dining room design with an open fireplace, two toned striped wallpaper, tall glass display cabinet, sensational crystal chandelier, timber flooring and an antique styled dining table with chairs.
A dining room is one of the most common rooms in a home, however when it comes to creating a modern dining room design, it doesn't have to involve the redecorating or changing the decor of the room insomuch as you can instead choose to use many elegant dining room ideas and furnishings to make your dining room one of the more desirable and attractive rooms in your home. Some homes are fortunate enough to have both a formal as well as an informal dining room area, and yet others also possess a breakfast nook (often in addition to the normal dining area), and yet others will often double a large kitchen island bench as their dining area.
Whatever decision you make around your dining area, it needn't be one of the most boring functional rooms in your home. It doesn't take much or even a lot of investment to make this room a real standout. Great furnishings, appropriate curtains and drapes, well chosen flooring, whether this be carpet, wooden, or tiles, you are best to spend a little time researching some options before you blast ahead and decide.
Then the flow from your kitchen to your dining area should be considered. Other things to contemplate are do you like the 'casual look', where you can have friends and family over for a bit of fun and games and maybe some casual food and drinks, or are you the more 'formal' type, who likes to have tables and chairs all set out appropriately, with food service being the highlight of an evening? Any which way you like it, you'll be sure to find plenty of inspiration in this gallery of modern dining room design ideas.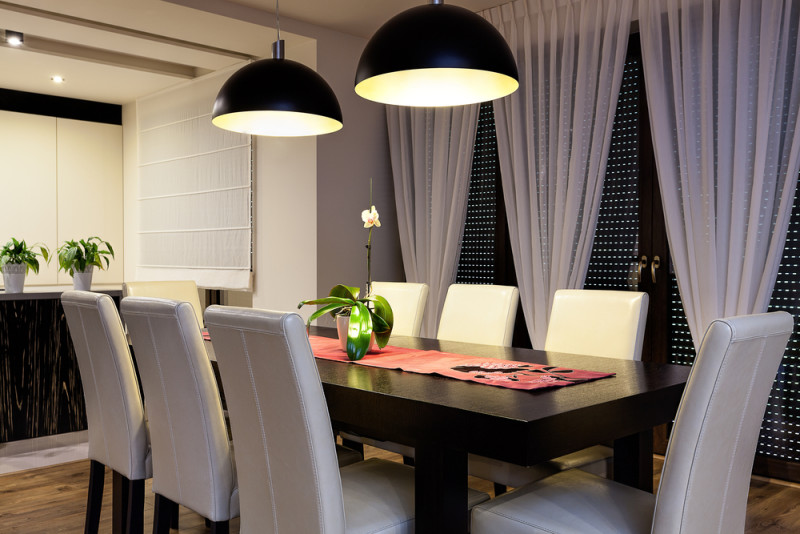 Here we have an urban apartment dining room with a dark stained wooden table with eight leather upholstered chairs. Luxurious curtains and stylish overhead lights provide an elegant feel to this dining room space.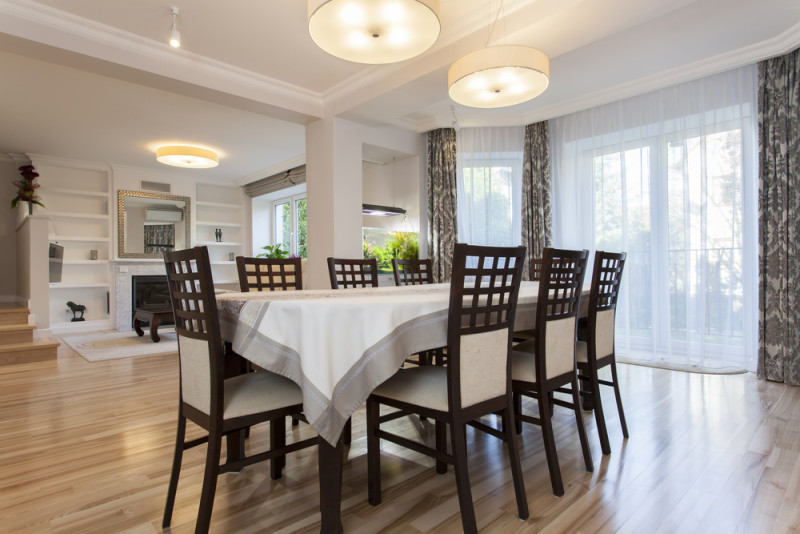 Above shows an elegant prepared table in a sophisticated and stylish dining room, finished with sheer curtains and luxurious drapes, a light colored timber floor and an eight piece set of chairs.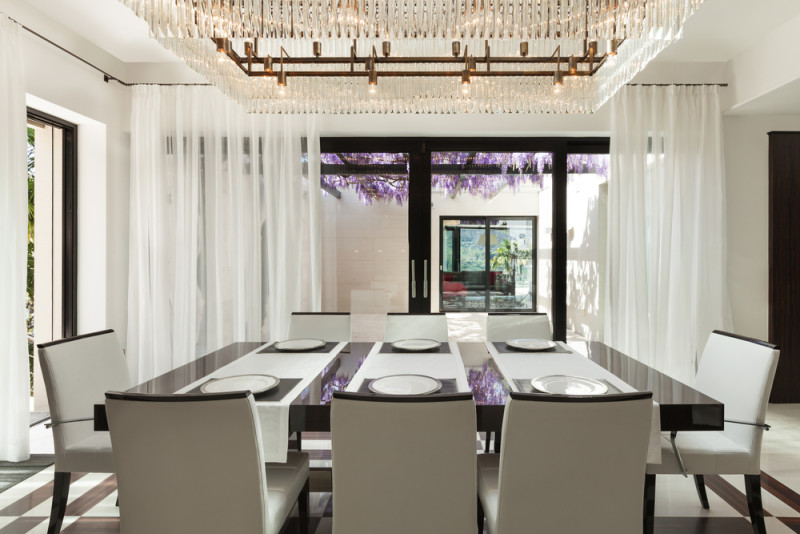 Beautifully co-ordinated style and color with this modern dining room setting of eight chairs and a dark colored table. Offset with sheer curtains and an outside patio area with flowering wisteria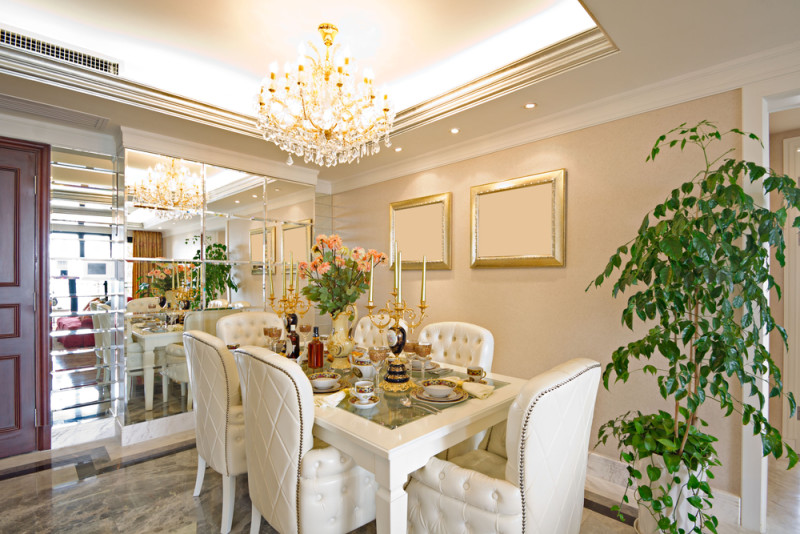 A truly elegant luxury house with a regal sophisticated dining room consisting of ornate eight piece white leather chair setting matched beautifully with a white painted dining table. The overhead chandelier, the neutral wall color and a marble tiled floor contribute to this sensational looking room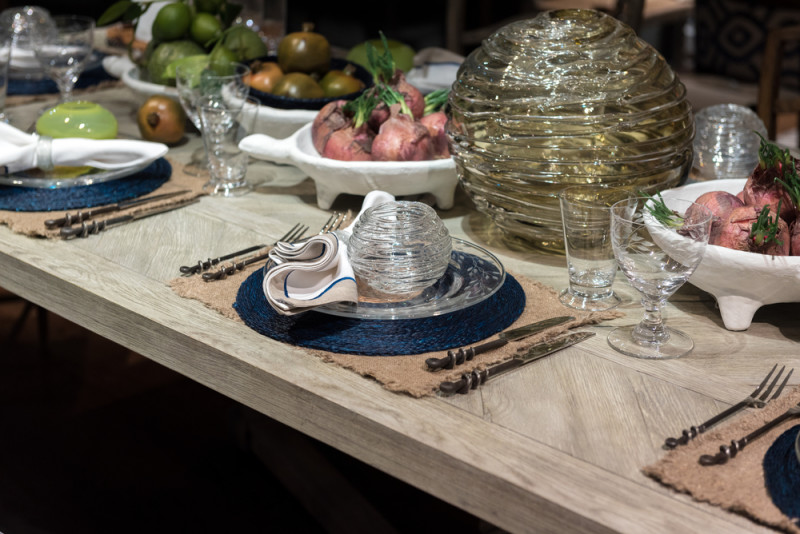 The above shows a high-end dining table setting with fine antique styled cutlery, glassware including a spun glass candle holder, cloth napkins, rustic placemats and a rustic timber table top. The table is ornately decorated with plates of vegetables and a large central glass candle holder
A luxurious home dining area with an eight piece setting consisting of elegant brown leather chairs, an antique styled table, ruched curtains, a central planting feature of indoor plants adjacent to the stairs, and a rich neutral toned marble floor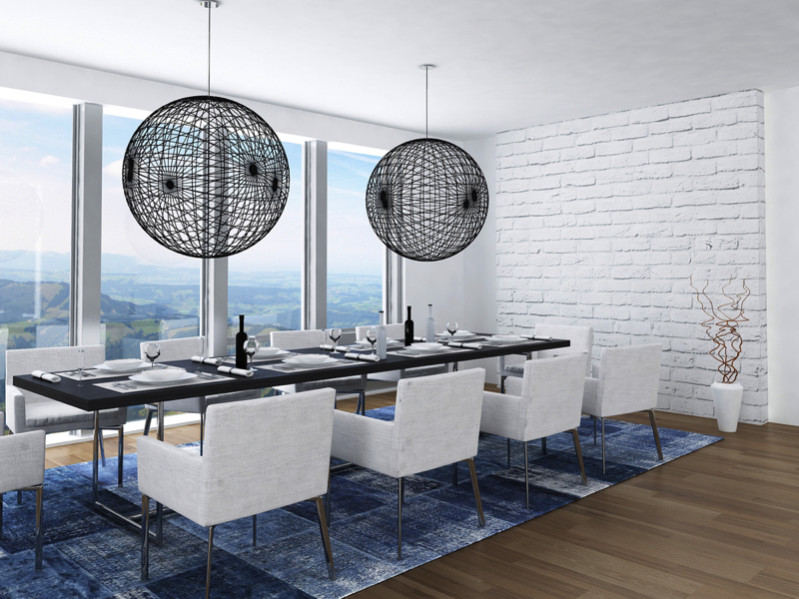 This room shows a stunning example of a modern design dining room with timber flooring, a long elegant minimalist style table with ten large padded upholstered cream colored chairs offset against the exposed painted brick feature wall and a couple of amazing hanging lights overseeing the whole area.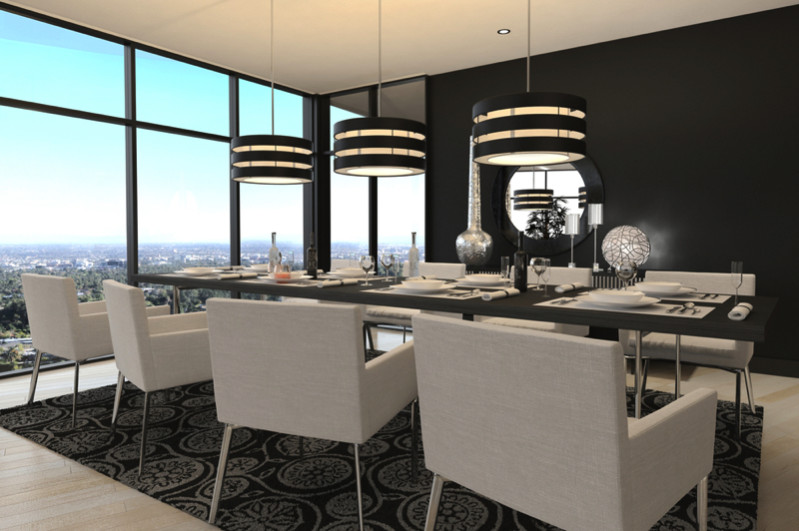 Another stunning example of a modern design dining room area in an upmarket urban apartment building. The elegance of this room cannot be overstated. It is simple, refined, and sophisticated in quite a humble way. The long table, the triple overhead designer light fittings, the large floor rug, the match of dark and light tonings create an amazing room with an amazing distant urban view.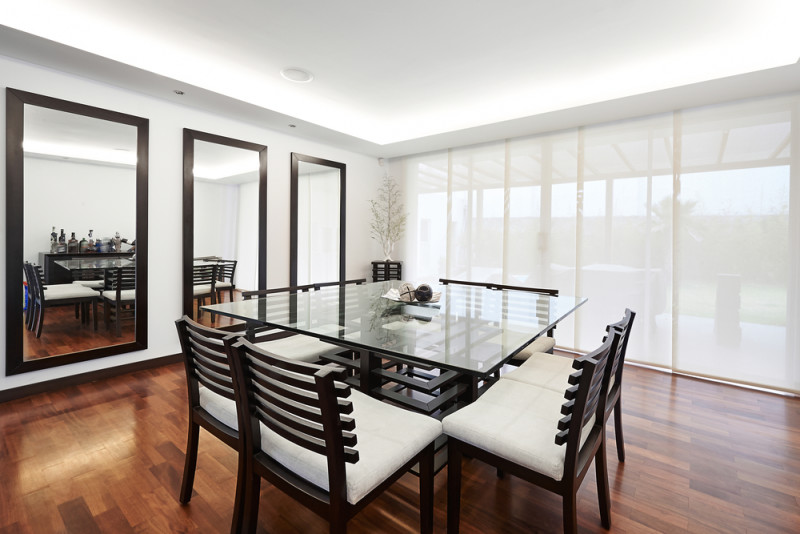 Interior design of a modern and elegant but also quite simple dining room. Using the features of the room, such as the large wall mirrors, the timber flooring and the semi see-through modern blinds gives a fair amount of flexibility in the type and style of furniture to choose to make this room something special.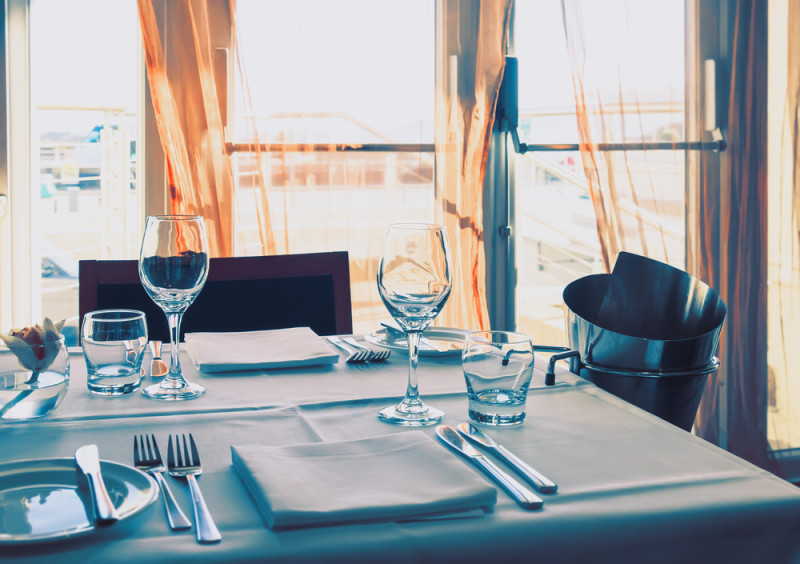 The above dining table is situated in a very stylish dining room area, with beautiful flowing curtains, cloth tablecloth and napkins, wine bucket and a bright ambiance.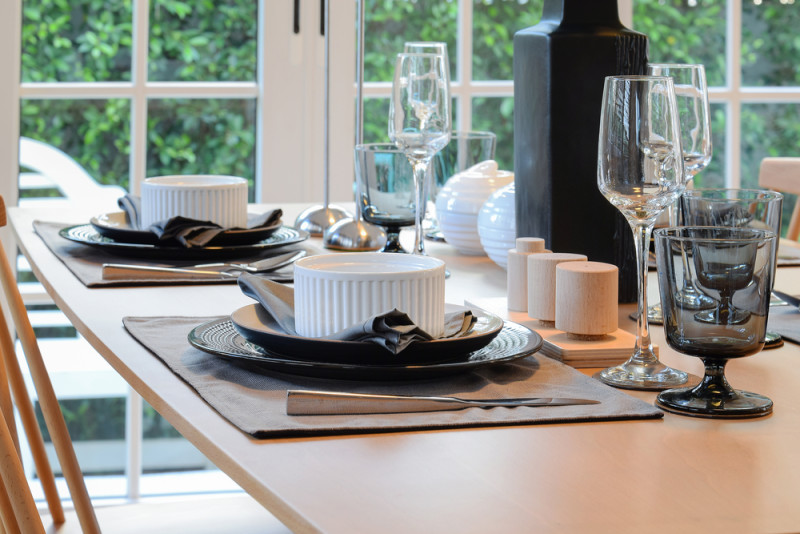 The wooden table in this dining room is modern, elegant and refined. Simple table settings display some sophistication with quality furnishings and background decor.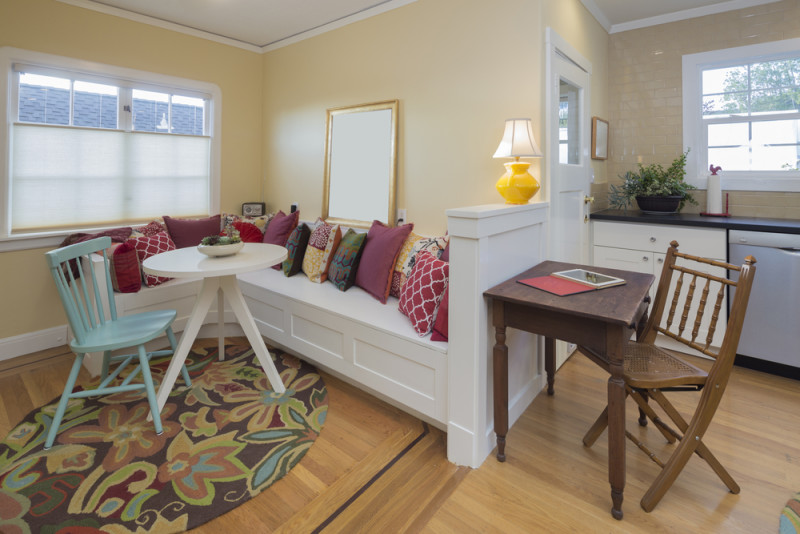 An example of a simple breakfast nook in a craftsman's home with beautiful hardwood floors, wooden sitting bench. A couple of tables provide dining options for a home with limited occupant numbers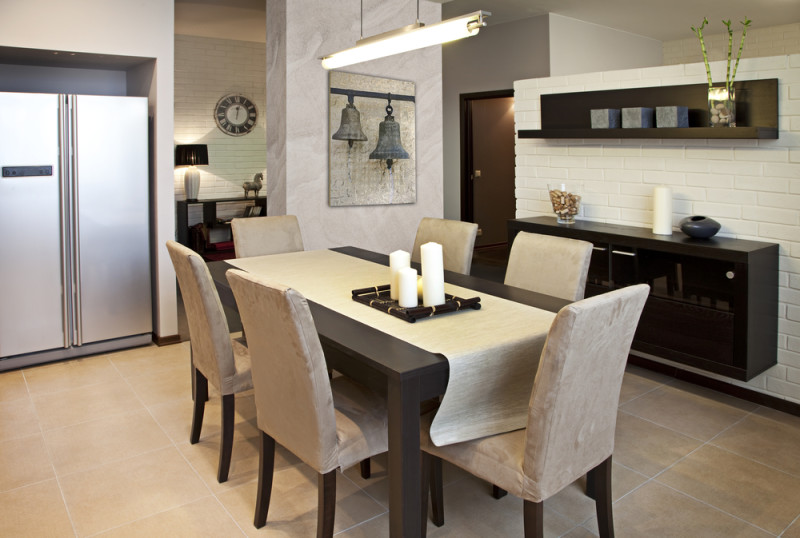 This photo shows a modern dining room set off to the side an adjacent kitchen. It is complete with a floating sideboard for storing all those essential dining room table furnishing items that you don't use everyday. A six seater dark wood table and six padded upholstered chairs with matching wooden legs and all set on a light tile floor f=give this room a modern comfortable look.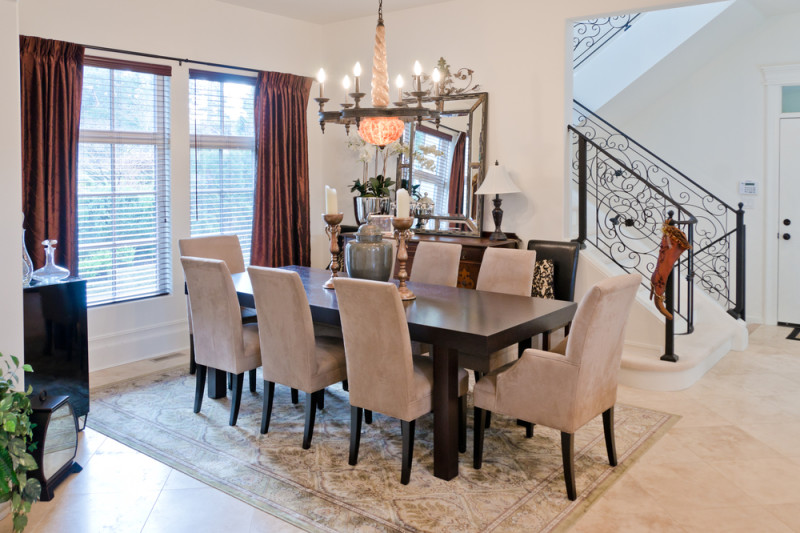 This shows a nicely decorated luxury dining room with a large eight seater dark wood dining table and eight matching upholstered chairs, situated in a room with classical traditional and a few antique style decor furnishing items.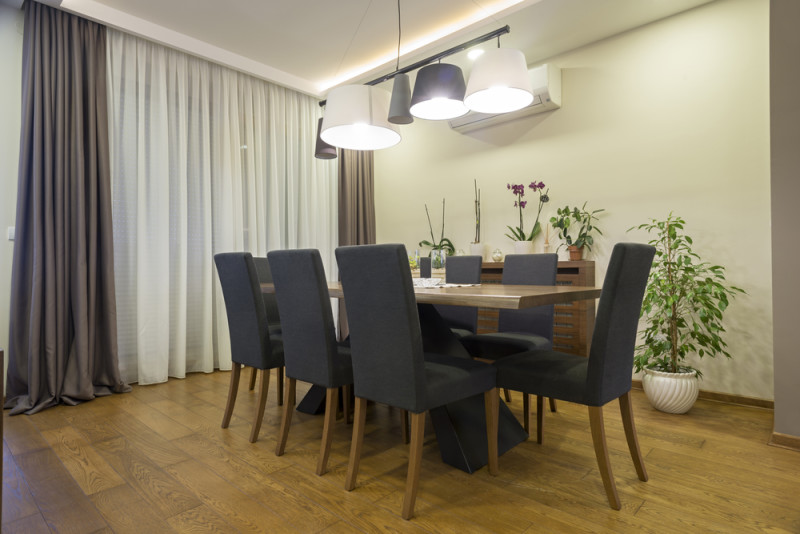 A dining room interior within a modern apartment. A beautiful set of window curtains and drapes set this room off beautifully. A feature timber sideboard sits beyond the dining table and matches the wooden tones of the timber floor and the modern timber dining table as well as the nicely matching eight upholstered dining chairs.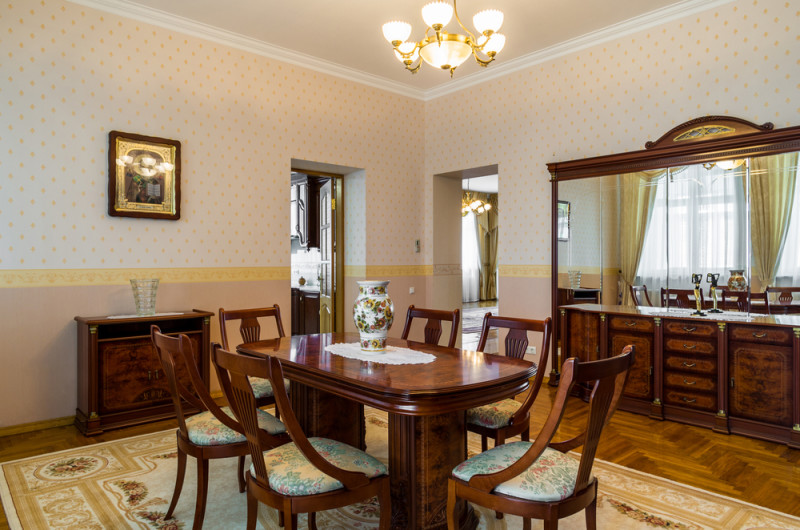 A simple classic dining room showing just how a traditional classical luxury dining interior of one of the styles of rooms should look. Dark timber abounds in all the furnishings, a large floor rug covers the much fancied parquet floor and the wallpaper finish just adds to the completeness of this style of dining room.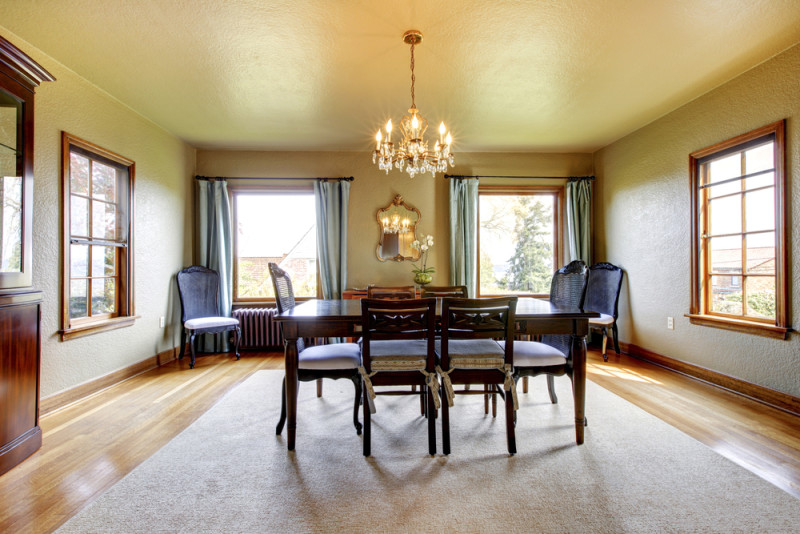 A large luxury elegant old dining room with four windows. This room shows your typical blank canvas that provides unlimited opportunity to create the look you want with furniture and soft furnishings. Sparsely decorated like above creates a feeling of space and uniqueness.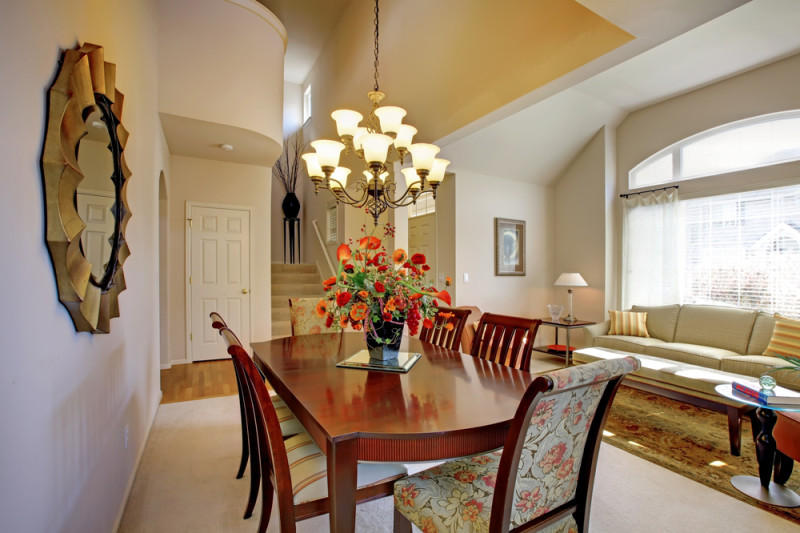 Above shows a classic, but elegant dining room with a nearby living room. The high ceiling and large window, along with the overhead classic styled chandelier set this dining room off superbly. A simple six seater table in a mahogany look with the an eclectic fabric mix for the six chairs creates a warm ambiance for this dining room.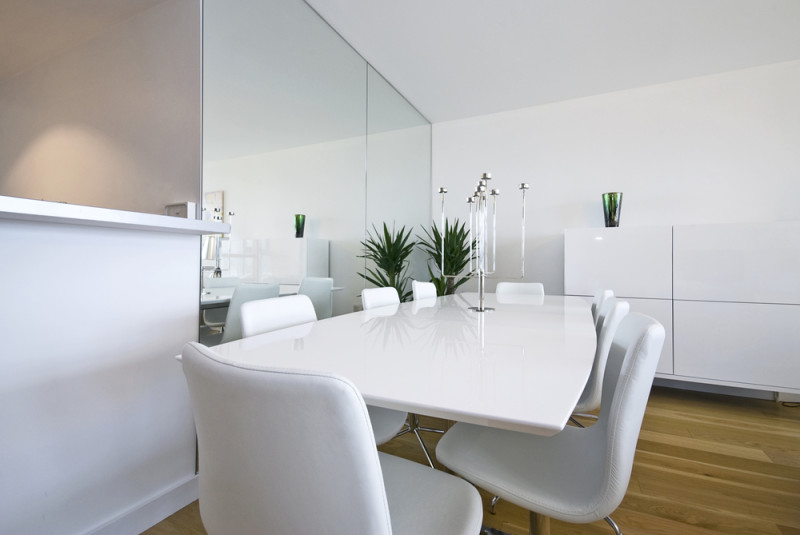 A beautiful white minimalist styled dining room area with massive dining table and matching white leather padded chairs with seating for eight. White decor with a timber floor and some plant greenery add to a great modern looking room.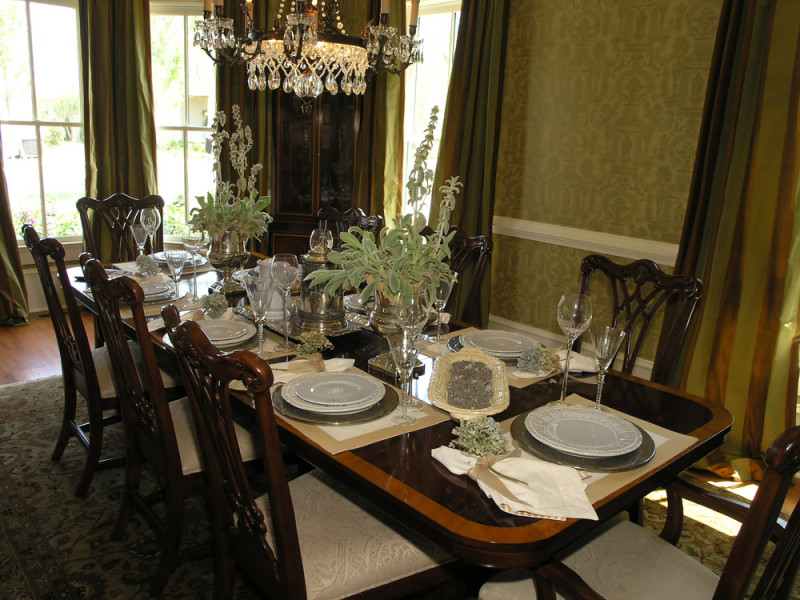 This dining room is from a luxurious opulent home. Finished with a distinct regal look with the elegant antique style dining room furniture and table place settings and matched with a divine crystal chandelier and expensive curtains and drapes.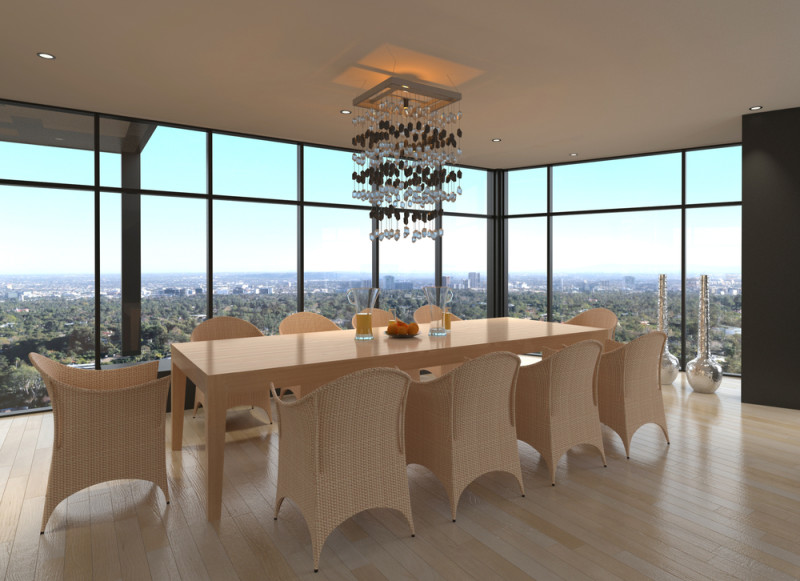 Awesome modern designed dining room, with an overall decor of a light colored timber finish which includes the ten dining chairs, the solid but simple timber table and the light colored wooden flooring. A beautiful light fitting and a stunning view out over a distant metropolis frames this dining room perfectly.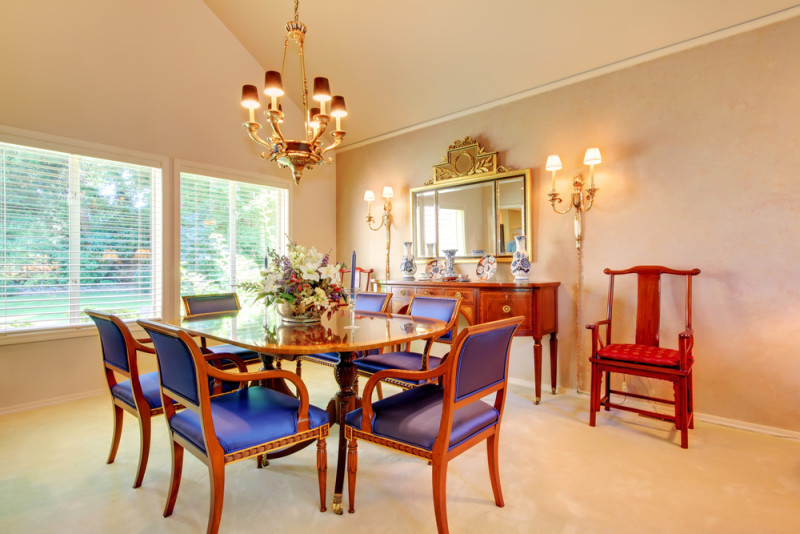 Here we see a standard dining room space that has been turned into something really special with its beautifully designed dining room furnishing, like the six piece setting consisting of blue upholstered antique styled chairs, a classic timber dining table in matching style, an ornate antique side board with glamorous wall mirror and rich neutral toned carpet flooring