A kitchen is a room dedicated in the house that is used for storing all food items and used primarily for cooking. It comprises a work surface, cabinets, cooking appliances and utensils. Furthermore, the kitchen can be divided into either a residential or a commercial kitchen.
When you decorate your kitchen, you need to consider several factors such as the look and style and construction of the cabinets, washing basin, plumbing systems, kitchen top, electric wiring and storage location for your appliances. Firstly, you should decide on your purpose, whether you need a commercial kitchen or a residential kitchen. Then you should make your own list of which electronic appliances need to be installed in your kitchen. Lastly you need to call the kitchen designers who will give you some templates of various kitchen designs. You can choose any of their designs, or you could go for the customized design kitchen as per your requirement.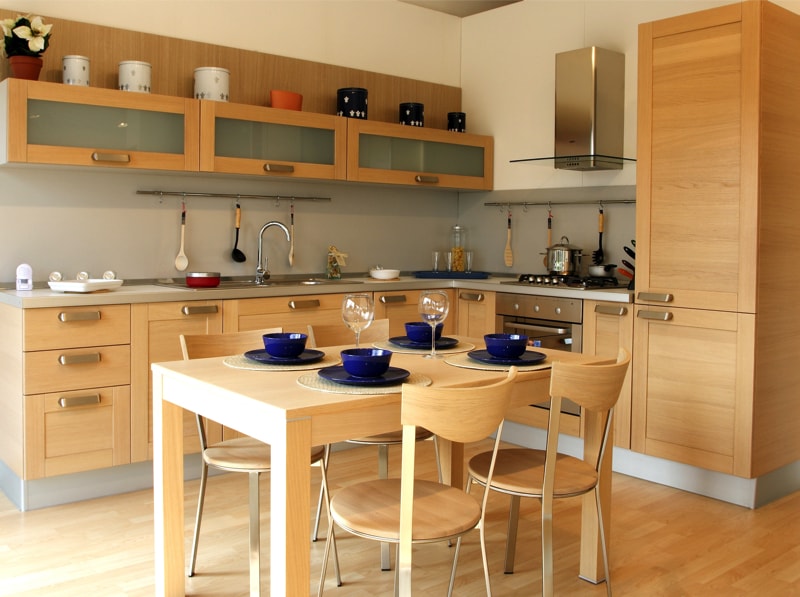 What Are The Different Types Of Kitchens Designs?
Kitchens have taken over the family room spot these days. It has become a space where families and friends gather around to share meals or chat and even do office or school home work. The style of the room should be spacious and well lit enough to accommodate the family. With the increase in styles and designs of kitchens as mentioned below, there are the few popular ones used by families across the world:
Farmhouse kitchen: They are classic looking huge kitchens with big work surfaces and storage capacity. They also have a big enough space to accommodate a big family sized dining table. The big tables, shelves and classic flooring make it easy to work and move around.
Rustic kitchens: They have a worn, distressed and rough look. These kitchens took a back seat a few years ago but are now coming back in vogue again as a sturdy and handy area to work. Their look is displayed by the use of stones, timber, brick, vintage appliances and fireplaces etc.
Modern kitchens: They are sleek in design with optimum utilization of space, frameless neatly stacked cabinets, sleek and simple hardware, strong horizontal lines and the use of materials that are shining through.
Traditional kitchens: These kitchens are quite detailed and include decorative moldings, arches, corbels, raised-panel cabinets, antique finishes etc. These kitchens are usually based around an owner's personal styles and can be designed using a combination of different types of woods and paneling. 
How Do You Decorate Your Own Kitchen In A Contemporary Style?
Contemporary kitchens are very sleek and purely modern layouts with varied structures, designs and grids. These kitchens are often playful and innovative in design and finishes.

Transitional kitchens are a combination of warmth of traditional design coupled with clean and simple lines similar to the contemporary style. They project the kitchen space with complete balance, harmony and flexibility in styling.

Craftsman kitchen styles came into existence in the early 20th century displaying the Victorian era comprising rich woods, handcrafted tiles and detailed work etc.
Cottage kitchens are cozy and simple. They display design minimalism and ease combined with the use of soft colors displaying the cottage comfort.

Classic kitchens comprise simple architectural details and minimalistic work allowing the owner to personalise between contemporary and traditional style.

Mediterranean-style kitchens have flared hoods, hand-painted tiles, wood cabinets etc, glowing with features of Spanish kitchens.
So now you need to decide about the designs which need to be installed in your kitchen, and you can even incorporate multiple designs in one kitchen area also if you wish. In this regard you can search online and find several kitchen designs and their utility details.