This 550 sq ft Small House Tiny House Design is known as the TimberCab 550 and is one of the most versatile and unique 550 sq ft small house tiny house designs and home designs around! It meets the backyard cottage/accessory dwelling unit (ADU) size requirements in most jurisdictions while it is also ideal as a compact getaway cabin.
You will be surprised at how large the space feels partially due to the open floor plan, high ceilings and flexible space. The small home design ideas incorporate a full-kitchen and bathroom with a walk-in, curbless shower. Loft space above the bathroom can be utilized as storage.
This fully functioning, fully contained cabin just goes to show how to live in a tiny house needn't be one of 'going without' and can in fact be a very enriching experience.
TimberCab homes feature Douglas Fir timber frames as well as our highest level of finish. The timber frames and wall/roof panels are pre-cut with state of the art technology and labeled for an efficient build at the site by a licensed contractor.
These are usually shipped to most building sites due to the flexibility of the tiny house ideas and home packages available.
Dimensions of the FabCab TimberCab 550
Length 34'1″, Width 18'10", Height 14'2″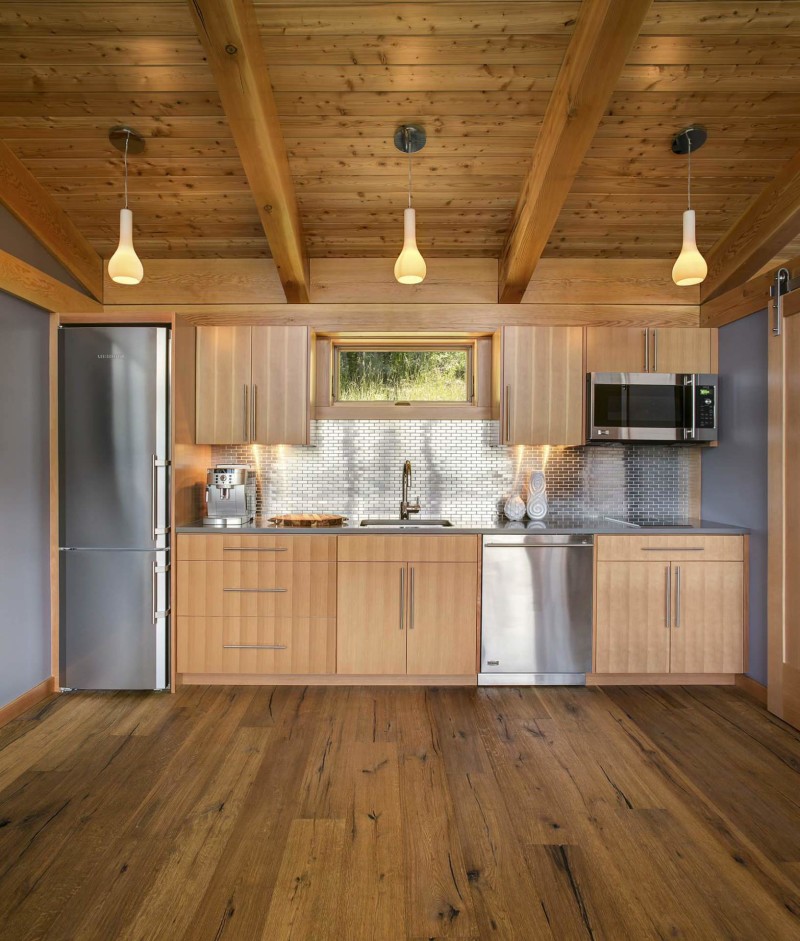 FabCab Provides Homes for Better Living
The FabCab expertise is drawn from years of following changing age demographics and a passion for designing ideas for small houses that enable people to thrive regardless of their age or ability.
They weave Universal Design principles into everything they do and are dedicated to designing friendly, inspiring spaces for people to live their active lifestyles.
FabCab designs and sells pre-fabricated environmentally friendly homes and accessory dwelling units (ADUs).
They strive to lead the market specializing in design for all ages and environmentally sustainable design by providing clients eco-friendly and universally designed cabins that support healthy lifestyles.
There are many uses for FabCabs including a home, guest house, home office, writer's or artist's studio, caregiver's residence, in-law apartment, rental unit or even a cabin for a vacation property.
There is a downloable pdf Brochure on the FabCab Timber Cab house featured here, and you can download it by clicking here
Large living, kitchen, dining combined area
Living to Kitchen
Bedroom from Living room
Bedroom beyond sliding door
Photography by Marie-Dominique Verdier
Source of Images from Smallhousebliss