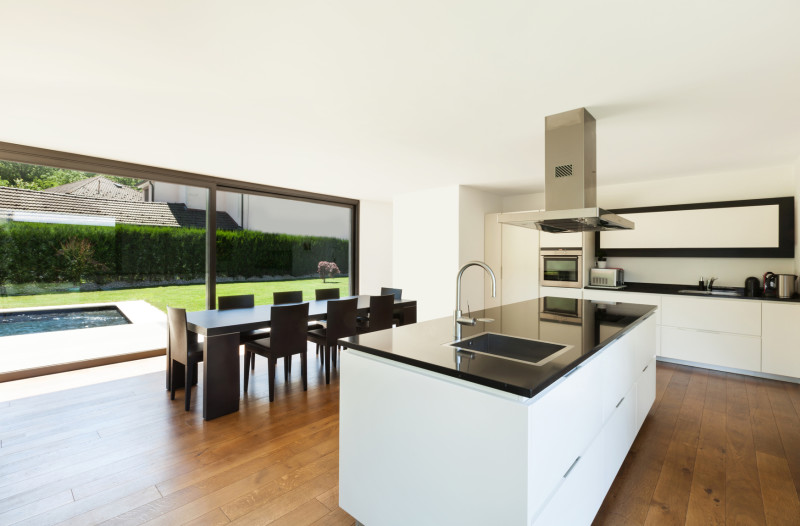 Incorporating one of several custom bespoke kitchen island designs will add a new dimension to your kitchen, that you can honestly say 'no-one else has got a kitchen island just like this'. The modern villa interior above contains a beautiful white kitchen with a long unique kitchen island, tap and sink, dining table and timber floor. Brightly lit from natural daylight through the vast windows, it has an open feel looking out onto lawn and a pool.
Having a kitchen with an island component adds a dimension that is not only practical and useful but is also often space saving at the same time. The old style of kitchen making, where the shape may have been a galley style of a U shape often resulted in closed in dead end spaces which were neither functional nor practical.
The island bench kitchen on the other hand allows flow through a kitchen from either end. An island creates additional work bench space which is often 'not in the way' and it also helps to create the 'working triangle' between cooking, refrigerator and sink by including usually either sink or cooking in the island component.
Another feature benefits island provide is the dining angle. Often a number of stools or seats can be placed on the other side of the island which creates a great ambiance as well as a potential social conversation aspect when cooking is being undertaken. Take a look through the gallery of images on this page and some of the styles of islands that are presented. Hopefully, it will give you some insights and ideas about your next home kitchen project.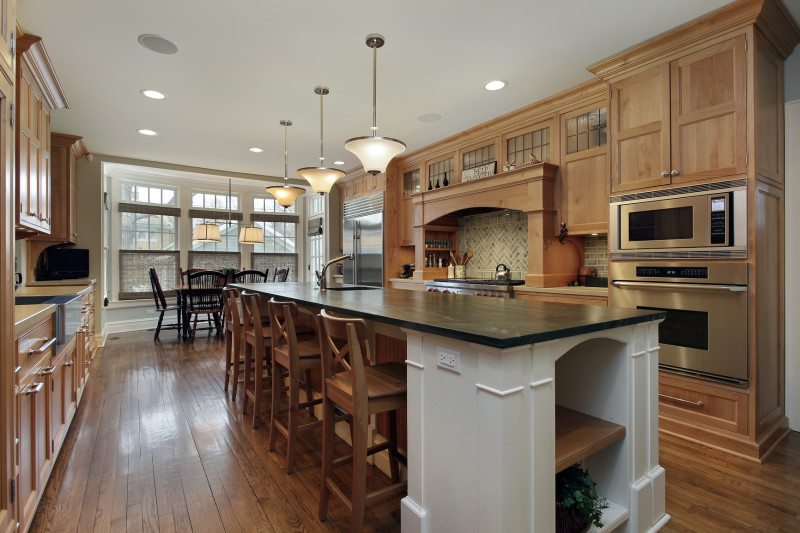 This modern kitchen with classic styled timber cabinets, large long island and stainless steel appliances is in a luxury home with older polished timber flooring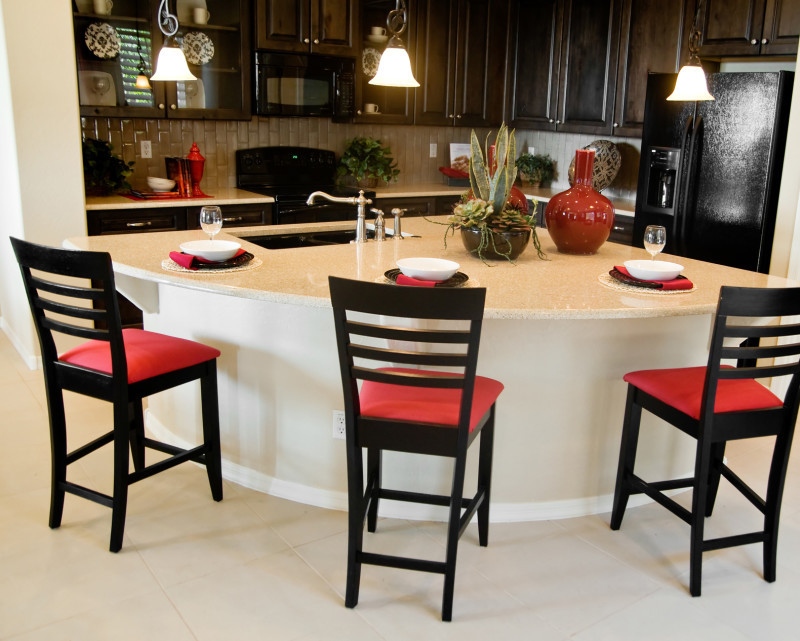 Beautiful large modern L shaped kitchen area with unusual semi-round shaped island and chairs designed for both dining and bench space. A sink and tap feature is built into the island for convenience.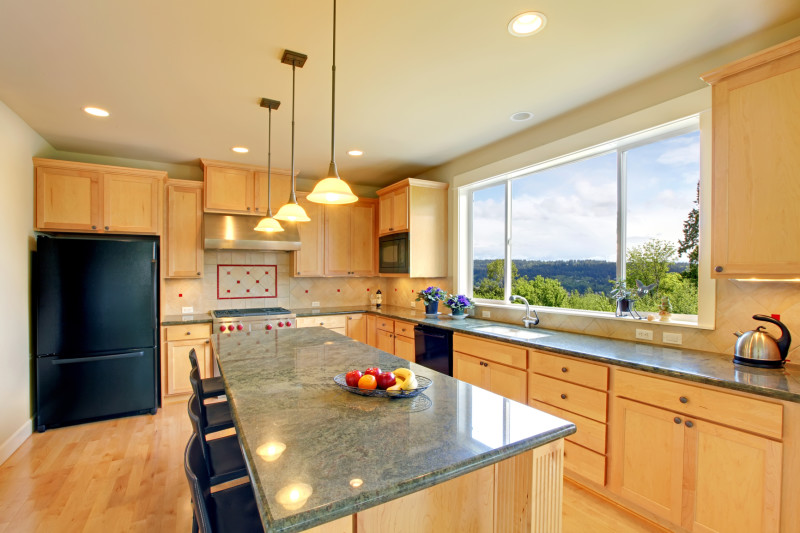 Luxury classic wooden cabinet kitchen, island with solid stone bench top, black appliances and dining chairs. A rich timber floor matches the wooden joinery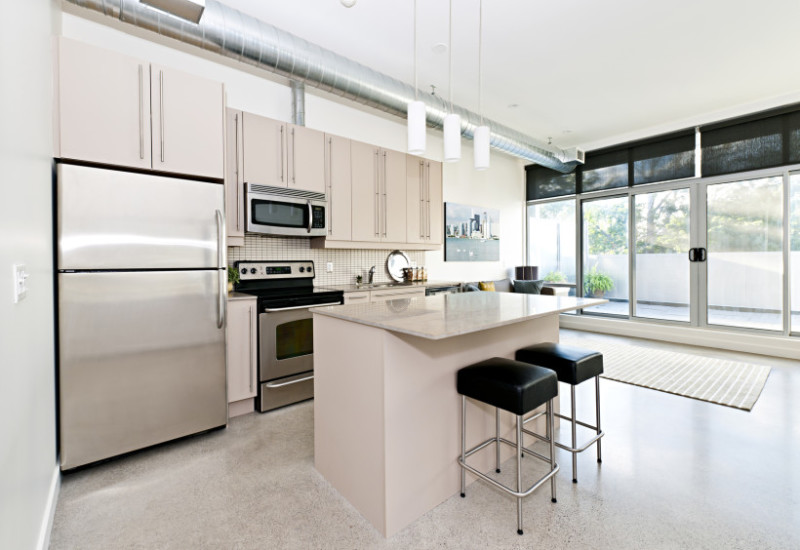 Modern condo kitchen and living room with simple granite slab bench top island, two chairs and a polished concrete floor in a loft apartment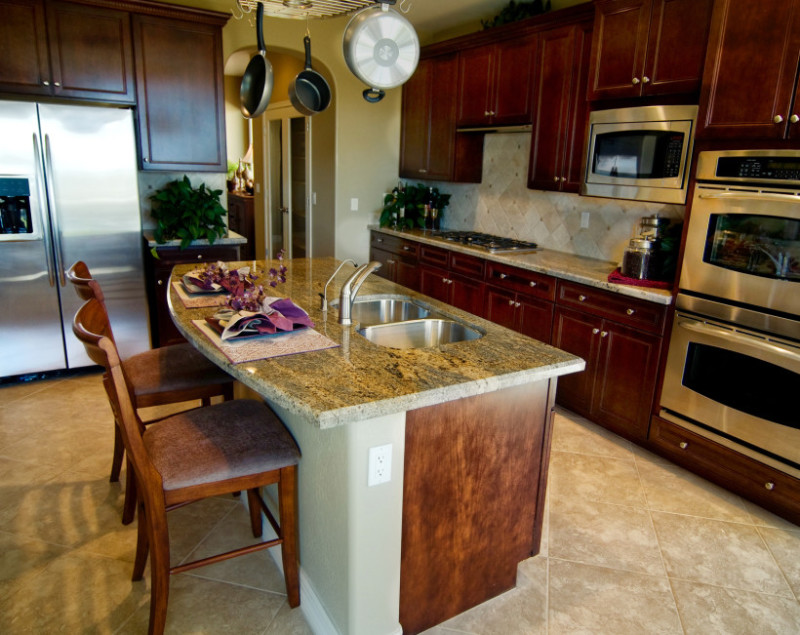 Functional and attractive kitchen with breakfast bar island and wash up sinks. Granite bench top, cherry wood cabinets, stainless steel appliances and marble floor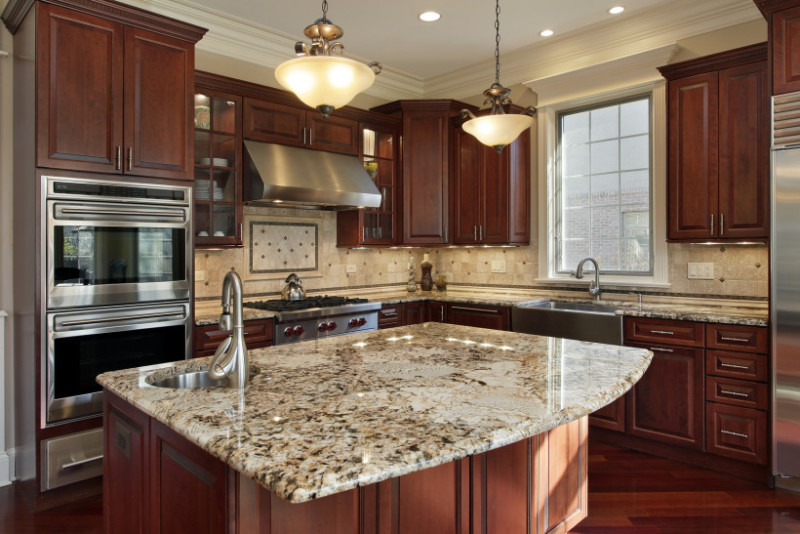 This kitchen has a granite island and built in sink and tap, stainless steel appliances and rich cherry wood cabinetry, tiled walls and classical styled lighting for more of a traditional ambiance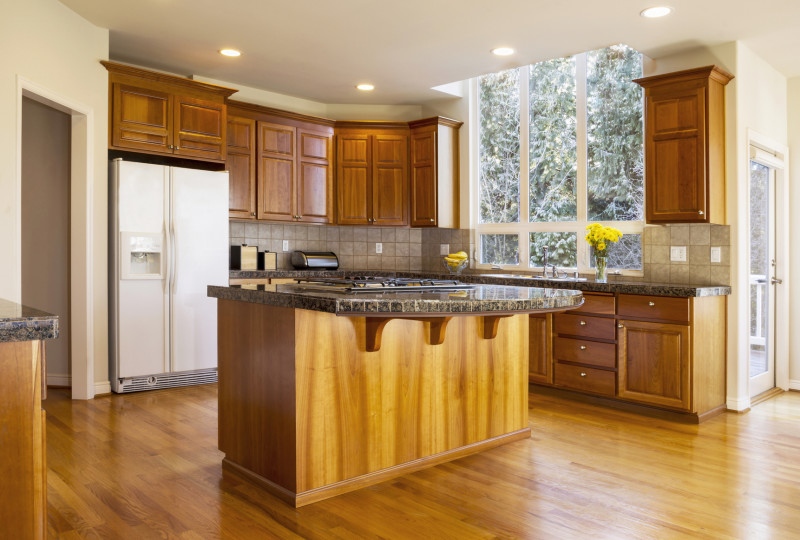 Modern kitchen with red oak wooden floors, and cupboards, center gas stove island with stone counter tops and large vertical windows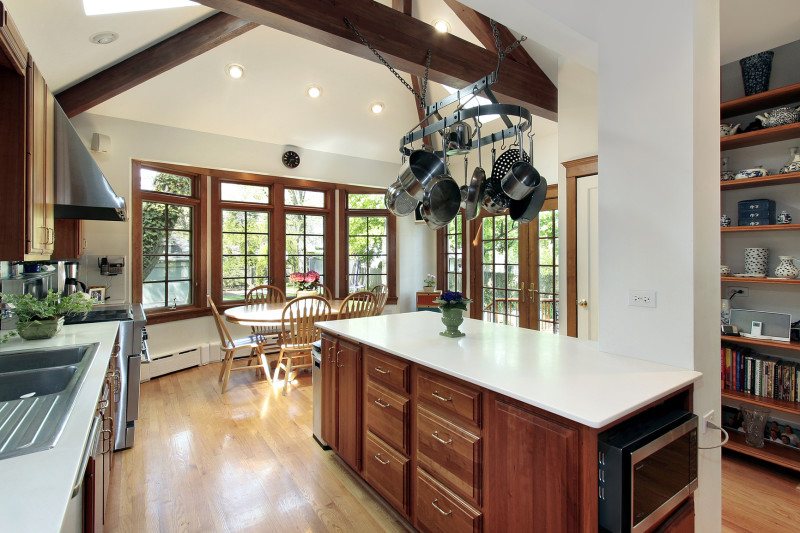 Kitchen with timber central island, white stone bench tops, overhead pot storage and wood beams looking out onto an open planned bay window dining area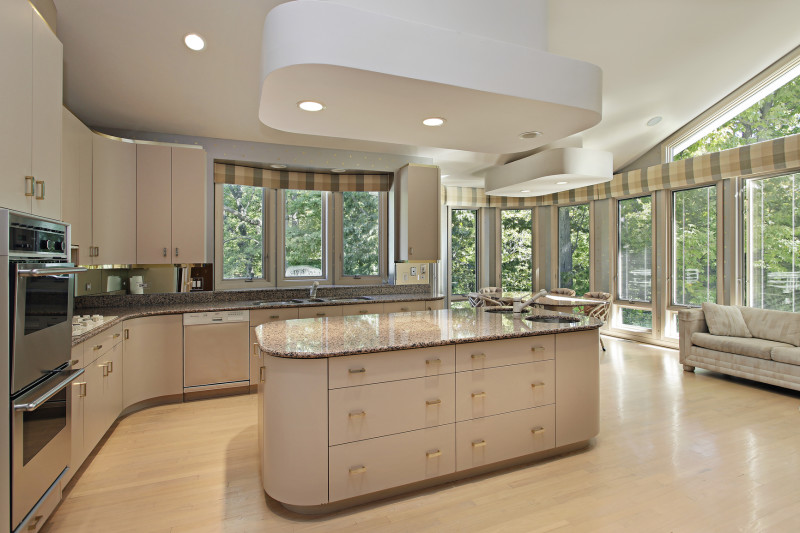 This is truly a beautiful, bespoke custom rounded kitchen with round edged center island with sinks, overhead lighting, quality timber flooring and a real look of no expense spared. The classic L shaped kitchen has rounded corners and edges to smooth the sharpness of the angles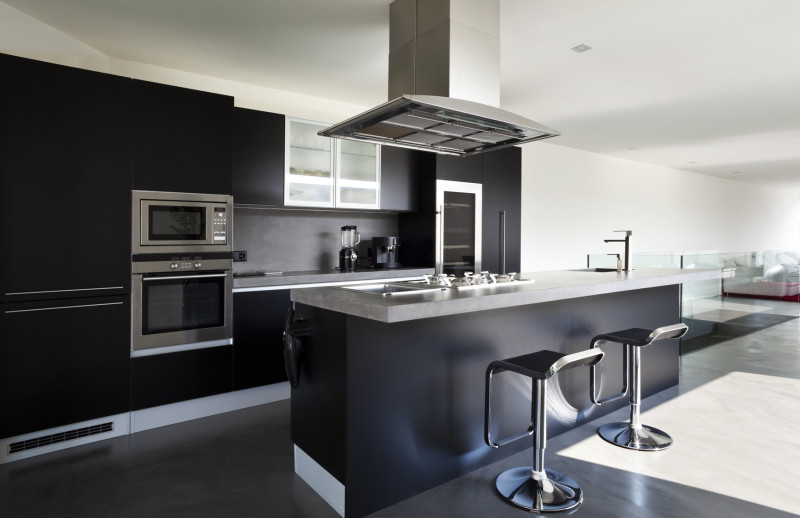 Stunning modern kitchen with black cabinets, and big island with concrete bench top, stainless steel appliances and cooking elements and overhead vent. A very effective impactive look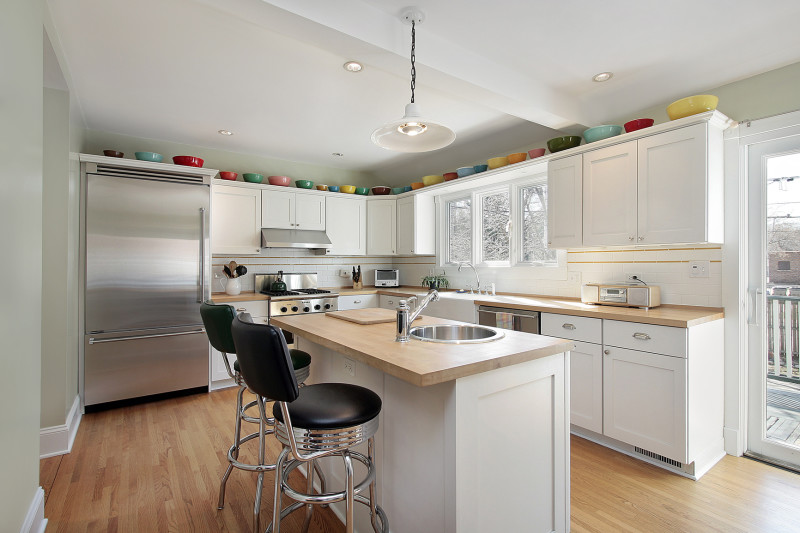 Modern white home kitchen with wood bench top island, matching timber floors and stainless steel appliances. Colorful bowls at the top of the cupboards create a sense of color within the room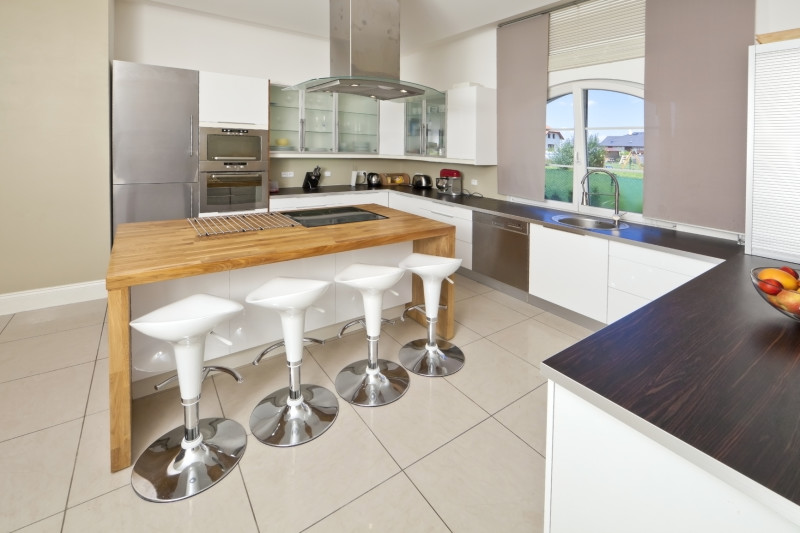 Luxury kitchen with dark timber bench top, solid contrasting honey colored timber dining island with induction cooking elements and matching white stools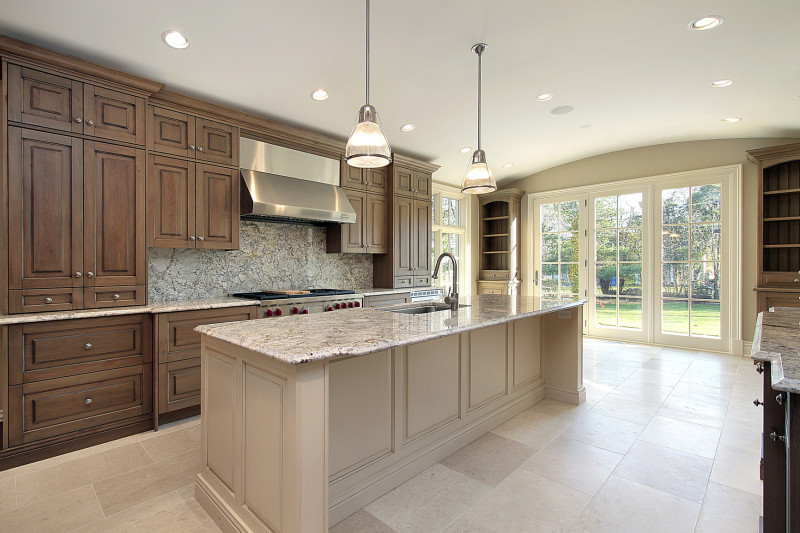 Large expansive kitchen area with timber cupboards and a large marble topped island with sink and tap with the island cabinets painted in a neutral tone to match the neutral colored floor tiles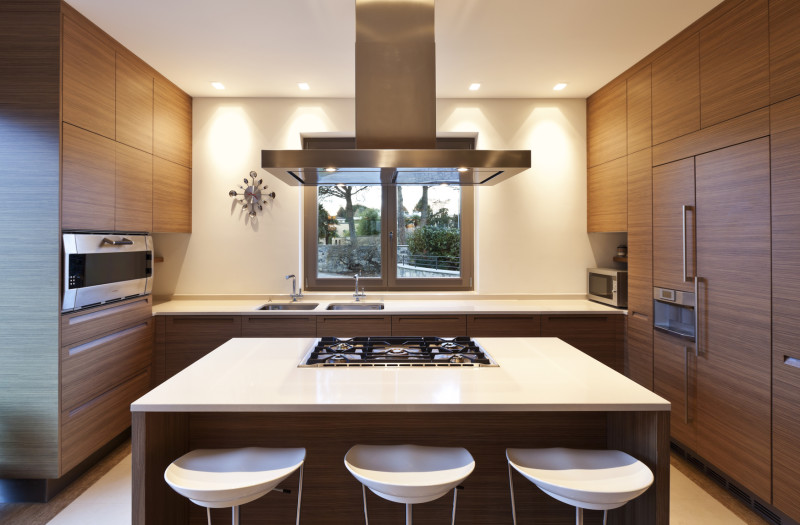 Beautiful apartment styled kitchen with functional island used for dining and cooking. The stunning wood panelled cabinets with horizontal grain and cream stone bench tops complement each other stylishly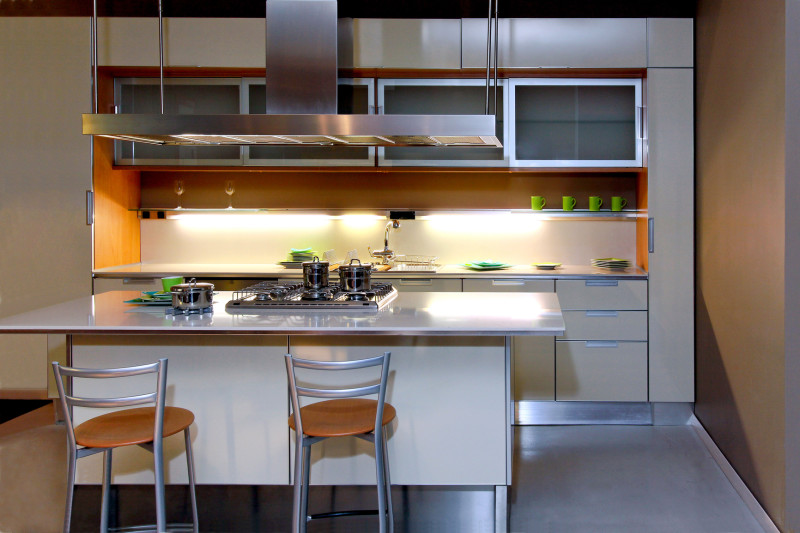 Modern but simple kitchen with small central cooking island, bench space, overhead vent and night mood spot lighting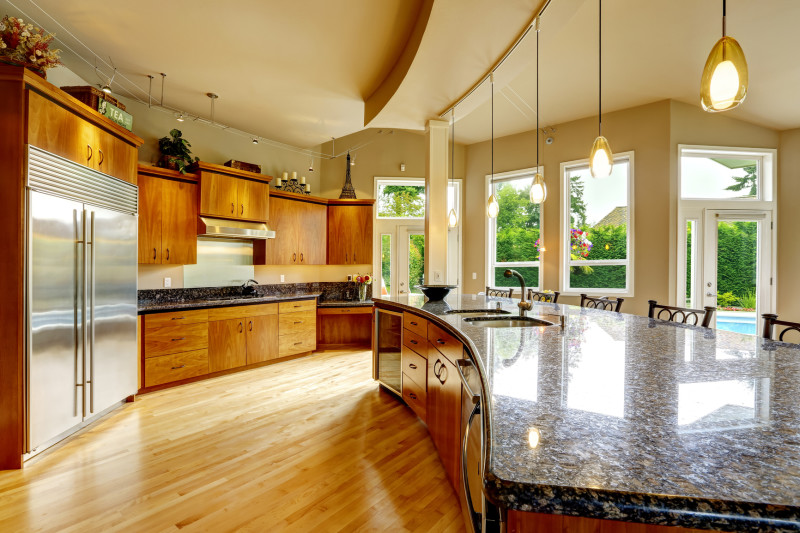 Spacious luxury kitchen with angled walls creates massive working room with an extra large rounded kitchen island, black granite tops, honey colored wooden flooring and beautiful wooden cabinets. An open outlook to a private garden and pool area complete the picture
A modern brightly lit large L shaped white kitchen with a big square white island white stone bench tops which includes the cooker and seating places for dining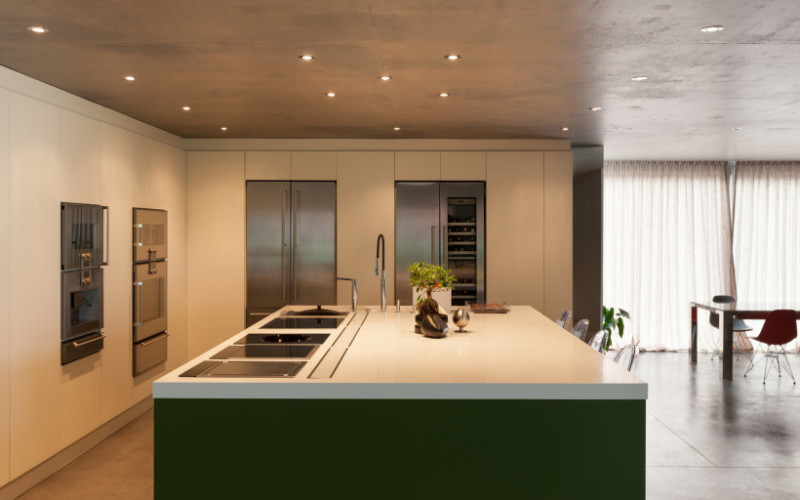 Modern home kitchen interior design with concrete ceiling and floor and large island bench area. The cupboards and cabinets open discretely without the need for handles. Stainless steel equipment completes the minimalist look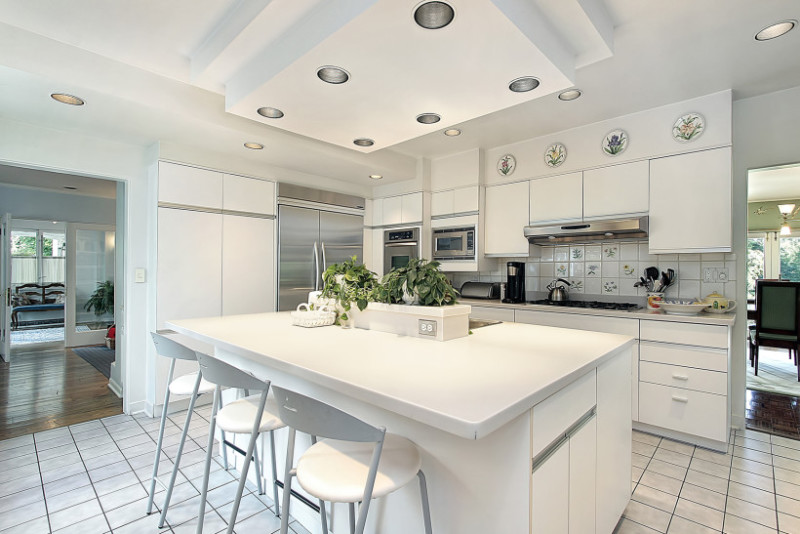 Beautiful modern kitchen with an abundance of white cabinetry, white composite stone island bench with sink, stainless steel appliances and a concealed fridge behind matching cupboard panels.
Related Galleries and Rooms You May Also Like: